The following account was originally published on Ebushpilot.com back in 2006. The original story and pictures, written by John S. Goulet, can be found here.
The Seal River Heritage Lodge Pancake Breakfast
Klaus and I have finally made it.
We are greeted to the Lodge by hosts Mike and Jennie Reimer. August is the prime of their season and they are busy guiding the guests to the various sites. The lodge is perfectly placed on a spit of sub-arctic tundra surrounded on three sides by the Arctic waters of the Hudson Bay.
As we sat down in the dining room we could view the ocean waters from any of the three large picture windows. Mike has spotting scopes and binoculars handy to help spot the numerous water and shore birds of the area, and to scout for the whales off shore as they break the surface to spout.
The main attraction is the beluga whales which you can see by the thousands as they swim in and out of the North and South mouths of the fabulous Seal River. They come in with the rising tide and leave with the ebbing tide. Mostly they congregate in the mouth of the river where you can visit them in the clear waters using the rubber rafts and small outboard motors. Like shooting fish in a barrel – except you do the shooting with a camera. Mike arranges the rubber rafts for us to leave on a guided tour early the next morning.
At day break I stand on the watch tower over the lodge scanning the bay for water spouts. The rising sun saturates the backdrop sky a gumdrop orange.
As the whales blow the saltwater, back-lit by the sun, into a sparkling diamond spray we set off across the open water. Within 20 minutes we spot whales. These are large with huge black backs and a fan spray blow as they surface. We try to get near them, but they continue to swim off. They are definitely not beluga whales. My best guess is that they are the huge majestic bow whales. Bow whales were hunted commercially until only about 20 years ago and are still considered a rare sighting in this part of the Hudson Bay. We consider ourselves very lucky to have spotted them. We quit the chase and head to the mouth of the Seal River.
Long before we ever reach the Seal River, however, we can see the blow from a distance. With a sea-spray that reaches up to 90 cm the blow is very visible. We are already in the midst of belugas.
They are heading in the same direction and swimming with a purpose. We are sailing with a purpose. They are after the shallow river protein such as worms, crustaceans, shrimp, clams, snails, crabs, and small fish. Fish such as capelin, char, sand lance, smelt, flounder, herring, and cod, are usually taken in deeper water but can be caught much easier in the restricted river mouth. The total take of 25 kgs per day is not much by whale standards, but still a lot of lunch that eventually adds up to 1500 kg of adult male whale.
The beluga can stay submerged for 15-20 minutes and travel up to 2-3 km under water on one dive. That is one of the reasons the river mouth is such a great place to get close and see the whales. The space is restricted and the whales surface more often to spy hop their way around the smaller areas. In the estuaries they usually only stay submerged for only about 2 minutes, and make 1 or 2 surfacings before the longer 1-2 minutes dive.
Before long we are surrounded by whale pods cruising by. These pods are mostly small family groups, but the larger pods can reach up to 10,000 individuals. We can see them clearly, but somehow they are still cautious and do not come too close. Some of the mothers are followed closely, almost as if they are lashed to their backs, by awkward gray calves. Breeding in May means our calves were 3-4 months old. Occasionally we can hear their squawk-like calls. Like other whales, the beluga use echo-location to find their way around and to find food.
After an exhilarating several hours of watching the whales, we decide to stop for our own lunch. Mike and Quentin, his friend and acting guide, tied the two rubber rafts together so we can all share our meal and our experiences.
As we drifted along in this peaceful inner sea and quietly chatted with our fellow rafters, we noticed that the whales were finally starting to show some interest in us. I felt that when the two rubber rafts rubbed together they produced a squeak that the whale's natural curiosity could not resist.
As an experiment, I tried to make the rafts squeak more frequently, but it took a special combination that could not be duplicated easily. I tried rubbing my Gortex pants on the rubber raft but that was too soft a squeak. Finally, Mike caught on to what I was doing and rubbed his own rubber rain slicker pants on the rubber of the raft. That was the magic we needed.
The squeak he produced drove the whales crazy with curiosity and within minutes we were surrounded by over 50 whales in different pods jostling us for a closer look at what was making that peculiar noise. We pulled out our cameras and were snapping incessantly as they spy hopped closer and closer. Mike put his hand under water and the friendly beluga were swimming so close he could feel the flow of their wake.
One particular mother and calf would not leave us alone. She came by time and time again with the little one close on her back. The little gray beluga seemed to love these frequent visits as he hopped up higher each time to look see. When we finally left hours later we had several pods follow us almost all the way home. They could not leave us alone. Nor did we want to leave them, but the day was coming to a close and we had to return to base.
Spending the day with these fellow creatures of curiosity was one the most incredible one on one, or animal family to human family, experiences I have ever had in the wild.
And at Seal River there is so much more nature to go one on one with.
From the Lodge you can take guided interpretive nature and culture walks where you can see caribou, bald eagles, Canada and Snow geese, ptarmigan, sik siks, and polar bears.
Along the interpretive walks you get to visit ancient Dene and Inuit camping sites, outlined by either the weathered tent poles the Dene used, or the tent circle of stones that the Inuit used to anchor their skin tents. The sites have been investigated by archeologist Virginia Petch and the walks have been mapped by GPS to make sure you can see the most with the least trouble. The walks are tough but worth it.
That evening Jeanne, Mike's partner and wife, prepares us an incredible dinner of arctic char, garden peas, and homemade red river cereal bread. Dessert is a (locally picked) cranberry crumble and coffee.
After dinner the sun sets in a glorious blaze of orange to end a perfect day. I am to take an evening stroll on the runway's high point of ground where the evening breeze will keep the bugs swept away. The night is perfectly clear and I can see the planets of Jupiter followed by Venus and a host of northern stars. The night air is cool and I fall asleep deep into the dead of the night.
The next morning the sky is blue blazon with the gold of sunrise and Jeanne serves us the most fantastic sight we have seen since leaving Nigeria 3 weeks ago. Canadian pancakes topped with butter, maple syrup, and as a special treat, blueberry compote made with fresh picked local blueberries. The ending to our trip could not have been any more special. We have flown over 10,000 miles to have breakfast in Canada. Perhaps next time you can join us.
::::
To experience what John wrote about above check out our Birds, Bears & Belugas Adventure Safari. This one of a kind summer experience takes place at the Seal River Heritage Lodge during July and August.
So often news stories involving polar bears consist of experts predicting the end of our beloved polar bear. Doom & gloom is effective in an awareness campaign but never fun to hear about.
So how about some positive news from waaaay up north? Well… positive for polar bears and possibly ice caps (not to be confused with the popular Canadian "Iced Capp").
It seems Alaska is getting a lot of the white stuff this year. According to meteorologist Shaun Baines, Sarah Palin's home state is on track for snowiest winter on record:
About 150 miles to the southeast (of Anchorage), the Prince William Sound community of Cordova, which has already been buried under 172 inches of snow since November, could get another 7 inches today
… It has been difficult to keep up with the shovelling – and 8ft walls of snow line either side of her driveway. After snow fell off her roof she cannot see out either the front or back of her house.
… If it keeps up, Anchorage is on track to have the snowiest winter ever, surpassing the previous record of 132.8 inches in 1954-55, meteorologist Shaun Baines said.
Snowboarding anyone? All we can say is "Wow"…
Hopefully the Hudson Bay polar bears that hang out at Seal River Heritage Lodge don't decide to relocate to Alaska. We'll have to make sure we don't mention this to them.
:::
Elsewhere there have been numerous news stories and YouTube videos of polar bear cubs popping up. We've posted a few to our Facebook page but this one was an absolute cuddly little doll! The latest comes out of the Scandinavian Wildlife Park and appeared in the Washington Post's "Kids Post" section.
Meet Siku! Internet sensation!
This baby polar bear was born November 22 at the Scandinavian Wildlife Park in Kolind, Denmark. But because his mother couldn't produce milk to feed the cub…
Keepers named the cub Siku, which means "sea ice."
Well, I guess there is little extra "sea ice" this year after all. Always good news.
:::
The valiant Prince William came to Canada recently to show off his new bride Kate. There was a huge media blitz and Canadians were genuinely excited and gracious hosts.
Churchill Wild sent out the invitation but we did not make the itinerary. Maybe next time. We're sure there are many Seal River alumni (see our Trip Advisor reviews) that would vouch for the suitability of our lodge.
During their whirlwind tour of our homeland the Premier of Northwest Territories gifted the royal couple some fabulous polar bear bling.
Some people are making a fuss about it. We think it was a nice gesture:
We wonder if the Churchill Wild logo would look good encrusted with diamonds. The polar bear brooch is worth around $30,000 dollars (19,000 British pounds). A Churchill Wild limited edition logo brooch? We may never know…
:::
Finally, no scan of the news for "polar bears" is ever complete without one of these:
Yes – every year around this time people strip down and brave the frigid waters for their local "polar bear club". It is hilarious to watch from the warm comfort of your recliner in front of the television.
While we have to commend those brave souls who peel and dive into the cold water we find ourselves contemplating the addition of our own "polar bear challenge" during the Great Ice Bear Adventure at Dymond Lake EcoLodge.
Nahhh… wouldn't be a big seller. That's what Dymond Lake looks like when it starts freezing up in October/November (sans swimmer and umbrella). Floating balls of ice. Wanna jump in?
Actually, when Churchill Wild's guests get into the water in the summer for a beluga swim the Hudson Bay waters are just as cold (or colder) than what most "polar bear clubs" would experience. Wanna try it? That's our extremely popular Birds, Bears & Belugas Adventure which takes place during July and August at the Seal River Heritage Lodge.
Our guests wear heavily insulated dry suits to keep them from freezing up. This photo is courtesy of Mark Seth Lender who was up last summer for our Birds, Bears & Belugas Adventure. Mark has a series of blog posts on his site about his time at the lodge. They are accompanied by some incredible pictures. Check them out.
Mark has a syndicated column and is a frequent contributor to Living on Earth (PRI) a nationally syndicated radio program on NPR. He's putting the final touches on his Churchill Wild segments and they will be airing in the coming months. Stay in touch with us through our newsletter, blog, Facebook and Twitter for air dates.
::::
That's all for this time. Thanks for reading.
Some of Manitoba's wildlife comes with claws attached – but there are gentler creatures here too, as Mike Unwin discovers on an encounter with beluga whales. — The Independent on Sunday
Mike Unwin, a UK-based, award-winning freelance writer and editor specializing in travel and wildlife, was a guest of Churchill Wild and Travel Manitoba this past summer on our Birds, Bears and Belugas Adventure.
Unwin experienced the thrill of plunging into Hudson Bay with beluga whales, walked the ancient tundra with polar bears and ate like a king. Below are a few excerpts from the recent story he wrote for the The Independent on Sunday.
On snorkeling with beluga whales in Hudson Bay:
The idea is to get closer to belugas, the small white whales that gather here in their thousands every summer. I have already seen them from the air: scattered like rice over the wrinkled tablecloth of the bay, you could hardly miss them. But now, face down in the dark, choppy waters, meeting one is a more daunting prospect.
On hiking the tundra with polar bears:
The retreating tide has exposed a moonscape of glacial boulders across the mudflats, and it is behind one of these that we meet our first bear – having a kip. The long neck swings up, roman nose testing the breeze, before the head settles on massive forepaws, black eyes fixed on our approach.
On hanging out at Seal River Heritage Lodge:
…the lodge makes a delightful zoo. Inside, safe from inquisitive bears, wild weather and ravenous mosquitoes, we enjoy fabulous food – caribou wellington, blueberry muffins, snow goose casserole with wild rice – all prepared from treasured family recipes using tundra ingredients. And after stuffing our faces…
Read Mike Unwin's full story: Canada: Manitoba's bear necessities, which appeared in The Independent on Sunday Travel Americas section.
On the ground Churchill polar bear viewing, far from the madding crowd, in the bear's natural environment? Beluga whale watching while face down swimming in Hudson Bay? What's on your bucket list?
World explorers visiting our remote polar bear ecolodge on the coast of Hudson Bay this year saw beluga whales in record-breaking numbers while enjoying one of the best summers in years. The remote location of Seal River Heritage Lodge ensures countless unique wildlife encounters both by land and sea but this season our beluga swim encounters were nothing short of spectacular.
The stunning footage in the video below was shot this summer less than a kilometer from the Lodge by one of our intrepid snorkelers after he was "adopted" by a pod of over 80 beluga whales. We typically have 3,000 to 4,000 beluga whales summering off the shore here at the Lodge, but the numbers this season might have been close to double that. Truly a wildlife extravaganza!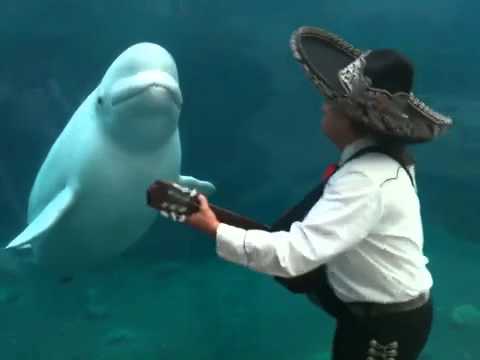 Swim with Beluga whales! An Arctic Safari where you can walk with Polar Bears!
How do you pack for a trip to Seal River Heritage Lodge?  Just floating an idea for any of our Mexican guests…
Most of the time, polar bears overshadow other arctic wildlife on our Churchill Wild adventures.  Beluga whales are another species prevalent around Churchill in the summer however, and since they're a popular part of our Birds, Bears & Belugas adventure, we thought it might be nice to share with you a few things that we find interesting about these friendly-faced mammals.
While you likely know that beluga whales are white, it's unlikely you're aware that the name 'beluga' comes from the Russian word "Belukha" which means white.
Beluga whales are also known as "sea canaries" due to the unique and varied sounds they make.  On our Birds, Bears & Belugas adventure at Seal River Heritage Lodge, we offer guests a chance to snorkel with the belugas, and those who have done so can testify to the fact that humming and chirping attract these friendly creatures!

Baby belugas are born gray and turn white as they age.  Due to their darker color, they are thought to be more difficult to spot by predators such as polar bears and killer whales. Most belugas are completely white around the age of 13 when sexual maturity is reached.

Belugas are very sociable and as such, their sense of touch is very important.  It is not unusual for belugas to come close enough to the boats and snorkelers to be touched.
Beluga whales undergo a seasonal molt, unlike other cetaceans which shed continuously.  They rub against rocky river bottoms to shed their skin, which could be why they're often found in shallow water in the summertime.
Belugas, like other toothed whales, have a life expectancy of 30-40 years, nearly half that of the average life expectancy of most baleen whales.

In the summer, belugas are often found in warm-water estuaries and river basins, making our Lodge, located near the Seal River estuary, an ideal place to view them.

The seven vertebrae in a beluga's neck are not fused, which gives them the ability to turn their heads and even nod!
The lack of a dorsal fin enables beluga whales to swim just below ice sheets to locate breathing holes.  Their lack of a dorsal fin also means less surface area, minimizing heat loss when in Arctic waters.
Spot the difference:  Male belugas can be distinguished from females by the upward curve at the top of their flippers as well as by their size.  Adult males can weigh up to 1500 kg, while mature females weigh in at about 1350 kg.
Oh, and one more thing we've learned from guests on our Birds, Bears and Belugas adventures – swimming with Belugas is a fun!
Related Posts:
Churchill Wild Birds, Bears and Belugas trip featured in L.A. Times Travel Section
Swim with beluga whales. Conquer your fears.
When Canadian Ambassador Gary Doer's daughters Kate and Emily invited U.S. President Barack Obama's daughters Sasha and Malia to visit the polar bears in Churchill a few years ago it got us thinking. They probably considered visiting Churchill, but it's unlikely they knew they could actually walk on the tundra with polar bears, or swim in Hudson Bay with beluga whales.
Churchill Wild eco-lodge owners Mike and Jeanne Reimer say the Obama and Doer families would be more than welcome to do just that at their Seal River Heritage Lodge 40 miles north of Churchill on the Hudson Bay coast.
"It's the only place in Canada where you can actually go out and walk with the polar bears in their natural environment," said Mike Reimer, who has been stomping the terra with the polar bears for over 30 years. "We would absolutely love to have the Obama and Doer families visit our polar bear eco-lodges and take part in all the activities we have to offer."
That of course, would include walking with polar bears on the coast of Hudson Bay and snorkeling with beluga whales in Hudson Bay, not to mention eating gourmet meals straight from the award-winning cookbook series Blueberries and Polar Bears, which were co-written by Jeanne Reimer's mother Helen Webber of Webber's Lodges.
Helen is married to Webber's Lodges owner and former Churchill mayor Doug Webber. She is certainly no stranger to hosting dignitaries at the Webber's home in Churchill and preparing spectacular feasts for them, including Ambassador Doer when he was Premier of Manitoba,
Helen's dinner parties in Churchill are legendary, the last of which was held for the top international executives of the Canadian Tourism Commission, who later flew out to see the polar bears at Seal River Lodge. The dinner, and the trip to Seal River Lodge, received rave reviews.
First Lady Michelle Obama, who is promoting healthy eating as her platform while in the White House, would likely enjoy herself immensely in Churchill Wild's family-run tundra kitchen, which prides itself on utilizing the freshest ingredients available from the surrounding landscapes.
Mrs. Obama launched her Let's Move initiative to battle childhood obesity and improve the quality of food in U.S. schools in February, 2010 and on March 16, 2011 she reached an agreement with Crown Publishing Group to author a cookbook in which she will talk about the garden she established on the South Lawn of the White House. Due out in 2012, Mrs. Obama's new cookbook will also explore how improved access to fresh, locally grown food can promote healthier eating habits for families and communities. You can watch the video about the White House Garden here.
"Last year we built the new dining room," said Reimer. "Right now we're hauling in a new gourmet kitchen. It was designed by Len Friesen and it will be the first of its kind in the arctic. We're planning on having a Celebrity Chef Contest at some point with a combination of original creations and recipes from the Blueberries and Polar Bears cookbooks that will feature seal, caribou, moose, goose, arctic char, northern pike, lake trout, local plant garnishes, wild blueberries, cranberries and strawberries. In between cooking sessions we'll be out on the tundra with the polar bears or swimming with whales. We would love for Mrs. Obama to participate!"
But seriously, fabulous food and cooking contests aside, what about safety and secret service and fighter planes?
"We've never had a polar bear problem in the 30 years that we've operated our lodges," said Reimer. "It's a unique, once in a lifetime experience and our guests love being able to get up close and personal with the polar bears. It's one of the few places on earth where you can actually go out and walk with the bears, and there are numerous safety measures in place. I'm not sure what the bears would think of secret service agents and jet fighters. They probably wouldn't even notice."
While he was Premier of Manitoba, Ambassador Doer persuaded numerous high-profile people to visit Churchill, including Janet Napolitano, who is now President Obama's Secretary of Homeland Security; David Wilkins, the former U.S. ambassador to Canada; and Prime Minister Stephen Harper.  Last fall, famous visitors to Churchill included George Stroumboulopoulos, Chantal Kreviazuk, Raine Maida and Martha Stewart.
Still, try to imagine the Turbo Beaver taking off from Churchill for Seal River Lodge accompanied by fighter jets. Or the curious looks on the polar bears' faces when the secret service agents arrive with the Obama family. And what kind of boat would be required if the Obama and Doer families decided to go swimming with the beluga whales? Would the Zodiaks suffice?
"It would something very special for us," said Reimer. "We would like to extend a heartfelt open invitation to both the Obama and the Doer families to visit Seal River Lodge any time. It would be an incredible honor."
Unbelievable, wow, incredible, spectacular, best ever, life changing, beyond expectations, and the list goes on – we can never quite identify the right superlative to describe this past season at Churchill Wild!
Once again the guest book is full of great comments and wondrous praises heaped upon our hard working staff and the awesome Churchill Wild polar bear experience they provide. Thank you to all our new found friends, who traveled from all corners of the globe this year, for making the time and financial commitment to join us on the Hudson Bay coast.
It's difficult to look back over the crazy exciting busyness of this summer season and identify the highlights – there were so many! One of the most important accomplishments was the completion of the new dining room, with its huge viewing windows looking out over the Bay, a new roof, a new tower access, new decks, and new staff quarters.
I get tired just thinking about all the work that had to be done to see that beautiful building standing there. Yvan and
crew pulled off another miracle, from planning the project last season, to ordering and shipping materials by train to Churchill in January, then spending two weeks in March dragging freight over the frozen sea to the Lodge and finally back in June with the construction crew to build like madmen so we could be ready for first guests in July. Wow! And now we start the whole process all over again – Jeanne has "assured" all of us that she is getting her new kitchen next year.
Our summer Birds, Bears, and Belugas adventure might well have been called Bears, Bears, and Bears as we enjoyed some of the finest summer polar bear action on the planet. Seal River has always been a mecca for polar bears coming off the ice in July, but this year was nothing short of incredible.
One afternoon aerial tour spotted over 100 bears within 30 kilometers of Seal River, numbers which were certainly confirmed by the daily bear action at the Lodge. And the whales continue to enthrall intrepid snorkelers with their charming attention to the strange creatures invading their watery domain. Interactive singing opportunities brought out the creative in everyone. And although it was difficult to tell which whale "whisperer" had the best tune, it was fairly obvious that our whale friends enjoy listening to a well gurgled tune.
This past year Churchill Wild also completed the purchase and expansion of the Canada's newest and most exciting polar bear destination, the Nanuk Polar Bear Lodge located near Cape Tatnum. Cape Tatnum is home to the greatest concentration of summer polar bears on earth and is also near the site of a recently discovered polar bear denning area, not to mention fantastic wolf viewing, countless moose, and a bird migration beyond number. This will undoubtedly become the finest wild polar bear adventure in our ever-expanding stable of great polar bear trips, on par with the great African wildlife safaris of years gone by. Please plan to join us!
Churchill Wild can now guarantee world class polar bear viewing and ground level polar bear photo opportunities at its remote ecolodges from July through to the end of the traditional November season – another world first.
A big heartfelt thanks to all our wonderful guests for making Seal River Lodge a fabulous place to be this summer!  We couldn't have done it without you. Now it's time for the Great Ice Bear Tour and the Polar Bear Photo Safari.
We hope you can join us again someday soon!
— Mike & Jeanne Reimer & Family

Churchill Wild's remote polar bear ecolodges on the Hudson Bay Coast were featured in the Financial Post as "the" cool adventure vacation spots for viewing polar bears, swimming with beluga whales and enjoying culinary delights! The article, entitled, At their leisure,  also talks about where people are spending their money on holidays and includes vacation ideas from Alberta, Ontario and Quebec.
Below are a few excerpts of what the Financial Post had to say about Churchill Wild.
"Roughing it in style is the vacation trend du jour. At the Seal River Heritage eco-lodge on the Hudson Bay Coast, Manitoba's happy few explore the depths of nature by day in one of the planet's most rugged environments. Then it's nice nights with gourmet fare and proper drinks in a chic wilderness outpost."
"It takes time – and money – to get there. After a flight to Churchill, it's a 30-minute transfer by Turbo beaver float plane to the 12-room hand-made lodge completely lost in the tundra. Remote yes, but animal-wise, this is where the action is. Stalk polar bears near the Seal River estuary or swim or snorkel with the belugas, then come back to the lodge to embark on a culinary adventure."
"The gourmet fare prepared by Helen Webber, matriarch of the foodie family who own the lodge, makes the 100-mile diet seem so south of the 49th parallel. Almond-crusted lake trout, slow-roasted barbeque caribou sandwiches and cranberry cake with warm butter sauce, are examples of her dinners sourced from within walking distance. Guests have been so impressed with the food that they insisted Ms. Webber do a cookbook. Her Blueberries and Polar Bears cookbook was the first of what would become a series and a Canadian bestseller."
In our first week of Birds, Bears and Belugas we spotted not just polar bears but also sandhill cranes, lots of wolves (with cubs!) two moose and a large numbers of beluga whales.
Our first meal interruption occurred last week when a polar bear showed up just as everyone was coming into the dining room for breakfast. We've been getting the boats in the water on a regular basis morning and night, weather and tides permitting.
Guests had a fabulous trip by boat to Hubbard Point, 77 kilometres Northwest of Churchill on the Hudson Bay Coast. It was almost too foggy to see but we still saw seven polar bears at close range and had one of our best beluga whale swims ever!
Handed out the first certificates of the season on July 27 and everyone is leaving happy!