GeorgieJet, from the popular travel website "JohnnyJet.com", came up to the Seal River Heritage Lodge this summer to experience Churchill Wild's "Birds, Bears & Belugas", a one-of-a-kind Arctic summer adventure.
Her first account of the adventure can be found here. Now on to part two!
BBB, as we like to call it, has the best of the best in an Arctic summer experience for wildlife lovers, it is a step beyond the traditional Churchill polar bear tour – beluga whale swims, incredible scenery, incredible Arctic cuisine, approximately 250 species of birds and Churchill Wild's trademark polar bear hikes. It's all on the ground, up close and personal with the world's largest carnivore and environmental poster child.
Here's part of what she had to say about the food at Churchill Wild's Seal River Heritage Lodge:
Most of the recipes come from the array of cookbooks written by Jeanne's mother, but the creative chefs come up with their own as well. Breakfast included homemade granola, a hot cereal call Red River, yogurts, and fresh fruit. There were also homemade muffins, breads, egg dishes – like frittatas or egg blossoms, and bacon. The coffee is strong and delicious. The chefs (usually related to the Webbers/Reimers in some way, or friends of the family) cook in the open and the dining room completely surrounded by windows. The panoramic views really make you feel you are on top of the world and make wildlife spotting easy and there is a telescope and a deck accessible here.
Here's part of what she had to say about swimming in the Hudson Bay with beluga whales:
Kayaking was a cool experience, because there were no bugs and the Belugas came quite close to us. At one moment, I felt like I was accompanied by many of them. Listening to their constant and highly physical breathing above the water was calming, like a meditation.
:::
…the dry suit was cumbersome to put on and take off because I was sharing it, so I was a bit grumpy… until it was my turn to get into the water! The water was not at all cold (dry suit) and I opted not to wear the wetsuit hood. I had a snorkel and mask and was being "trolled" by my feet, face down on a 15 foot tether. An awkward position, but perfect for attracting the whales.
I did not get close enough to see the Belugas, as others did, but I heard them! It was absolutely magical! Their sounds are really incredible and I felt like I was on another planet surrounded by hundreds of welcoming, sentient beings talking to me in another language. I did not understand what they were saying, but I could FEEL their curiosity and their acceptance and love! I think the human group was disappointed that I did not see the Belugas underwater or get a picture of them, but I was completely satisfied. I would do it again in a minute, if I had the chance. It was undeniably another life changing moment within my 6 days at Seal River Lodge! As a travel writer, I have had hundreds of amazing experiences, but this is rated amongst my top five!
Make sure you go past the JohnnyJet website and read the whole thing. Georgette – thanks for coming up and sharing your experience!
GeorgieJet, from the popular travel website "JohnnyJet.com", came up to the Seal River Heritage Lodge this summer to experience Churchill Wild's "Birds, Bears & Belugas", a one-of-a-kind Arctic summer adventure.
BBB, as we like to call it, has the best of the best in an Arctic summer experience for wildlife lovers, it is a step beyond the traditional Churchill polar bear tour – beluga whale swims, incredible scenery, approximately 250 species of birds and Churchill Wild's trademark polar bear hikes. It's all on the ground, up close and personal with the world's largest carnivore and environmental poster child.
Rick Kemp, Churchill Wild's Director of Marketing & Communications, met with GeorgieJet in New York this past spring and was able to entice her to pay us a visit. With the support of Travel Manitoba Georgie made her way to the "Wildest Place on Earth" and logged her experiences regularly from the lodge.
Here's part of what she had to say about her life changing experience at Churchill Wild's Seal River Heritage Lodge:
We walked about 500 yards out on the mudflats as it was low tide. The large bear, approx. 1000 pounds, was another 500 yards farther out on a point of rocks. I was astounded at how close we were. He put his nose up in the air and got a whiff of our scent. Their sense of smell is incredible and their eyesight and hearing are keen as well. He sensed that we were not a threat or food, and continued to relax on his spot of sand and rocks, aware of us, but tolerant.
Go past the JohnnyJet website and read the whole thing! Georgie told us she will be writing about her beluga swim and Jeanne's renowned meals next. We'll let everyone know when that story becomes available.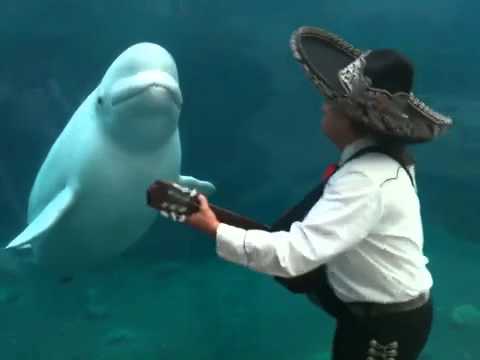 Swim with Beluga whales! An Arctic Safari where you can walk with Polar Bears!
How do you pack for a trip to Seal River Heritage Lodge?  Just floating an idea for any of our Mexican guests…
by Allison Reimer
It's been a slower week at the Seal River Heritage Lodge because of the cool and cloudy weather but who can control that?
Thankfully the outdoor conditions haven't deterred our adventurous polar bears, who have been plentiful for the opening week of Birds, Bears & Belugas.
We had a beautiful, big white bear wander by two days ago and last night we had a visit from a smaller bear. He sniffed around the lodge for quite some time and stood up to peer into the windows every once and a while.
Everyone was very excited – rushing from window to window as quietly as possible so as not to scare him off. Eventually he meandered off to get some rest and once the excitement died down we all followed suit.
Churchill Wild has partnered with Banville & Jones Wine Co. to celebrate Food Day Canada 2011 on July 30 with a wine pairing event at their remote Seal River Heritage Lodge on the coast of Hudson Bay.
"It's an honor to partner with Churchill Wild for Food Day Canada," said Jill Kwiatkoski, Assistant Buyer/Manager at Banville & Jones.
"They are using beautiful, clean, fresh food that pairs perfectly with the Canadian-themed wines. The wines for the event are produced by smaller Artisan style wine-producers from B.C. and Ontario, and are very eco-friendly, which fits perfectly with Churchill Wild's philosophy. It's an amazing menu with stunning Canadian wines."
Churchill Wild participated in Food Day Canada 2010 and is proud to be back this year with partner Banville & Jones. Five different red and white wines will be served with a five-course meal prepared from the award-winning Canadian cookbook series Blueberries and Polar Bears.
"These are unique and exceptional Canadian wines," said Rick Kemp, Director of Marketing & Communications for Churchill Wild."We're excited about partnering with Banville & Jones for Food Day Canada this year. It was a hit with guests who were with us last year for the Birds, Bears & Belugas adventure and we expect it to be even better this year with Banville & Jones and Jeanne's new gourmet kitchen."
Churchill Wild, which owns and operates Canada's premier remote polar bear lodges for viewing polar bears in their true environment, hauled materials over the Hudson Bay sea ice this spring to build the new kitchen at Seal River Heritage Lodge. A new dining room with huge picture windows overlooking Hudson Bay was built last year, and the new kitchen this year complements it perfectly, offering spectacular polar bear viewing – sometimes even while eating dinner!
You can keep up with Churchill Wild happenings through their Newsletter or even better, by socializing with them on Facebook. It's a rare and special feeling to watch the world's largest land carnivore up close and personal in their natural environment, and these great white bears will soon be included in the Species at Risk Act.
Banville & Jones Wine Co. was founded in 1999 by sisters, Lia Banville and Tina Jones. The Tuscan-inspired wine boutique features all the best elements of a world-class wine store, with over 3000 sku's of wine, gifts and gourmet items from around the world. Banville & Jones is the largest private wine seller in Manitoba, and has been named among the top 50 wine retailers in Canada by Wine Access magazine.
Dedicated to wine education and the enjoyment of wine in an elegant and approachable atmosphere, Banville and Jones offers numerous in-store events including cooking classes, wine tastings and seminars and produces a magazine, a newsletter and a wine blog. They are also very active online. To learn more about Banville and Jones Wine Co. worldwide or in Winnipeg, please visit their Web site at: http://www.banvilleandjones.com or check them out on Facebook.
Food Day Canada is all about Canada – Canadian producers, chefs, restaurants and you, with local ingredients from backyards to fields to fresh clean northern waters. The largest food-related event in the country, Food Day Canada was founded by renowned culinary activist, educator, and writer Anita Stewart.
Now in its eleventh year, Food Day Canada honors establishments, restaurants an individuals who best exemplify the philosophy of "local, regional, seasonal" by presenting awards in several unique categories.
Numerous restaurants across Canada will be involved in the Food Day Canada celebration, and bronze, silver, and gold awards sponsored by leaders in the Canadian food industry will be presented for exemplary skill, creativity and conscientiousness.
For additional information about participating restaurants, partners, recipes, award-winners and more please visit the Food Day Canada Web site at www.FoodDay.ca
Two ways to stay in touch with Churchill Wild, ask us questions, get updates and more…
Most of the time, polar bears overshadow other arctic wildlife on our Churchill Wild adventures.  Beluga whales are another species prevalent around Churchill in the summer however, and since they're a popular part of our Birds, Bears & Belugas adventure, we thought it might be nice to share with you a few things that we find interesting about these friendly-faced mammals.
While you likely know that beluga whales are white, it's unlikely you're aware that the name 'beluga' comes from the Russian word "Belukha" which means white.
Beluga whales are also known as "sea canaries" due to the unique and varied sounds they make.  On our Birds, Bears & Belugas adventure at Seal River Heritage Lodge, we offer guests a chance to snorkel with the belugas, and those who have done so can testify to the fact that humming and chirping attract these friendly creatures!

Baby belugas are born gray and turn white as they age.  Due to their darker color, they are thought to be more difficult to spot by predators such as polar bears and killer whales. Most belugas are completely white around the age of 13 when sexual maturity is reached.

Belugas are very sociable and as such, their sense of touch is very important.  It is not unusual for belugas to come close enough to the boats and snorkelers to be touched.
Beluga whales undergo a seasonal molt, unlike other cetaceans which shed continuously.  They rub against rocky river bottoms to shed their skin, which could be why they're often found in shallow water in the summertime.
Belugas, like other toothed whales, have a life expectancy of 30-40 years, nearly half that of the average life expectancy of most baleen whales.

In the summer, belugas are often found in warm-water estuaries and river basins, making our Lodge, located near the Seal River estuary, an ideal place to view them.

The seven vertebrae in a beluga's neck are not fused, which gives them the ability to turn their heads and even nod!
The lack of a dorsal fin enables beluga whales to swim just below ice sheets to locate breathing holes.  Their lack of a dorsal fin also means less surface area, minimizing heat loss when in Arctic waters.
Spot the difference:  Male belugas can be distinguished from females by the upward curve at the top of their flippers as well as by their size.  Adult males can weigh up to 1500 kg, while mature females weigh in at about 1350 kg.
Oh, and one more thing we've learned from guests on our Birds, Bears and Belugas adventures – swimming with Belugas is a fun!
Related Posts:
Churchill Wild Birds, Bears and Belugas trip featured in L.A. Times Travel Section
Swim with beluga whales. Conquer your fears.
by Mike Reimer
Well folks, once again man pitted his slightly aging wits against the elements of Hudson Bay and survived. Thank goodness we were blessed with exceptionally good weather and sea ice conditions that were perfect for transporting materials to the lodges from Churchill.
Jeanne's gourmet kitchen equipment and cupboards had been shipped from Winnipeg to Churchill by train a month prior and now all that remained was the "simple" task of getting them over the rugged Hudson Bay ice to the polar bear lodge.
All of our winter hauls involve a high level of adventure including high tide overflow, jumbled pack ice on Hudson Bay, raging blizzards, wind chills down to -50 degrees, marauding polar bears, frozen limbs, broken equipment and workers that actually wanted to eat more than once a day.
I think we could sell this as an "Extreme Adventure" to polar bear land or maybe do one of those reality TV shows! Fortunately other than some long, hard days in the saddle, the "extreme conditions" gave us a break this year and almost everything went off without a hitch.
The Hauling Team consisted of Mike Reimer, Dave Schellenberg, Fraser Issac and Steve Toews, ably supported by Doug Webber as chief cook and bottle washer. Due to the relatively light load (7000 kgs) we elected to transport everything via snowmobile and komatik rather than firing up the old D6 Cat we normally use.
Freighting went well, weather was brilliant and all pieces arrived safe and sound after a two day adventure. Once the hauling was done the real worked commenced, that being the business of collecting our supply of firewood.
Visitors to our polar bear lodges will quickly see that this in itself is quite a feat, as there is hardly a stick in sight! Luckily, travel and exploration inland by snowmobile usually yields some pretty good stands of dead timber for burning, some of it over 300 years old!
Fraser and Steve had a tough time keeping up with the old guys and probably won't care to see a wood haul for a bit, at least not until next year.
Our Birds, Bears & Belugas summer polar bear trip has become a hot ticket item among bucket-listers, especially at the trade shows we've been attending. That's understandable. After all, where else in the world can you actually walk on the tundra with polar bears?
Our remote location north of Churchill, Manitoba on the coast of Hudson Bay is part of a vast coastal polar bear waiting room,  where the bears dream away the summer while they wait for the sea ice (their personal hunting ground) to return. Bears saunter by our Seal River Lodge on a daily basis, providing fabulous polar bear viewing, photography and video opportunities. They often come right up to the lodge windows and the front door! The scent of the gourmet meals at Seal River Lodge is probably part of the reason they visit so consistently, but we don't feed them.
And if the polar bears are not in our back yard, peering in the lodge windows or lazing around the front door, we're out on the tundra looking for them. And we do find them!
We've got beluga whales here too, and as weather permits we're out on Hudson Bay in the Zodiaks jumping into the water and snorkeling with these ghostly white creatures. The polar bears, like the people, are interested in the belugas too (though for slightly different reasons) and we've actually seen them hunting beluga whales from the coastal rocks.
This isn't polar bear watching from a buggy, this is on the ground viewing up close and personal. With gourmet meals in a remote fly-in polar bear lodge that would be considered luxurious by arctic standards. You have to be a bit of an adventurer to enjoy it, but that's precisely why Birds, Bears & Belugas is making it on to so many bucket lists.
Perhaps our guests tell it best…
Recent Testimonials
We had outstanding up-close-and-personal access to polar bears and belugas that we would never have dreamed possible. We felt we were visitors in the bears' home (rather than being at a zoo where humans are in control), yet we always felt safe. — Kerrie
There is NOTHING like walking amongst the top predator of North America that makes you acutely alive! The appreciation for every nuance of a glance or shuffle increased my awareness 100-fold. And to swim with belugas too??? Incredible, and unbelievable! Magic is an overused word, but it was indeed magic. I am so thankful I got to experience it all! — Leslie
Hosts Mike & Jeanne Reimer and their top-notch crew hosted us like family, feasted us like royalty and sent us home shaking our heads and still wondering, "was that for real?"  There is simply no wildlife viewing experience that tops this in North American, and probably in the world.  Just how close do you get?  While filming a bear that came up to greet me through their lodge's observation fence, I smelt his hot breath.  And while hiking the tundra, our guides often determined that it was safe for us to get within a 100 feet of them. — Paul Schurke, Great Northern Adventure Blog
More from TripAdvisor.com
My family and I have recently returned from Canada and we had an amazing six days at The Seal River Heritage Lodge. It is a remote lodge which you reach by float plane from Churchill. We saw lots of polar bears and had an amazing experience swimming with beluga whales in the Hudson Bay – a once in a lifetime experience. The lodge was very comfortable and had great views out onto the Hudson Bay and the food was superb. The guides were amazingly knowledgeable about the local wildlife and were so welcoming with our 2 children aged 11 and 12. Our daughter made a plaster cast of wolf prints, which she was able to bring home. Great experience would thoroughly recommend it to anyone.  If you go, say hello to the belugas and polar bears for me. — Mrs. M. Smith
The reason I chose Churchill Wild over all other Churchill tours was the fact you go out hiking in bear country… Unbelievable! — Irish Captain
I am a wildlife photographer and have traveled to all seven continents pursuing great photographs of earth's most amazing creatures. Polar bears were right at the top of my "amazing creature" list, of course, so finding the right venue to photograph them was of major importance. It's important to note that I am somewhat tough to please regarding photographic opportunities. So, where do I go and how do I get close to the bears with unobstructed views in a safe environment? Polar bears do have a reputation, you know. OK, there are the tundra buggies out of Churchill. Do I want to spend all day in a crowded vehicle and then photograph bears from 12 ft. above them? Then, what about Norway? Do I want to attempt to view the bears from a long distance aboard a ship around Spitzbergen with the possibility of not even seeing a bear? For me, the clear answer to these questions was a resounding "no". — Larry G. Kinney
A big thank you to Dennis Fast and Michael Poliza for many of the photos in the above gallery!
For help in taking Birds, Bears & Belugas summer polar bear watching off your bucket list, call Churchill Wild Toll Free at  1.866.UGO.WILD (846-9453) or 1.204.377.5090. You can also e-mail us at info@churchillwild.com.
When Canadian Ambassador Gary Doer's daughters Kate and Emily invited U.S. President Barack Obama's daughters Sasha and Malia to visit the polar bears in Churchill a few years ago it got us thinking. They probably considered visiting Churchill, but it's unlikely they knew they could actually walk on the tundra with polar bears, or swim in Hudson Bay with beluga whales.
Churchill Wild eco-lodge owners Mike and Jeanne Reimer say the Obama and Doer families would be more than welcome to do just that at their Seal River Heritage Lodge 40 miles north of Churchill on the Hudson Bay coast.
"It's the only place in Canada where you can actually go out and walk with the polar bears in their natural environment," said Mike Reimer, who has been stomping the terra with the polar bears for over 30 years. "We would absolutely love to have the Obama and Doer families visit our polar bear eco-lodges and take part in all the activities we have to offer."
That of course, would include walking with polar bears on the coast of Hudson Bay and snorkeling with beluga whales in Hudson Bay, not to mention eating gourmet meals straight from the award-winning cookbook series Blueberries and Polar Bears, which were co-written by Jeanne Reimer's mother Helen Webber of Webber's Lodges.
Helen is married to Webber's Lodges owner and former Churchill mayor Doug Webber. She is certainly no stranger to hosting dignitaries at the Webber's home in Churchill and preparing spectacular feasts for them, including Ambassador Doer when he was Premier of Manitoba,
Helen's dinner parties in Churchill are legendary, the last of which was held for the top international executives of the Canadian Tourism Commission, who later flew out to see the polar bears at Seal River Lodge. The dinner, and the trip to Seal River Lodge, received rave reviews.
First Lady Michelle Obama, who is promoting healthy eating as her platform while in the White House, would likely enjoy herself immensely in Churchill Wild's family-run tundra kitchen, which prides itself on utilizing the freshest ingredients available from the surrounding landscapes.
Mrs. Obama launched her Let's Move initiative to battle childhood obesity and improve the quality of food in U.S. schools in February, 2010 and on March 16, 2011 she reached an agreement with Crown Publishing Group to author a cookbook in which she will talk about the garden she established on the South Lawn of the White House. Due out in 2012, Mrs. Obama's new cookbook will also explore how improved access to fresh, locally grown food can promote healthier eating habits for families and communities. You can watch the video about the White House Garden here.
"Last year we built the new dining room," said Reimer. "Right now we're hauling in a new gourmet kitchen. It was designed by Len Friesen and it will be the first of its kind in the arctic. We're planning on having a Celebrity Chef Contest at some point with a combination of original creations and recipes from the Blueberries and Polar Bears cookbooks that will feature seal, caribou, moose, goose, arctic char, northern pike, lake trout, local plant garnishes, wild blueberries, cranberries and strawberries. In between cooking sessions we'll be out on the tundra with the polar bears or swimming with whales. We would love for Mrs. Obama to participate!"
But seriously, fabulous food and cooking contests aside, what about safety and secret service and fighter planes?
"We've never had a polar bear problem in the 30 years that we've operated our lodges," said Reimer. "It's a unique, once in a lifetime experience and our guests love being able to get up close and personal with the polar bears. It's one of the few places on earth where you can actually go out and walk with the bears, and there are numerous safety measures in place. I'm not sure what the bears would think of secret service agents and jet fighters. They probably wouldn't even notice."
While he was Premier of Manitoba, Ambassador Doer persuaded numerous high-profile people to visit Churchill, including Janet Napolitano, who is now President Obama's Secretary of Homeland Security; David Wilkins, the former U.S. ambassador to Canada; and Prime Minister Stephen Harper.  Last fall, famous visitors to Churchill included George Stroumboulopoulos, Chantal Kreviazuk, Raine Maida and Martha Stewart.
Still, try to imagine the Turbo Beaver taking off from Churchill for Seal River Lodge accompanied by fighter jets. Or the curious looks on the polar bears' faces when the secret service agents arrive with the Obama family. And what kind of boat would be required if the Obama and Doer families decided to go swimming with the beluga whales? Would the Zodiaks suffice?
"It would something very special for us," said Reimer. "We would like to extend a heartfelt open invitation to both the Obama and the Doer families to visit Seal River Lodge any time. It would be an incredible honor."
Professional photographer and world traveler Larry G. Kinney of Lexington, Kentucky was at Churchill Wild's Seal River Lodge for the Polar Bear Photo Safari last fall and gave a glowing report of his first meeting with Manitoba's polar bears.
"Having photographed wildlife worldwide, I can truly say that photographing polar bears at Churchill Wild's Seal River Lodge is one of, if not the best experience I have had," said Kinney.  "The eye-level photography, the amazing scenery and backdrops, and the polar bear-like weather make for an unbeatable adventure."
High praise considering Kinney has been on some spectacular wildlife photography trips. From grizzly bears in Alaska to penguins in Antarctica, from crocodiles in Kenya to sea lion pups in Australia and more, Kinney has seen some very wild places. He's now proud to include the polar bears of Northern Manitoba, Canada in his portfolio. But it wasn't just the polar bears and the northern lights Kinney enjoyed.
"Mike and Jeanne Reimer are excellent hosts," said Kinney. "Andy and Terry (our guides) are very knowledgeable and safety conscious, and the staff were always busy taking care of the guests.  The food was great and the lodge, way beyond my expectations, was perfect.  In fact, the whole experience exceeded my expectations on every level."
A photo gallery of Kinney's trip to Seal River Lodge, along with his previous adventures, can be seen on his Web site:  http://InOurSight.com. Kinney's next trip will take him to the Virunga Mountains of Rwanda to photograph gorillas, but a return trip to visit the polar bears also made the future agenda.
"It is my goal to return to Churchill Wild's Seal River lodge and also visit their Nanuk Polar Bear Lodge for a very different experience", said Kinney. "Mike and Jeanne, please save a space for me and thanks for an incredible adventure!"