Dennis Fast is hosting our first ever Polar Bear Photo Safari at Nanuk Polar Bear Lodge. This one week departure takes place August 26-September 1, 2012 on the coast of Hudson Bay in the Cape Tatnum Wildlife Management area.
Dennis' work can be seen all over our website and promotional materials. He has been working with Churchill Wild since the beginning and is our resident photo expert (as well as an incredible guide).
Below he answers some questions many photographers have asked in recent weeks.
: : : : : : : : :
Everyone who comes to Nanuk Polar Bear Lodge wants to know what lenses to bring, and that is an important question.
Most pros would bring at least one lens that can reach out to 500mm or even 600mm. We all know, however, that those lenses are both costly and heavy. So a compromise may be in order for both reasons.
On my trip to Nanuk, I used my 500mm least of all. It's true that the coast is vast, and bears often are spotted at a distance. The temptation is to get as big a lens as possible on the camera and start shooting. In the end, a little patience delivers a curious bear right into easy range for a 100-400mm zoom or something in that range.
I have taken a lot of photos of bears using just my 70-200mm with a variety of multipliers, including 1.4x. 1.7x, and 2.0x. When mothers and cubs show up at the lodge, and they frequently do, they will be at close range and you will quickly be abandoning your long lenses. Remember also that the multiplier effect of most digital cameras, unless they are "full frame" increases the power of all your lenses by a factor of 1.3x to 1.6x depending on the camera you are using. I have a very compact 28-300mm lens which I plan to use a lot in the North this year. It's light weight and size makes it easy to hand-hold and keep at the ready at all times. With a C-size sensor it quickly becomes about a 40-450mm lens – great for almost anything.
Nanuk, however, is not just about the bears. The scenery is spectacular along the coast with sandy beaches and shallow inshore lagoons great for birds and reflections – there goes my 28-300mm again!
The sun spot activity is also increasing at a steady rate as we approach the zenith of its 11-13 year cycle. That means the northern lights could be awesome this year all over the arctic. For that you will definitely want a reasonably fast wide-angle lens. I use my 14-24mm lens a lot for the aurora, but my 24mm-70mm seems to be a great lens for that too. Any wide-angle will allow you to get some of the landscape included in the shots of the sweeping aurora to add a sense of scale. Without that you don't get the feel of how vast the aurora-filled sky really is!
: : : : :
For more information you can call our office at 204-377-5090 or toll free at 1-866-UGO-WILD (846-9453)
You can also email Doreen at info@churchillwild.com
So often news stories involving polar bears consist of experts predicting the end of our beloved polar bear. Doom & gloom is effective in an awareness campaign but never fun to hear about.
So how about some positive news from waaaay up north? Well… positive for polar bears and possibly ice caps (not to be confused with the popular Canadian "Iced Capp").
It seems Alaska is getting a lot of the white stuff this year. According to meteorologist Shaun Baines, Sarah Palin's home state is on track for snowiest winter on record:
About 150 miles to the southeast (of Anchorage), the Prince William Sound community of Cordova, which has already been buried under 172 inches of snow since November, could get another 7 inches today
… It has been difficult to keep up with the shovelling – and 8ft walls of snow line either side of her driveway. After snow fell off her roof she cannot see out either the front or back of her house.
… If it keeps up, Anchorage is on track to have the snowiest winter ever, surpassing the previous record of 132.8 inches in 1954-55, meteorologist Shaun Baines said.
Snowboarding anyone? All we can say is "Wow"…
Hopefully the Hudson Bay polar bears that hang out at Seal River Heritage Lodge don't decide to relocate to Alaska. We'll have to make sure we don't mention this to them.
:::
Elsewhere there have been numerous news stories and YouTube videos of polar bear cubs popping up. We've posted a few to our Facebook page but this one was an absolute cuddly little doll! The latest comes out of the Scandinavian Wildlife Park and appeared in the Washington Post's "Kids Post" section.
Meet Siku! Internet sensation!
This baby polar bear was born November 22 at the Scandinavian Wildlife Park in Kolind, Denmark. But because his mother couldn't produce milk to feed the cub…
Keepers named the cub Siku, which means "sea ice."
Well, I guess there is little extra "sea ice" this year after all. Always good news.
:::
The valiant Prince William came to Canada recently to show off his new bride Kate. There was a huge media blitz and Canadians were genuinely excited and gracious hosts.
Churchill Wild sent out the invitation but we did not make the itinerary. Maybe next time. We're sure there are many Seal River alumni (see our Trip Advisor reviews) that would vouch for the suitability of our lodge.
During their whirlwind tour of our homeland the Premier of Northwest Territories gifted the royal couple some fabulous polar bear bling.
Some people are making a fuss about it. We think it was a nice gesture:
We wonder if the Churchill Wild logo would look good encrusted with diamonds. The polar bear brooch is worth around $30,000 dollars (19,000 British pounds). A Churchill Wild limited edition logo brooch? We may never know…
:::
Finally, no scan of the news for "polar bears" is ever complete without one of these:
Yes – every year around this time people strip down and brave the frigid waters for their local "polar bear club". It is hilarious to watch from the warm comfort of your recliner in front of the television.
While we have to commend those brave souls who peel and dive into the cold water we find ourselves contemplating the addition of our own "polar bear challenge" during the Great Ice Bear Adventure at Dymond Lake EcoLodge.
Nahhh… wouldn't be a big seller. That's what Dymond Lake looks like when it starts freezing up in October/November (sans swimmer and umbrella). Floating balls of ice. Wanna jump in?
Actually, when Churchill Wild's guests get into the water in the summer for a beluga swim the Hudson Bay waters are just as cold (or colder) than what most "polar bear clubs" would experience. Wanna try it? That's our extremely popular Birds, Bears & Belugas Adventure which takes place during July and August at the Seal River Heritage Lodge.
Our guests wear heavily insulated dry suits to keep them from freezing up. This photo is courtesy of Mark Seth Lender who was up last summer for our Birds, Bears & Belugas Adventure. Mark has a series of blog posts on his site about his time at the lodge. They are accompanied by some incredible pictures. Check them out.
Mark has a syndicated column and is a frequent contributor to Living on Earth (PRI) a nationally syndicated radio program on NPR. He's putting the final touches on his Churchill Wild segments and they will be airing in the coming months. Stay in touch with us through our newsletter, blog, Facebook and Twitter for air dates.
::::
That's all for this time. Thanks for reading.
by Elaine Friesen (Head Chef, Dymond Lake Lodge)
Everyone has different expectations when they come up for the Great Ice Bear Adventure. The guests of course, come primarily to see polar bears.
The first week we had a resident mother and cub hanging around the lodge, visible right out our window. This was very exciting for staff and guests alike, but on another day we polar bears from a distance. Every day is different.
My assistant Conny was excited when we got to see a wolverine eating a dead seal on the coast. The guests were impressed, but not at the same level – something Conny was confused by.
I reminded her that while we have seen our share of bears over the years, the guests come here to SEE THE BEARS.
Then Mary, our Inuit storyteller from Repulse Bay said, "Well, I came to see the trees."
My bedroom is also the office/radio room, so a there is a fair bit of traffic going through. Nolan, the lodge manager, spends a fair bit of time in here on the computer or radio. But it's a small price to pay to have my own room each night.
Today, for my break time, I am sharing my bed with a fully loaded gun belt, and someone's – not mine – laundry – fortunately clean and folded. When I walked in, I thought – yup, I am definitely at a northern wildlife lodge!
CSI: Churchill?
Hey, why not? The popular television franchise is shown in about 35 countries, worldwide, and has been based in Vegas, Miami & NY. We think they should make a Churchill version and we could offer up Churchill Wild's Seal River Heritage Lodge for production. It has already been used for big budget videoshoots so we're sure cast & crew would feel right at home and enjoy a big helping of Jeanne's awesome cooking!
Here's the perfect context: Jane Waterman's Whiskerprint project based out of the University of Manitoba. Waterman has come up with a way to identify polar bears without tracking devices:
Thanks to a crew of citizen "research assistants" from around the world, tracking individual polar bears around Churchill is literally a snap.
"We can't handle and mark polar bears in the tourist region because the marks would interfere with their photography," Jane Waterman said as she transferred photos of four polar bears from one computer screen on her desk to another.
"But, in order to study the behaviour of bears, we need to identify individuals."
The solution was the University of Manitoba's Whiskerprint Project, a database of polar bear photos — most of which have been taken by tourists around the rocky shores of Hudson Bay near Churchill, 1,465 kilometres northeast of Winnipeg.
"The library uses photographs of the polar bear's facial profile (left or right side) to distinguish among individuals based on whisker-spot patterns and scars," Waterman said.
You can go have a look at the Polar Bear Photo-Identification Library at http://polarbearlibrary.org/
Have you ever wondered exactly how polar bears get intimate? They appear so ferocious when they wrestle, as many Churchill Wild guests would verify. Wrestling polar bears are a regular feature in the fall season and are often the subject of the most prized photos guests take.
But how do those cute, cuddly polar bear cubs come into this world and make their way to Churchill Wild's Seal River Heritage Lodge or Nanuk Polar Bear Lodge? We know the birds and the bees but what are the down and dirty details?
What ritual brings the cubs into this world so guests on walking tours through polar bear country can see them – an experience that only Churchill Wild offers? The mating rituals and incredible photos and footage are part of a highly anticipated documentary for the BBC's Frozen Planet series.
Few humans have ever witnessed the intimacies and drama involved. But now, for the first time, it has been filmed in its entirety for the BBC's new Frozen Planet series, presented by Sir David Attenborough.
An article written by Executive Producer Alastair Fothergill appeared on the UK Daily Mail Online website. The article introduces the episode with some incredible pictures and information about the soon-to-be-aired special.
In 2007 Fothergill worked on another project called Earth which also featured the cinematic mastery of Adam Ravetch. Ravetch's incredible imagery can be seen in other productions such as Arctic Tale, which featured the talents of Hollywood heavy-hitters Queen Latifah and Preston Bailey. Bailey played Michael C. Hall's lovable stepson Cody on the Showtime Network's number one show Dexter.
Adam Ravetch is a good friend of Churchill Wild. He has spent the last two years at Seal River and Nanuk. More details of the film will follow but we can tell you it is slated to air on CBC's Nature of Things (which stars environment guru David Suzuki) in Canada, and on National Geographic in the United States and internationally. There will be a regular version but the really exciting part is that there will be a 3D version! We've seen the preliminary footage and it is going to be AWESOME!
Below is a small sample of what's to come, which we posted on the Churchill Wild YouTube Channel last spring. Andy MacPherson, polar bear guide extraordinaire, wrote a blog post about his experiences guiding Ravetch and his film crew.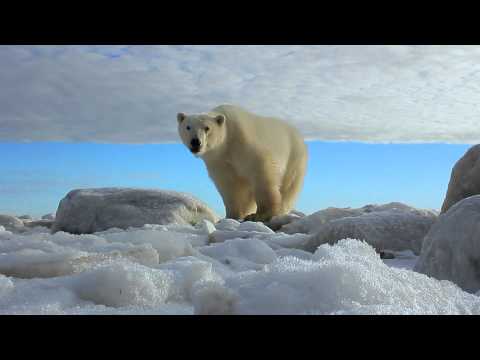 Ravetch also gave us another preview video that we will be posting soon. Keep tabs on the Churchill Wild YouTube Channel, our Arctic Adventure Travel Blog and the Churchill Wild Newsletter. When Ravetch gives us the green light to release all the information about this production, you will be the first to hear about it.
You can sign up for the Churchill Wild Newsletter here.
Yesterday Albert (Butch) Saunders and Mike Reimer completed their first overland expedition by ATV from Nanuk Polar Bear Lodge to the legendary Cape Tatnam.
Mike was complaining of a sore backside after the 135 km "jaunt" but the many sightings of polar bears and a black wolf within 20 meters helped ease the pain. Butch pointed out that his grandfather and his uncles had walked this coastline on many a hunting trip in days gone by, so we certainly were not the first people there. And we did find evidence of old camp sites, which was very interesting.
The spectacular beaches and sand dunes at Cape Tatnam rival some the finest beaches in Mexico. But these beaches also provide a beautiful if slightly surreal setting for polar bears. Many bear dens – day beds actually – were investigated on the dunes, further proof that this is obviously a major resting area for the polar bears when they first come off the sea ice. All the polar bears sighted appeared to be healthy and in excellent condition.
Thank you Mother Nature, for another wild and wonderful Churchill Wild adventure!
by Nolan Booth
There were three big polar bears hanging around Nanuk Polar Bear Lodge on the first day, one you could see from the Lodge. A mix of honkers and snow geese were buzzing the coast on and off all day. The numbers were low but it was still early. A mother black bear with three cubs showed up just outside the compound this afternoon while the guests were out "playing" with the white bears.
We have a small group of people for this trip and all are really getting along well with each other. Now all settled in and excited about the early bear sightings. Guest expectations were met right off the bat.
Had some good polar sighting bear sightings over the next two days and the guests got within 30 feet of a wicked black wolf. It was slower trying to travel east against a high tide and lots of water. Dinner was a little less formal than at Seal River Heritage Lodge as per guest recommendations and also the Aussies kept trying to clear the table etc. Everyone enjoyed the York Factory DVD.
The final day of the trip started off with a bang, literally! Lying in bed after the alarm went off I was woken up by a Kapow! That made me jump, and the screamer that followed it had me out the door in seconds to see one of our guides, Andy, backing off a big polar bear that had charged the fence. The bear backed off and we started getting the guests moving, but they certainly didn't need much encouragement after that!
The big bear stayed with us, circling, hissing, and showing us how thrilled he was with Andy. He walked the entire way around from the kitchen to the runway. He then laid around for awhile before heading towards Hudson Bay to wake up another old timer for an argument followed by a morning mud bath. There was a wolf running east on the coast. All the guests spotted him, then another and another, five arctic wolves in total. Then the horseshoe jokes started.
It was a great way to end the trip!
GeorgieJet, from the popular travel website "JohnnyJet.com", came up to the Seal River Heritage Lodge this summer to experience Churchill Wild's "Birds, Bears & Belugas", a one-of-a-kind Arctic summer adventure.
Her first account of the adventure can be found here. Now on to part two!
BBB, as we like to call it, has the best of the best in an Arctic summer experience for wildlife lovers, it is a step beyond the traditional Churchill polar bear tour – beluga whale swims, incredible scenery, incredible Arctic cuisine, approximately 250 species of birds and Churchill Wild's trademark polar bear hikes. It's all on the ground, up close and personal with the world's largest carnivore and environmental poster child.
Here's part of what she had to say about the food at Churchill Wild's Seal River Heritage Lodge:
Most of the recipes come from the array of cookbooks written by Jeanne's mother, but the creative chefs come up with their own as well. Breakfast included homemade granola, a hot cereal call Red River, yogurts, and fresh fruit. There were also homemade muffins, breads, egg dishes – like frittatas or egg blossoms, and bacon. The coffee is strong and delicious. The chefs (usually related to the Webbers/Reimers in some way, or friends of the family) cook in the open and the dining room completely surrounded by windows. The panoramic views really make you feel you are on top of the world and make wildlife spotting easy and there is a telescope and a deck accessible here.
Here's part of what she had to say about swimming in the Hudson Bay with beluga whales:
Kayaking was a cool experience, because there were no bugs and the Belugas came quite close to us. At one moment, I felt like I was accompanied by many of them. Listening to their constant and highly physical breathing above the water was calming, like a meditation.
:::
…the dry suit was cumbersome to put on and take off because I was sharing it, so I was a bit grumpy… until it was my turn to get into the water! The water was not at all cold (dry suit) and I opted not to wear the wetsuit hood. I had a snorkel and mask and was being "trolled" by my feet, face down on a 15 foot tether. An awkward position, but perfect for attracting the whales.
I did not get close enough to see the Belugas, as others did, but I heard them! It was absolutely magical! Their sounds are really incredible and I felt like I was on another planet surrounded by hundreds of welcoming, sentient beings talking to me in another language. I did not understand what they were saying, but I could FEEL their curiosity and their acceptance and love! I think the human group was disappointed that I did not see the Belugas underwater or get a picture of them, but I was completely satisfied. I would do it again in a minute, if I had the chance. It was undeniably another life changing moment within my 6 days at Seal River Lodge! As a travel writer, I have had hundreds of amazing experiences, but this is rated amongst my top five!
Make sure you go past the JohnnyJet website and read the whole thing. Georgette – thanks for coming up and sharing your experience!
World renowned professional photographer Charles Glatzer is at Seal River Heritage Lodge right now sampling Churchill Wild's first ever Arctic Safari. Charles circulated this picture to some friends, as well as Churchill Wild staff & guests:
You can see more of Charles' incredible work on his website and blog.
The Arctic Safari is Churchill Wild's most ambitious adventure. When it was announced last May it immediately sold out!
Fashioned after a traditional African safari, Churchill Wild owner Mike Reimer saw an opportunity to offer Churchill Wild's own version of "The Big Five" in the arctic. Set against the visually stunning fall colors of early September, the Arctic Safari promises to be an all encompassing encounter with endless photo opportunities and arctic wildlife experiences.
A small window in early September provides the perfect apex to see the widest variety of wildlife and brilliant displays of Aurora Borealis. The Arctic Safari takes you over 20,000 square kilometers of the wildest regions in the Arctic; providing the potential of seeing wolves, caribou, moose, three species of bears (polar, black and grizzly), beluga whales, arctic and colored fox, wolverine, beaver, pine marten and arctic birds.
To find out more about the Arctic Safari or other polar bear watching tours offered by Churchill Wild check out the website. Every adventure offered by Churchill Wild includes the one-of-a-kind access of walking with polar bears, on the ground, up close & personal (and safe).