Have you ever wondered exactly how polar bears get intimate? They appear so ferocious when they wrestle, as many Churchill Wild guests would verify. Wrestling polar bears are a regular feature in the fall season and are often the subject of the most prized photos guests take.
But how do those cute, cuddly polar bear cubs come into this world and make their way to Churchill Wild's Seal River Heritage Lodge or Nanuk Polar Bear Lodge? We know the birds and the bees but what are the down and dirty details?
What ritual brings the cubs into this world so guests on walking tours through polar bear country can see them – an experience that only Churchill Wild offers? The mating rituals and incredible photos and footage are part of a highly anticipated documentary for the BBC's Frozen Planet series.
Few humans have ever witnessed the intimacies and drama involved. But now, for the first time, it has been filmed in its entirety for the BBC's new Frozen Planet series, presented by Sir David Attenborough.
An article written by Executive Producer Alastair Fothergill appeared on the UK Daily Mail Online website. The article introduces the episode with some incredible pictures and information about the soon-to-be-aired special.
In 2007 Fothergill worked on another project called Earth which also featured the cinematic mastery of Adam Ravetch. Ravetch's incredible imagery can be seen in other productions such as Arctic Tale, which featured the talents of Hollywood heavy-hitters Queen Latifah and Preston Bailey. Bailey played Michael C. Hall's lovable stepson Cody on the Showtime Network's number one show Dexter.
Adam Ravetch is a good friend of Churchill Wild. He has spent the last two years at Seal River and Nanuk. More details of the film will follow but we can tell you it is slated to air on CBC's Nature of Things (which stars environment guru David Suzuki) in Canada, and on National Geographic in the United States and internationally. There will be a regular version but the really exciting part is that there will be a 3D version! We've seen the preliminary footage and it is going to be AWESOME!
Below is a small sample of what's to come, which we posted on the Churchill Wild YouTube Channel last spring. Andy MacPherson, polar bear guide extraordinaire, wrote a blog post about his experiences guiding Ravetch and his film crew.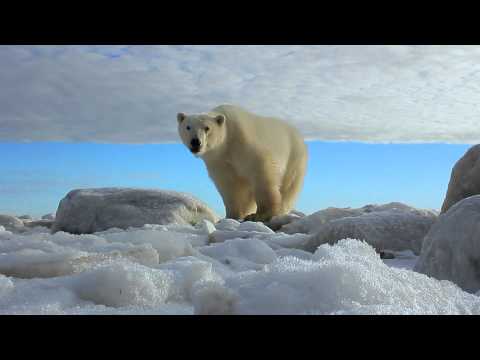 Ravetch also gave us another preview video that we will be posting soon. Keep tabs on the Churchill Wild YouTube Channel, our Arctic Adventure Travel Blog and the Churchill Wild Newsletter. When Ravetch gives us the green light to release all the information about this production, you will be the first to hear about it.
You can sign up for the Churchill Wild Newsletter here.
Is climate change reducing the world's polar bear population?  There's no question the polar bear's favored environment – the arctic sea ice – is melting, yet the polar bear population on Canada's Hudson Bay seems to be thriving right now. Why?
CNN producer Jessica Ellis took a film crew to Churchill Wild's Seal River Heritage Lodge to get the answers from some veteran polar bear men including Churchill Wild co-owner Mike Reimer, wildlife guide Andy MacPherson and professional photographer Dennis Fast.
We think you'll find their answers both interesting and informative. Click the image above to watch the recent CNN Video Feature about Polar Bears and Climate Change.
It's been a busy media week for the polar bear's at Churchill Wild's Seal River Heritage Lodge! Earlier this week we were featured in Newsweek in an article entitled The Polar Express and today we were featured in polar bear video on the CNN Web site in the "Most Popular" and "Don't Miss" video sections!
CNN producer Jessica Ellis and photographer Ferre Dollar were recent visitor's to Seal River Heritage Lodge on the Hudson Bay Coast and they were surrounded by polar bears – and photographers.
A short clip of their polar bear trekking trip also appeared on CNN (TV) today on the Rick Sanchez show! The video was part of a behind the scenes piece put together for CNN International's Backstory (which aired Wednesday).
Click the image above to see the raw video footage of Jessica and Ferre flying through the snow from Churchill, Manitoba enroute to the remote Hudson Bay Coast. And there was a polar bear in the vicinity when they got off the plane – so they had to take a different route to the Lodge!
Make sure to watch sections 2:14 – 2:26, when the team was surrounded by polar bears, and the piece at 3:47 of the video, when a bear comes to the Lodge door. And of course, there are more polar bears.
This raw video footage, entitled Face to Face with the Polar Bears, shows just how much fun it can be to walk on the arctic tundra and visit with the polar bears up close and personal.
An additional clip of this arctic adventure is slated to air on CNN during the week of December 7. It will also feature Churchill Wild owner Mike Reimer, professional photographer Dennis Fast and polar bear guide extraordinaire Andy MacPherson – all talking about what it's like to hang out with the polar bears at Seal River Heritage Lodge.
Jessica and Ferre told us they had a fantastic time! We owe them a big warm polar bear hug!
Thank you CNN!