by Elaine Friesen (Head Chef, Dymond Lake Lodge)
Everyone has different expectations when they come up for the Great Ice Bear Adventure. The guests of course, come primarily to see polar bears.
The first week we had a resident mother and cub hanging around the lodge, visible right out our window. This was very exciting for staff and guests alike, but on another day we polar bears from a distance. Every day is different.
My assistant Conny was excited when we got to see a wolverine eating a dead seal on the coast. The guests were impressed, but not at the same level – something Conny was confused by.
I reminded her that while we have seen our share of bears over the years, the guests come here to SEE THE BEARS.
Then Mary, our Inuit storyteller from Repulse Bay said, "Well, I came to see the trees."
My bedroom is also the office/radio room, so a there is a fair bit of traffic going through. Nolan, the lodge manager, spends a fair bit of time in here on the computer or radio. But it's a small price to pay to have my own room each night.
Today, for my break time, I am sharing my bed with a fully loaded gun belt, and someone's – not mine – laundry – fortunately clean and folded. When I walked in, I thought – yup, I am definitely at a northern wildlife lodge!
Have you ever wondered exactly how polar bears get intimate? They appear so ferocious when they wrestle, as many Churchill Wild guests would verify. Wrestling polar bears are a regular feature in the fall season and are often the subject of the most prized photos guests take.
But how do those cute, cuddly polar bear cubs come into this world and make their way to Churchill Wild's Seal River Heritage Lodge or Nanuk Polar Bear Lodge? We know the birds and the bees but what are the down and dirty details?
What ritual brings the cubs into this world so guests on walking tours through polar bear country can see them – an experience that only Churchill Wild offers? The mating rituals and incredible photos and footage are part of a highly anticipated documentary for the BBC's Frozen Planet series.
Few humans have ever witnessed the intimacies and drama involved. But now, for the first time, it has been filmed in its entirety for the BBC's new Frozen Planet series, presented by Sir David Attenborough.
An article written by Executive Producer Alastair Fothergill appeared on the UK Daily Mail Online website. The article introduces the episode with some incredible pictures and information about the soon-to-be-aired special.
In 2007 Fothergill worked on another project called Earth which also featured the cinematic mastery of Adam Ravetch. Ravetch's incredible imagery can be seen in other productions such as Arctic Tale, which featured the talents of Hollywood heavy-hitters Queen Latifah and Preston Bailey. Bailey played Michael C. Hall's lovable stepson Cody on the Showtime Network's number one show Dexter.
Adam Ravetch is a good friend of Churchill Wild. He has spent the last two years at Seal River and Nanuk. More details of the film will follow but we can tell you it is slated to air on CBC's Nature of Things (which stars environment guru David Suzuki) in Canada, and on National Geographic in the United States and internationally. There will be a regular version but the really exciting part is that there will be a 3D version! We've seen the preliminary footage and it is going to be AWESOME!
Below is a small sample of what's to come, which we posted on the Churchill Wild YouTube Channel last spring. Andy MacPherson, polar bear guide extraordinaire, wrote a blog post about his experiences guiding Ravetch and his film crew.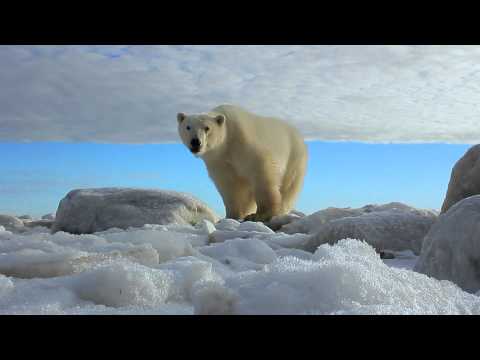 Ravetch also gave us another preview video that we will be posting soon. Keep tabs on the Churchill Wild YouTube Channel, our Arctic Adventure Travel Blog and the Churchill Wild Newsletter. When Ravetch gives us the green light to release all the information about this production, you will be the first to hear about it.
You can sign up for the Churchill Wild Newsletter here.
Rebecca and Fraser are getting married!  It's true.  Our daughter and her lifelong friend Fraser Issac have decided to throw their hats into the ring and tie the knot!
Rebecca and Fraser will be married on October 8, 2011.  The ceremony begins at 3 p.m. on our yard in Kleefeld, Manitoba.  They have decided to take a chance on Mother Nature and have planned for an outdoor wedding, so we are hoping for a beautiful fall day.  There should be an amazing backdrop for the event with all of the leaves changing colour. The trees will be gorgeous and the leaves that fall will provide us with an enchanting kaleidoscope carpet!
Let's back up a few years and I will tell you how this all came to be.
Seven years ago, the Reimer Family decided to make the fateful move to Kleefeld, Manitoba from our long time home in Churchill.  It was a heart wrenching move, as Churchill was the childhood home for five out of the six members of our family.
Our move came about fairly quickly, without a lot of time to find just the right home, so we moved into a tiny house on Hanover Road until we could find what we needed for our family.  The family next door was the first to visit us and welcome us to our new home. And they had kids!
We became fast friends.  Their eldest, a boy named Fraser, just happened to be the same age as our oldest daughter, Rebecca.  Their daughter, Anja, a bubbly, friendly girl, soon spent many hours with our daughters.  Fraser made it his mission to welcome the new girl in his grade and the two fast became a pair.
Rebecca and Fraser "hung out" for all of Grade 9 and most of Grade 10, back when Rebecca was still taller than him!  By the end of Grade 10 their social circles were changing, we had moved to a new home down the road and their paths did not cross as much for a few years.
Fast forward three years and we found our daughter in college and living in Winnipeg with relatives and Fraser working in the city in between his university terms.  They seemed to find time to start "hanging out" again and before we knew it, they had made it official and started dating.  That was a year and half ago, and we are so pleased to have Fraser joining our family.  He is literally the "boy next door", but now MUCH taller than Rebecca, working on a college engineering degree and growing into a man of strong integrity who we have been proud to welcome into our lives.
As previously mentioned, Rebecca is our oldest daughter and just recently turned 21.  She has grown up with Polar Bears at Seal River and fishing at North Knife Lake.  She has been charged by a Polar Bear (fortunately when on the right side of the fence!), caught Manitoba Master angler fish and had a photo published in National Geographic Traveler. She has also spent countless hours snowmobiling with her family and friends, successfully hunted caribou and moose with her dad, been back up driver on Seal River ATV tours.  She's proven she can take on anything that's thrown at her.  Rebecca is thrilled to have found someone to share her love of the outdoors and adventure with. Fraser has embraced the north, but has also shown her the magic and beauty of the south.
We expect to see both of them making cameo appearances at the lodges over the next several years – if we can't hook 'em into some full time work!
Immediate future plans involve living in an apartment in Winnipeg while Fraser finishes the last year and a half of his education. From there, the possibilities are wide open!
You can read their engagement story and see their smiling faces on www.FraserandRebecca.com.  Thanks for reading and sharing in our lives!
Please head over to our Facebook page, "like us" and send your comments to Rebecca & Fraser.
Jeanne & Mike
Or "Rough Company at Cape Churchill"
by Ian Thorleifson
Working with wildlife is always full of surprises. One day in November, my assignment was to meet an airplane and a pilot at Thompson airport, fly to Cape Churchill (a favourite resting place for Polar bears during their on land season), land on the beach ridge, and pick up two Wildlife Service biologists. Then we were to fly along the coast of Hudson Bay, searching for radio- collared polar bears.
Sunday at ten in the morning was the agreed time to meet at the airport, and I was there in plenty of time. The only other person around the hangar was a mechanic, working on another plane. I asked him which plane we were to fly with, and he indicated a Cessna 206 parked nearby. I walked over and checked it out, and noted a couple of unique features. The 206's I'd seen were "tail- dragger" – two wheels under the body and one more under the back of the tail. This one was on "tricycle gear" – three wheels in a triangle configuration under the front of the fuselage with the load balanced by the weight of the engine. Every other 206 I remembered had a three blade prop – each blade being about 2 and a half feet – 80 cm – long. This one had a two blade prop instead, with three foot blades to make up the difference.  Besides, it was a "Trainer" – two equal sets of operating gear to allow the pilot to take control anytime from a person who was learning to fly. I mentioned all this to the mechanic, and he said "Doesn't make any difference", and I reckoned he was right.
"It's quarter to eleven", I remarked, "Where's that pilot?"
"He'll be here", the mechanic reassured, and sure enough, in walked a sharply dressed young fellow with a city haircut and the meanest set of blood shot eyes I'd seen since earlier that morning. I don't like the looks of this, I thought as I introduced myself. "Been bush flying long?" I asked. "Just arrived from Calgary yesterday," he explained, "And they threw a heck of a welcome party for me last night." Oh, great….  "You look pretty rough – you sure you're ok to fly??" "For sure! They'll fire me if I blow my first assignment!"
Against my better judgement, we loaded up and took off toward Gillam, me in the left front seat. I knew my way from Thompson to Cape Churchill "like the back of my hand", so I reassured the pilot I could navigate for him without maps. That reassured him, and he visibly relaxed – so much so that in about fifteen minutes, his head was bobbing! "Hey, what are you doing?" I yelled. He snapped to attention, then said, "Man, I'm so tired – Can you fly a plane?" I protested vehemently, summarized my flying experiences from the passenger seat, then realized that we weren't going anywhere with that.  "It's easy now we're in the air" my sad specimen of a pilot reassured me – just do this and this and I'll just have a quick nap.
He was mostly right – Weather was calm, only a few controls to manipulate. The challenge was navigating. I didn't have the confidence to fly AND look at a map, but, no problem, I could navigate to the Cape from my own memory of the terrain. But – I had to be able to see the ground! We left Thompson with a complete overcast sky and a 3000 foot ceiling. As I flew NE, the ceiling kept dropping. So did I.  By the time sad sack started stirring, we were at 300 feet and getting close to the Cape. He stretched, glanced out the window and LEAPED towards the controls! "What the … are you doing so low?!" I explained, and he settled down. I then described the terrain at the Cape – open gravel beach ridges, one that led to a tower where the researchers were. We would carefully land on the ridge, taxi to the tower, pick them up and go.
He surprised me with his very good landing! Because of our tricycle landing gear, he landed "nose up" then slowly lowered the front until all three wheels were rolling along the ridge – rolling right into a polar bear day bed!  Only about eight inches deep, but just deep enough to make our extra-long blades on the propeller contact the gravel. "Praaang" was the sound, and the plane started to vibrate. We were almost right at the tower, so he quickly shut off the engine. We got out to look, and our biologist buddies came down from the tower. No question – we were not flying anywhere with those twisted and broken blades!
In keeping with the "no problems" attitude, the tower crew invited us up for a meal of spaghetti and red wine, and talk things over. Great supper, but a quick look at the tower did not reveal anywhere for two more people to sleep except in layers. Not the best way to get along. I suggested "That plane is big enough – we'll pull out the seats and Good Luck the Pilot and I will sleep in there – Any bears around?" The biologists informed me that just before we landed, they had scanned all the way around and counted 43 big male polar bears! Pilot's eyes got very big – but I said "No Problem – I've got scare pistols and heavy rifles and shotguns – They'll never take us alive!" He was not reassured, but really had little choice.
We climbed down to the plane, removed the seats and stored them safely, laid out our sleeping bags and snuggled in with all but our outer parka and boots on. It was comfortable enough, and I was asleep quickly – but not for long. Pilot had me by the shoulder and shaking, hissing through his teeth "Ian there's a bear at the window right beside you" and sure enough, I looked up and could see a big black nose pressed up against the Plexiglas, five feet up off the ground. No problem – I just waited until he pulled his nose back, opened the door and bumped his nose, then fired a "cracker shell" onto the ground in front of him – BOOM! FLASH! and away he ran. That happened eight times that night. They pounded on the tail of the plane, pulled the insulating engine cover off, banged on the windows. I chased them away each time, but my eyes were sore from the Flashes, my ears were dull from the Booms. I got very little sleep. Pilot got none.
In the morning, we climbed back up into the tower for coffee. The biologists had radioed to town, and soon two rescue planes appeared! Pilot just about leaped right out of the tower. We flew away with one plane and a regular pilot to do our radio collar surveys. The mechanics put another propeller on the plane, and, incredibly, they flew it to town without it falling out of the sky – but it did have a cracked crankshaft when they took it apart, and that could have come apart at any time in the air…
And, you know, I never did see or hear from that Pilot again!
This was the first appetizer Jeanne's Mom Helen learned to make at Dymond Lake, over 20 years ago.  The recipe was given to her by a guest. She found that guests were the best source of excellent wild game recipes.
Jeanne still makes goose tidbits for many guests and has passed the recipe further to her daughters (who can often be found in the kitchen at any Churchill Wild lodge!
Everyone raves about them and it is such a simple recipe. This is best done with YVGB (Jeanne's Dad Doug's abbreviation for young, virgin, goose boobies).
several goose breasts
butter — the real thing!
Dymond Lake Seasoning or seasoned pepper
white vermouth
1. Lay the goose breast flat on the cutting board and, with a sharp knife, slice along the top to make very thin slices.
2. Melt 2 tbsp. (30 mL) butter in a heavy frying pan over medium-high heat until it is sizzling.
3. Lay the goose slices in the frying pan and sprinkle liberally with Dymond Lake Seasoning or seasoned pepper. They should brown quite quickly. If they do not, turn up the heat a bit. When they are nicely browned on one side turn them over, sprinkle liberally again with Dymond Lake Seasoning or seasoned pepper. Brown for about a minute.
4. Splash in about 1¼ cup (60 mL) of white vermouth. Let the breasts simmer in the vermouth for about a minute.
5. Remove from pan and serve immediately, with toothpicks.
6. Repeat the process until you have enough appetizers.
 ———————————————————————————————————————————————–
— Jeanne Reimer
This is the ninth in our series of Arctic Appetizers. We'll post a new one every week or so. Make sure to check back regularly. Why? Because we serve these at our lodges and they are really, really good!
GeorgieJet, from the popular travel website "JohnnyJet.com", came up to the Seal River Heritage Lodge this summer to experience Churchill Wild's "Birds, Bears & Belugas", a one-of-a-kind Arctic summer adventure.
Her first account of the adventure can be found here. Now on to part two!
BBB, as we like to call it, has the best of the best in an Arctic summer experience for wildlife lovers, it is a step beyond the traditional Churchill polar bear tour – beluga whale swims, incredible scenery, incredible Arctic cuisine, approximately 250 species of birds and Churchill Wild's trademark polar bear hikes. It's all on the ground, up close and personal with the world's largest carnivore and environmental poster child.
Here's part of what she had to say about the food at Churchill Wild's Seal River Heritage Lodge:
Most of the recipes come from the array of cookbooks written by Jeanne's mother, but the creative chefs come up with their own as well. Breakfast included homemade granola, a hot cereal call Red River, yogurts, and fresh fruit. There were also homemade muffins, breads, egg dishes – like frittatas or egg blossoms, and bacon. The coffee is strong and delicious. The chefs (usually related to the Webbers/Reimers in some way, or friends of the family) cook in the open and the dining room completely surrounded by windows. The panoramic views really make you feel you are on top of the world and make wildlife spotting easy and there is a telescope and a deck accessible here.
Here's part of what she had to say about swimming in the Hudson Bay with beluga whales:
Kayaking was a cool experience, because there were no bugs and the Belugas came quite close to us. At one moment, I felt like I was accompanied by many of them. Listening to their constant and highly physical breathing above the water was calming, like a meditation.
:::
…the dry suit was cumbersome to put on and take off because I was sharing it, so I was a bit grumpy… until it was my turn to get into the water! The water was not at all cold (dry suit) and I opted not to wear the wetsuit hood. I had a snorkel and mask and was being "trolled" by my feet, face down on a 15 foot tether. An awkward position, but perfect for attracting the whales.
I did not get close enough to see the Belugas, as others did, but I heard them! It was absolutely magical! Their sounds are really incredible and I felt like I was on another planet surrounded by hundreds of welcoming, sentient beings talking to me in another language. I did not understand what they were saying, but I could FEEL their curiosity and their acceptance and love! I think the human group was disappointed that I did not see the Belugas underwater or get a picture of them, but I was completely satisfied. I would do it again in a minute, if I had the chance. It was undeniably another life changing moment within my 6 days at Seal River Lodge! As a travel writer, I have had hundreds of amazing experiences, but this is rated amongst my top five!
Make sure you go past the JohnnyJet website and read the whole thing. Georgette – thanks for coming up and sharing your experience!
World renowned professional photographer Charles Glatzer is at Seal River Heritage Lodge right now sampling Churchill Wild's first ever Arctic Safari. Charles circulated this picture to some friends, as well as Churchill Wild staff & guests:
You can see more of Charles' incredible work on his website and blog.
The Arctic Safari is Churchill Wild's most ambitious adventure. When it was announced last May it immediately sold out!
Fashioned after a traditional African safari, Churchill Wild owner Mike Reimer saw an opportunity to offer Churchill Wild's own version of "The Big Five" in the arctic. Set against the visually stunning fall colors of early September, the Arctic Safari promises to be an all encompassing encounter with endless photo opportunities and arctic wildlife experiences.
A small window in early September provides the perfect apex to see the widest variety of wildlife and brilliant displays of Aurora Borealis. The Arctic Safari takes you over 20,000 square kilometers of the wildest regions in the Arctic; providing the potential of seeing wolves, caribou, moose, three species of bears (polar, black and grizzly), beluga whales, arctic and colored fox, wolverine, beaver, pine marten and arctic birds.
To find out more about the Arctic Safari or other polar bear watching tours offered by Churchill Wild check out the website. Every adventure offered by Churchill Wild includes the one-of-a-kind access of walking with polar bears, on the ground, up close & personal (and safe).
Try this as a dip or a sauce for any of the Arctic Appetizer recipes. This recipe makes for a great flavour boost for almost anything!
3 tbsp. cider vinegar  (45 ml)
1 cup  apricot or peach jam (250 ml)
1/4 tsp. paprika (1 ml) 
Combine all ingredients and pour into a small glass dish.
———————————————————————————————————————————————–
— Jeanne Reimer
This is the eighth in our series of Arctic Appetizers. We'll post a new one every week or so. Make sure to check back regularly. Why? Because we serve these at our lodges and they are really, really good!
GeorgieJet, from the popular travel website "JohnnyJet.com", came up to the Seal River Heritage Lodge this summer to experience Churchill Wild's "Birds, Bears & Belugas", a one-of-a-kind Arctic summer adventure.
BBB, as we like to call it, has the best of the best in an Arctic summer experience for wildlife lovers, it is a step beyond the traditional Churchill polar bear tour – beluga whale swims, incredible scenery, approximately 250 species of birds and Churchill Wild's trademark polar bear hikes. It's all on the ground, up close and personal with the world's largest carnivore and environmental poster child.
Rick Kemp, Churchill Wild's Director of Marketing & Communications, met with GeorgieJet in New York this past spring and was able to entice her to pay us a visit. With the support of Travel Manitoba Georgie made her way to the "Wildest Place on Earth" and logged her experiences regularly from the lodge.
Here's part of what she had to say about her life changing experience at Churchill Wild's Seal River Heritage Lodge:
We walked about 500 yards out on the mudflats as it was low tide. The large bear, approx. 1000 pounds, was another 500 yards farther out on a point of rocks. I was astounded at how close we were. He put his nose up in the air and got a whiff of our scent. Their sense of smell is incredible and their eyesight and hearing are keen as well. He sensed that we were not a threat or food, and continued to relax on his spot of sand and rocks, aware of us, but tolerant.
Go past the JohnnyJet website and read the whole thing! Georgie told us she will be writing about her beluga swim and Jeanne's renowned meals next. We'll let everyone know when that story becomes available.
A very long name for a very simple but yummy recipe!
1 cup dry red wine  (250 ml)
2 garlic cloves, minced, OR 1/2 tsp. (2 ml) garlic  powder (2ml)
1 tbsp. soy sauce (15 ml)
6-8 duck breasts or 3-4 young goose breasts,  cut into bite-sized pieces 6-8
10 oz. can sliced water chestnuts (284 ml)
1 lb. thinly sliced bacon strips, halved (454 g)
1. Combine red wine, garlic and soy sauce in a large bowl. Add the duck pieces and marinate in the refrigerator for 24 hours.
2. Remove duck pieces from the marinade, place a slice of water chestnut on each side, wrap with a bacon strip and secure with a wooden pick. They may be prepared ahead to this point, covered and refrigerated.
3. Roast at 350°F (180°C) for 25-30 minutes, until bacon is cooked. Serve hot!
Makes 3 dozen.
 ———————————————————————————————————————————————–
Thanks!
— Jeanne Reimer
This is the seventh in our series of Arctic Appetizers. We'll post a new one every week or so. Make sure to check back regularly. Why? Because we serve these at our lodges and they are really, really good!