Dennis Fast is hosting our first ever Polar Bear Photo Safari at Nanuk Polar Bear Lodge. This one week departure takes place August 26-September 1, 2012 on the coast of Hudson Bay in the Cape Tatnum Wildlife Management area.
Dennis' work can be seen all over our website and promotional materials. He has been working with Churchill Wild since the beginning and is our resident photo expert (as well as an incredible guide).
Below he answers some questions many photographers have asked in recent weeks.
: : : : : : : : :
Everyone who comes to Nanuk Polar Bear Lodge wants to know what lenses to bring, and that is an important question.
Most pros would bring at least one lens that can reach out to 500mm or even 600mm. We all know, however, that those lenses are both costly and heavy. So a compromise may be in order for both reasons.
On my trip to Nanuk, I used my 500mm least of all. It's true that the coast is vast, and bears often are spotted at a distance. The temptation is to get as big a lens as possible on the camera and start shooting. In the end, a little patience delivers a curious bear right into easy range for a 100-400mm zoom or something in that range.
I have taken a lot of photos of bears using just my 70-200mm with a variety of multipliers, including 1.4x. 1.7x, and 2.0x. When mothers and cubs show up at the lodge, and they frequently do, they will be at close range and you will quickly be abandoning your long lenses. Remember also that the multiplier effect of most digital cameras, unless they are "full frame" increases the power of all your lenses by a factor of 1.3x to 1.6x depending on the camera you are using. I have a very compact 28-300mm lens which I plan to use a lot in the North this year. It's light weight and size makes it easy to hand-hold and keep at the ready at all times. With a C-size sensor it quickly becomes about a 40-450mm lens – great for almost anything.
Nanuk, however, is not just about the bears. The scenery is spectacular along the coast with sandy beaches and shallow inshore lagoons great for birds and reflections – there goes my 28-300mm again!
The sun spot activity is also increasing at a steady rate as we approach the zenith of its 11-13 year cycle. That means the northern lights could be awesome this year all over the arctic. For that you will definitely want a reasonably fast wide-angle lens. I use my 14-24mm lens a lot for the aurora, but my 24mm-70mm seems to be a great lens for that too. Any wide-angle will allow you to get some of the landscape included in the shots of the sweeping aurora to add a sense of scale. Without that you don't get the feel of how vast the aurora-filled sky really is!
In short, bring what you can comfortably carry without jeopardizing your weight restrictions. And don't over-do it: a few zooms should cover almost everything for you. Unless you are a pro, you can probably leave your biggest lens at home.
: : : : :
For more information you can call our office at 204-377-5090 or toll free at 1-866-UGO-WILD (846-9453)
You can also email Doreen at info@churchillwild.com
I don't think there is a better place in the world to observe and photograph polar bears. — Joel D. Davidson, Photographer
Joel Davidson was at Seal River Heritage Lodge in early November for Churchill Wild's Polar Bear Photo Safari, which takes place when the polar bears congregate in large numbers on the coast of Hudson Bay in anticipation of freeze-up.
Rugged and remote, but with all the comforts of home, Seal River Heritage Lodge is ideally located in the heart of polar bear country on this coast. For the serious wildlife photographer willing to spend long hours in the field getting up close and personal with the arctic wildlife, the ground level photo opportunities at the Lodge are exceptional.
"I chose Churchill Wild and Seal River Heritage Lodge to observe and photograph polar bears at ground level," said Davidson. "I did not want to photograph the bears 15′ high from a Tundra Buggy. Our guides were very professional. Their primary concern was our safety, but they still allowed us to get close enough to the bears for good photo opportunities. My experience far exceeded my expectations!"
Photos taken on the Polar Bear Photo Safari feature stunning backdrops of sea ice and the rocky landscapes that surround the Lodge. The snowy Hudson Bay shoreline is ideal for photographing polar bears in their naturally icy environment at this time of year and is praised by the many photographers that visit the Lodge.
"I took over 4,000 photos," continued Davidson. "I have been fortunate to photograph wildlife all over the world and have never taken so many fine images in just four days!  The hardest problem was selecting the best images from hundreds of excellent photos."
Davidson immensely enjoyed watching (and videotaping) the interaction and the wrestling of the polar bears. See video below.
Although he missed the Northern Lights, which often romance and dance on clear nights for photographers and guests at the Lodge, Davidson felt that observing so many arctic fox on the trip was a bonus. And we have to agree – he did get some fabulous arctic fox photos! See gallery below.
"The accommodations were excellent, the food was superb, and the staff was outstanding," said Davidson. "Staying at Seal River Heritage Lodge is a photographer's dream."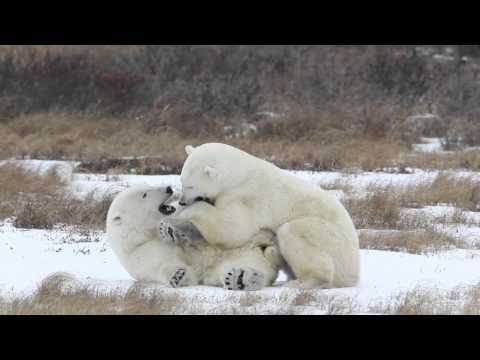 To view more of Joel Davidson's polar bear photos please visit his Web site at: http://joeldavidsonimages.com/
New Yorker Betti Zucker was a recent visitor to Churchill Wild's Seal River Heritage Lodge. She came to see the polar bears. This is her story.
OMG! It was The Photo Trip of a Life Time, seeing the Polar Bears at Seal River Heritage Lodge! A schlep to get to, but worth every nanosecond!
Our adrenaline was pumping full speed as we stepped off the "little" 8-seat de Havilland plane – that my darlings – included the very cute pilot (sorry I forgot to take his picture). We were met by two terrific guides, Terry and Andy. They happened to be our body guards as well (armed with rocks, flares, pepper spray and the big cahoonas).
The Tundra was still in its full autumn glory. Patches of crimson, gold, rust, mushroom, shades of browns, ombre grays to black, sky blue and rainbows of greens glimmered before our eyes. Playing follow the leader, we marched like little soldiers off the tarmac (gravel airstrip) into the brush to our home for the next four days – Seal River Heritage Lodge.
Suddenly there was a scramble to find our cameras! A bear was spotted a far distance away. Of course, it took ME forever to find the butter colored "lump" that was a bear! Little did everyone know, those pictures were to be deleted later because better ones where waiting to be snapped.
Our host and hostess were the delightful and charming Mike and Jeanne Reimer. We were taught bear etiquette. GIVE THE BEARS SPACE. Not so easy when you're looking out of a picture window and Papa Bear is checking you out as delicious dinner – or just some oddballs in a glass and wooden cage!
The next morning we awoke to a new landscape! A blanket of snow had feathered its way down to the tundra, while we were cozy, under down comforters, fast asleep.
Each day we took two hikes to view the landscape and glimpse at the bears. Sleeping, the polar bears looked angelic tucked into a cove, adorable nestled behind a bush or just darn cute curled up on a bed of rocks. And the temperature was dropping, which meant more friskiness from the mighty white bears.
The young male Titans of the Tundra (polar bears 5 to 7 years old), would liven the action up a bit and begin to spar with each other. This was their form of practicing defending themselves as adults. For the guests Churchill Wild, this was a photo opportunity! And it certainly gave new meaning to bear hugs and half nelsons!
On the way back to the warm and cozy lodge for a much anticipated delicious lunch, it began to snow! We came across two male polar bears that sniffed each other out ("bear talk" for hello) and began to spar – push, wrestle, roll, swat, bite and hug each other. We had ringside seats!
The snapping of cameras caught the attention of the wrestling polar bears and they began walking towards us! Terry and Andy both thought that 35 feet was close enough. They each shouted out a warning for Nanuk to STOP! But this was not enough! Out came the rocks. Zing! Another gold medal for our wonderful guides – with wounded pride the big bears ran away.
What a difference a day makes! On our third day we were met with very wet snow and freezing rain. Colors of the terrain changed again. Now the frozen blueberries and lingonberries were peeking from beneath the ice.
True photographers, we braved the wet and wind and came back for lunch happy and soaked to our skins. Coats, gloves, hats and boot liners were strewn everywhere in site as we recovered from the elements. Only the diehards (yes BZ, no JZ) went for the afternoon walk. We had spotted four polar bears from the indoor tower (upper loft)! Off we went to get "a little bit closer". GOOD INTELLIGENCE ANDY and TERRY! We diverted a bear ambush!
I also learned to snap pictures and run behind the biggest men (they would be far tastier than little old me). I do not call that chicken, just very clever! Girls always want to have more fun. So Claire and I went to the "backyard", a chain linked area with multi-observation stations, for a few more moments of picture heaven. We were rewarded not only with a polar bear on the rocks, but also a Sik Sik (arctic squirrel). What were you thinking little guy? It's way too cold for you!
That evening, just before dinner we had a visitor at the kitchen bar window. Dinner smelled so good, one of the great ice bears came for a closer look. We all got a pre-dinner cocktail photo shoot of Mr. Bear close up and personal.
The next day was to be our last morning. NO ONE WANTED TO LEAVE! The winds were in our favor. My wishes came true! The wind chill was -5 degrees! Our bags where packed. We were ready to go. The sky began to streak from shades of grey to the most beautiful baby blue. Nevertheless, it was to our good fortune that by early afternoon we were told we had to stay another night. (Boo Hoo?)
We walked to the remnants of an old Cree ancestor camp ground, hundreds of years old. Just majestic! On the way back we were treated to a walk on the frozen water bed. Some areas were not as strong as others. Knowing that we were on shallow grounds, it was fun to see the ice crack. Trick? No. Treat!
We got to see a frozen tundra sunset! Pink shimmering ice and boulders with swooshes and swirls of windswept snow. It looked like we had landed on a magical lunar landscape! The sun setting and the moon rising simultaneously. The snow looking like lace on the ice – breathtaking!
It was October 31. We all got back inside to quickly make costumes! The range of imagination was vast! Included in the merriment was a fireplace, assorted cats, fishermen, divers, girl in pajamas with Barney in hand, a witch and a clown. Mary Queen of Scots even showed up! On the night of goblins and ghosts the guest of honor was not the polar bears, but the Aurora Borealis. Ever so faint due to the presence of an almost full moon, it made a quick appearance! Pictures were far superior to the naked eye!
So we were like a pig in her pen, satiated, as we readied ourselves to leave. Maybe, well… maybe just one more parting shot. The plane; new guests arriving; and a big white polar bear in clear view… SNAP, SNAP, SNAP…
The end of a fantastic experience with the polar bears and the beginning of some very fond memories!
Betti Zucker is the author of the blog Betti's Beehive, where she shares her thoughts and adventures on art, music, recipes and travel with other like minds.