by Doreen Booth, Churchill Wild Adventure Specialist
This past November, I was at our Seal River Heritage Lodge for the last departure of the Polar Bear Photo Safari.  While at the Lodge, I had the opportunity to visit with Clare and Andy Coleman, two guests who were up for their second trip with us. I knew they lived near London, England, so when I told them I might have a trip to London coming up, they told me to contact them should the trip go ahead.
It is a rare opportunity that I get to visit with our guests in their home country, so I jumped at the opportunity to meet up with Clare and Andy for a visit. This was primarily a work trip (of course) but, due to timing, I found myself with a free weekend.
Clare and Andy live outside of London and had not had the opportunity to be "tourists" in London for many years so they were excited to take me around to see the sights. My only requests were to get as many pictures as I could of all the sights I had been driving by all week, and to see a musical.
We met up Saturday morning and our first stop was the very long line for Wicked tickets (yes, my musical wish come true!)  From there, we found "Big Bus Tours" and purchased a hop-on hop-off two day pass. This became our mode of transportation for the weekend!
Our first stop was the Tower of London – "Built to strike fear and submission into the unruly citizens of London."  There were many people who lost their heads in this tower over the years for their unruly behavior. In the White Tower we saw the armor of Henry VIII, the beautiful 11th-century Chapel of St John the Evangelist, and the Crown Jewels.
The Tower of London was also used to house exotic animals. These animals were given as royal gifts and animals were kept at the Royal Menagerie for the entertainment and curiosity of the court. There were many stone sculptures around the Tower showing the different types of exotic animals including a polar bear that was gift from the King of Norway. We spent almost five hours exploring.
Our evening was comprised of a cruise on the River Thames, more sightseeing on the Big Bus Tour, a dinner of fish and chips at a small pub in the theatre district, and Wicked the musical. I have to admit I now have a different opinion of the Wicked Witch.
Sunday brought an open sky and wonderful sunlight! We headed straight for the London Eye, as it was the perfect day to see the sights from high above. After driving around the city all week it was great to see the city from a different vantage point.
Afterwards, we walked past Big Ben to get some close-up pictures and then we headed over to Westminster Abbey. It was neat to see the buildings in person and remember them from when the royal wedding took place.
Next, we headed over to Buckingham Palace for more photo opportunities and then to the Queen's Gallery to view an exhibit titled The Heart of the Great Alone: Scott, Shackleton & Antarctic Photography.
After viewing the wonderful display of pictures we headed to a restaurant for lunch before parting ways. There was still work for me to do before Monday.
It was wonderful to meet up with my friends in London.  I appreciate the time they took to show me around the city and keep me company.  I learned a lot, laughed a lot, and will remember my trip to London for many years to come.
Thank you to Andy and Clare for being great "tour leaders" on my trip!
Wow,  talk about role reversal!
Churchill Wild will host the world's first ever Summer Polar Bear Photo Safari at Nanuk Polar Bear Lodge in 2012, offering photographers rare on-the-ground polar bear access and exceptional photo opportunities unavailable anywhere else on the planet.
The new Summer Polar Bear Photo Safari represents an expansion on the success of Churchill Wild's Polar Bear Photo Safari and Arctic Safari at Seal River Heritage Lodge.
"Last year was our first time running a full program at Nanuk", said Rick Kemp, Director of Marketing and Communications at Churchill Wild. "We finally had a chance to see everything the area had to offer. Guests were treated to Churchill Wild's trademark one-of-a-kind polar bear experience with on-the-ground polar bear viewing, but we also discovered wolves, black bears, moose, skunk, golden eagles, peregrine falcons, and thousands of migratory snow geese."
Located in one of the most historically significant areas of Canada on the southern coast of Hudson Bay within the Cape Tatnam Wildlife Management Area, the Summer Polar Bear Photo Safari at Nanuk will have very limited space availability from August 26 to September 1, 2012, and will be led by Churchill Wild in-house professional wildlife photographer and author Dennis Fast. Space will be very limited at a price of $6,395. For more information please call Churchill Wild at 1 ( 204) 377-5090 or e-mail info@churchillwild.com.
"People are starting to want something wilder and less traditional," said Fast. "You're on the polar bears' home turf up here. You're on the ground with the polar bears. It doesn't get any wilder than that. When you're eye-to-eye with the polar bears it elevates their status. You really get a sense of how big and powerful they really are, and it shows in your photographs."
The most compelling attraction for wildlife photographers at Nanuk is the high incidence of mothers and cubs in the area, due to two newly discovered polar bear denning sites on the edge of the Boreal Forest. The Northern Lights can also be quite spectacular at Nanuk when skies are clear, and there are beautiful interior lagoons which also make a great backdrop for photographs of the mothers and cubs.
Nanuk Polar Bear Lodge is located 40 kilometers east of York Factory, a trading post that was established in 1684 by Governor George Geyer of the Hudson's Bay Company, during the early years of the fur trade that played a major part in the exploration and development of Canada.
"We still find remnants of old ships occasionally in the mud flats," said Churchill Wild's Mike Reimer, perhaps referring to the Battle of Hudson Bay in 1697, the largest Arctic naval battle ever fought. "From brass railings to cannons to old grave sites, you never know what you might find. And our guides are direct descendants of the Western Woods Cree, the "Home Guard Indians" who worked with the Hudson Bay Company over 300 years ago at the original settlements — guiding, hunting, interpreting and procuring wild game and furs for them."
Guests at Nanuk Polar Bear Lodge may very well be walking in the footsteps of some very famous explorers during their daily hikes along the sandy and grassy tidal flats in search of polar bears and adventure. But despite taking place in one of the wildest areas on the planet, the Summer Polar Bear Photo Safari at Nanuk offers all the comforts of home with the Lodge's newly renovated cabins that include private en-suite washrooms and showers.
Breakfast, lunch and dinner take place in the separate main dining room at Nanuk Polar Bear Lodge, and the main living room/polar bear viewing area at the Lodge provides a gathering place to relax, share stories and photos after a wonderful day of exploring and photographing, unless of course… you're interrupted by polar bears walking by.
When most people think of seeing polar bears they have visions of snow and ice. Nanuk offered us the spectacular backdrop of the fall colours on the tundra to contrast with the great white bears that were our constant companions. Add to that the millions of birds that stopped at Nanuk on their way south and, if you can't get a great photo here, you won't get one anywhere! — Kerry and Leona Orchard, Nanaimo, BC
Special to Churchill Wild
by +George Williams
Carol Moffatt describes herself as a "fridge photographer".  
Churchill Wild begs to differ.
The 47-year-old Reeve at the Municipality of Algonguin Highlands downplayed the fact that she took some fabulous shots of polar bears, landscapes and northern lights while attending our Polar Bear Photo Safari last October at Seal River Heritage Lodge.
"I don't take photographs to sell them," said Moffatt. "I'm a self-taught amateur photographer with a background in journalism. If someone wanted to offer me money for a photograph I might sell one, but really, if I have a nice photo, I put it on the fridge for a month."
Moffatt has taken more than a few marvelous photos during adventures that have taken her from backpacking in the Australian outback, to Africa, to visiting the 2010 volcanic eruption in Iceland as well as Peru, Ecuador, the Galapagos Islands, Alaska,  Yukon and the Southwestern United States. You can view a selection of her photos on her Web site at http://cmoff.smugmug.com/
"The Yukon was magical," said Moffatt, "but the Churchill Wild trip was the most interesting of all in terms of remoteness.  Part of the adventure was just in getting there. The whole trip was very well organized and I'd never flown in a Twin Otter before."
Moffatt was part of group of 14 photographers and spouses involved in a trip led by professional photographer Mike Beedell.
"There were photographers of every talent level in our group," said Moffatt. "Everyone was very  helpful. We were all united in a shared cause and it just worked."
"We went on hikes across the tundra and saw polar bears every day, but breakfast was always a special experience. You just never knew what might be on the other side when the (polar bear protective) shutters were opened up in the morning. The bears come right up to the lodge. And an arctic fox appeared several times!"
"The food was phenomenal," said Moffatt, impressed by being able to see desserts for later in the day being made fresh every morning in the new kitchen while they were enjoying breakfast. "And the Reimer family made fabulous hosts – ever present but never in your face."
But what about the walking with the polar bears?
"Our guides, Andy and Tara, would scout out the polar bears in the area ahead of time and walk us out into a position where we could photograph them," said Moffatt. "They were quite attuned to our needs as photographers. And you could definitely tell they knew the bears, the landscapes – and photographers in general. They would move us to the left and right, back and forth and they could sense when we needed something different. And it wasn't all polar bears, there was always something different to photograph while we were wandering along — interesting landscapes, lingonberries and other plants, the shifting ice and how the sun reflected on it…"
Two items related to polar bears stood out on the trip for Moffatt. On one occasion when a polar bear got particularly close to an employee hauling water with the ATV, and another when a large male bear chased a female and her cub away from the fenced compound at the Lodge.
"It was on the final day of our trip," said Moffatt. "A mother and her cub were just outside the compound when she sensed the presence of the big male and took off at high speed out on to the (Hudson) Bay to protect her cub. You can tell when they're bigger than usual, and this was very large male. We also got some good close shots of the bears through the fence, but we were always very careful to keep everything out of their reach — cameras, scarves, loose clothing."
"I'm told that Polar bears are the deadliest land animals on the planet. One of the guides said these bears can pull an 800-pound seal out of the water in one swoop. We're the zoo animals up there with us on the inside of the compound and the animals on the outside looking at us. But I wanted a real adventure and I sure got one. The tundra buggies just wouldn't have worked for me. The whole trip was a delight."
She has a fridge full of photographs to prove it.
Special to Churchill Wild
by +George Williams
It's unlikely physician Daniel D'Auria thought his photography hobby would turn him into an author, but that's exactly what happened after his Polar Bear Photo Safari with Churchill Wild.
The 54-year-old from Tabernacle, New Jersey, has now created three children's books about polar bears, each featuring a selection of photographs from the 17,000 he captured at Churchill Wild's Seal River Heritage Lodge. Images from his trip can also be seen at his LifeScapes Imaging Web site.
"I never knew where wildlife photography would take me," said Daniel. "But I had an idea for a book for preschoolers – a whimsical, rhyming book about polar bears.
"We have four children ages 8-23, and some of my fondest memories are of reading to them to when they were growing up. I wanted to create something that would get parents reading to their children and get children interested in wildlife. Parents are interested in the beautiful photos. Children are curious about the bears. And because parents are spending quality time with their children reading the books to them, it gets the children more interested in reading."
A noble cause to be sure, and it's been a long journey to get to the stage of published author, but Daniel has enjoyed every bit of it. He took up photography in high school and spent the last year or so photographing weekly in New Jersey before being able to participate in some of the more elite photography adventures.
Daniel's wife probably had something to do with ramping up the photography hobby in the family. A former dental hygienist with an interest in sports, she participated in the Sports Photography Workshop at the Summit Series of Photography Workshops. Daniel tagged along and this led to him attending the Summit Landscape and Wildlife photography workshop a few years later. Unfortunately, his medical career still didn't leave him the time he would have liked to have spent on photography — until recently.
About two years ago, Daniel hired an associate, which allowed him to free up some time for longer trips to elite photography havens that included the Richard Clarkson Photography at the Summit Workshop in the Grand Tetons of Wyoming; the J. N. "Ding" Darling National Wildlife Refuge located on the subtropical barrier island of Sanibel in the Gulf of Mexico; the Bosque del Apache National Wildlife Refuge in New Mexico; and finally the Polar Bear Photo Safari at Churchill Wild's Seal River Heritage Lodge on the West Coast of Hudson Bay in Manitoba, Canada.
"The Churchill Wild experience was the trip of a lifetime," said Daniel. "We first heard about it from Scott Fryer and his wife Paula, who he met while at the Photography at the Summit Workshop in Jackson Hole, Wyoming. We went on the trip as part of a group with Bob Smith of Elk Meadow Images, who organized a photography workshop for 14 people at Churchill Wild.
"The trip from Winnipeg to Churchill with CalmAir was wonderful. And we had a lovely flight on a small plane from Churchill to the Lodge. It was my first trip on a small plane and we had an excellent pilot. Seal River Heritage Lodge is beautifully hand constructed and extremely comfortable. The staff was unbelievably accommodating and the food was outstanding. It was just like home.
"Our guides, Andy and Terra, really made us feel like we belonged, not like we were goofy outsiders. They would scout the polar bears first to see where they were at, and then we would go on two hikes a day. The furthest we had to go was about a mile and we were able to set up for polar bears, arctic fox, ptarmigan and briefly an arctic hare."
Being able to take on-the-ground photos of wildlife has been Daniel's modus operandi in photography, so the daily hikes worked out perfectly for the group. This despite the fact that Daniel brought his 28 lbs. 2½ foot 600 mm lens, which it was suggested he consider leaving at home.
"I'm used to carrying my lenses in the wilderness," said Daniel. "Whenever I'm photographing I have one smaller lens on my right shoulder, the heavier one on my left, and my backpack. So that wasn't a problem.
"And we weren't interested in going out in tundra buggies. I wanted to be on the ground with the polar bears. I like the freedom of the out of doors, the solitude of hiking the trails, and the beauty of observing nature. I don't want to do it from inside a vehicle unless it is an absolute necessity. Whenever you're out in the wild there will be certain element of danger involved. In Jackson Hole, Wyoming, I carry bear spray. In New Jersey it's not an issue.
"Sure there is some fear of bears. But we learned there is a mutual respect between the polar bears and the people up there in Churchill. If done carefully and properly there is an acceptable risk. We never felt unsafe at any time. I think our group would uniformly say we would like to repeat our experience at Churchill Wild."
Daniel went on to describe how much he enjoyed the spectacular landscapes, sunrises and sunsets over Hudson Bay. Flat, rugged and desolate, "it was like looking out over the surface of mars when the tide was out. You'd think you just went to another planet.
"But that's the best thing about wildlife photography. You can never predict what you'll see. Every day is a little bit of joy. And when I get back from a trip like this – my family notices the difference in me."
Besides being a new author, Daniel also donates framed polar bear and wildlife prints to his local hospital. "I sell a few prints," he said, "But the people at the hospital love them. They have them up on the walls and they always get nice comments from the patients and visitors.
"Wildlife photography has made me a much happier and more content person. It's like being rich… but in different way."
---
Daniel D'Auria's polar bear books for children can be found on Amazon.com at the links below. He's also working on two more children's books about birds and is always interested in pursuing joint ventures that will also benefit a good cause in some way. Thank you Daniel!
You just can't take spectacular photos of polar bears without having excellent guides to watch your back.
That's according to professional photographer Bob Smith of Elk Meadow Images, who organized a photography workshop for 14 people this fall at Seal River Heritage Lodge. Smith's group were taking part in Churchill Wild's annual Polar Bear Photo Safari and were there to snap ground-level shots of polar bears in their natural environment on the coast of Hudson Bay in Manitoba, Canada.
"The guides are so important," said Smith. "They're the real key to getting great ground-level shots of polar bears while at the same time making as little impact as possible. We respect the bears and don't want them to feel threatened. We don't want to disturb them when they're feeding and if they're resting we want them to rest."
"The guides know the bears and they can get us set up in the best position possible to use our equipment," continued Smith. "If we have to move to get a better angle, we depend on the guides to help us do it in a safe and efficient manner. And they also make sure there are no bears approaching from behind."
Smith has been organizing photography workshops for over 20 years and says he likes to search out locations that are "off the beaten path."  The 55-year-old from Denver, Colorado has held photography workshops in Antarctica, Alaska, the high Arctic and Africa.
"We do two or three workshops a year," said Smith. "Our locations attract an elite clientele and we make it easy for them – we do the advance planning, make the arrangements, set up the itinerary and plan the on-location daily schedules."
Smith's photography workshops include instruction on both photography and computer skills.
"Wildlife photography is combination of art and a science, "said Smith. "Effectively capturing wildlife in its natural environment requires knowledge of animal behavior as well as an understanding of how and where to take a photo that will best portray different elements such as strength, size, motion, behavior, interactions within the species etc. There are also different methods of using natural light to enhance photos."
Computer skills featured in Smith's workshops include those needed for processing and sharing images, creating photo albums and more.
Smith has three workshops planned for 2012 that include photographing grizzly bears in Alaska; large mammals in Botswana, South Africa and endangered whooping cranes in southern Texas with Popular Photography Magazine.  For more information on Smith's upcoming photography workshops please visit his Web site at: www.ElkMeadowImages.com or e-mail him directly at: bsmith@elkmeadowimages.com
Smith is currently working on a new book of his photography that will include grizzly bears, eagles and narwhals in Alaska; walrus, bearded seals, ice and polar bears in Svalbard, Norway; and the polar bears at Seal River Heritage Lodge.
The Polar Bear Photo Safari at Seal River Heritage Lodge takes place in the heart of polar bear country on the rugged and wild coast of Hudson Bay. It caters to dedicated wildlife photographers who are willing to spend the hours required to get up close and personal with polar bears and other arctic wildlife. Polar bears can be photographed on the ground in their natural environment of ice and snow along the Hudson Bay shoreline amidst a background of dramatic seascapes and landscapes. More examples of the type of polar bear photos that can be taken at Seal River can be seen in Churchill Wild's 2010 Photo Contest Gallery.
"Photographing polar bears in Churchill doesn't give you the same experiences as the ground-level photo opportunities available at Seal River Heritage Lodge," said Smith. "The workshop participants were enamored with the polar bears and the unique access to them. Many of them told me it was the best trip they've ever been on."
I don't think there is a better place in the world to observe and photograph polar bears. — Joel D. Davidson, Photographer
Joel Davidson was at Seal River Heritage Lodge in early November for Churchill Wild's Polar Bear Photo Safari, which takes place when the polar bears congregate in large numbers on the coast of Hudson Bay in anticipation of freeze-up.
Rugged and remote, but with all the comforts of home, Seal River Heritage Lodge is ideally located in the heart of polar bear country on this coast. For the serious wildlife photographer willing to spend long hours in the field getting up close and personal with the arctic wildlife, the ground level photo opportunities at the Lodge are exceptional.
"I chose Churchill Wild and Seal River Heritage Lodge to observe and photograph polar bears at ground level," said Davidson. "I did not want to photograph the bears 15′ high from a Tundra Buggy. Our guides were very professional. Their primary concern was our safety, but they still allowed us to get close enough to the bears for good photo opportunities. My experience far exceeded my expectations!"
Photos taken on the Polar Bear Photo Safari feature stunning backdrops of sea ice and the rocky landscapes that surround the Lodge. The snowy Hudson Bay shoreline is ideal for photographing polar bears in their naturally icy environment at this time of year and is praised by the many photographers that visit the Lodge.
"I took over 4,000 photos," continued Davidson. "I have been fortunate to photograph wildlife all over the world and have never taken so many fine images in just four days!  The hardest problem was selecting the best images from hundreds of excellent photos."
Davidson immensely enjoyed watching (and videotaping) the interaction and the wrestling of the polar bears. See video below.
Although he missed the Northern Lights, which often romance and dance on clear nights for photographers and guests at the Lodge, Davidson felt that observing so many arctic fox on the trip was a bonus. And we have to agree – he did get some fabulous arctic fox photos! See gallery below.
"The accommodations were excellent, the food was superb, and the staff was outstanding," said Davidson. "Staying at Seal River Heritage Lodge is a photographer's dream."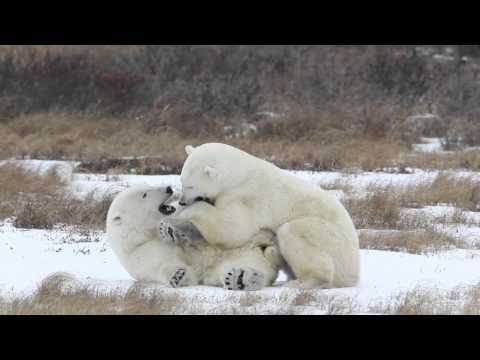 To view more of Joel Davidson's polar bear photos please visit his Web site at: http://joeldavidsonimages.com/
Special to Churchill Wild
by +George Williams
Nicole Leaper surprised her husband Bob on his 60th birthday last year by giving him a Churchill Wild Polar Bear Photo Safari in a blog post.
Nicole had won the trip in a Reach for the Rainbow live charity auction at that organization's annual Crystal Ball, proceeds of which go to benefit the integration of children and youth with disabilities into the mainstream of society through summer camp programs in Ontario.
The couple had a fabulous experience on their polar bear adventure and will be back again for the 25th Annual Crystal Ball on Saturday, November 19, 2011 at the Metro Toronto Convention Centre.
Churchill Wild will also be back, both in attendance and with a donation of a Birds, Bears and Belugas summer polar bear and whale watching holiday at their Seal River Heritage Lodge.
"We're proud to be associated with Reach for the Rainbow and the work they do for the kids," said Rick Kemp, Director of Marketing and Communications at Churchill Wild. "It's a wonderful cause and we're happy to be able to contribute to making the lives of the kids and their families better."
Indeed, contributors to the live auction and the silent auction at this Charity Gala read like a virtual Who's Who of Canada's corporate and business sectors – for two good reasons.
"It's for both the kids and their families," said Nicole. "The kids go to camp for a week and the parents are afforded a respite while knowing their kids are having fun, learning and growing in an enriched, supportive environment."
Bob wholeheartedly agreed. The Director of Information Technology at Southern Graphic Systems Canada also had rave reviews for Churchill Wild. He was thrilled to learn he was going on a trip to photograph polar bears last year after being cajoled by Nicole into reading How to Gift Wrap a Polar Bear.
"Is that me?" he asked with surprise in his eyes. "Yes," smiled Nicole. "Yeah!" he exclaimed.
A self-described serious amateur photographer, Bob was ecstatic about having a chance to photograph polar bears. He'd traveled the world over the past few years to take photographs, which he displays at RobertLeaper.com, and thought that this would be an incredible opportunity to photograph the world's largest land carnivore.
The couple flew from Churchill, Manitoba to the remote coast of Hudson Bay last fall by helicopter, instead of via the usual aircraft used to take visitors to the Lodge. That was the beginning of a trip that Bob said was, "Very well organized from the start. We were well looked after." But when the couple landed at the Lodge they realized something was up.
"You're immediately greeted by people with shotguns," said Nicole. "That's when you start to realize you're the ones who are captive in this environment. The polar bears are at the top of the food chain here."
The couple spent their time on the daily hikes with four other photographers who were, "very into nature photography" according to Bob. The days – and the polar bears – just flew by.
"Bears?" said Bob. "Oh my gosh!  All the time. There were plenty of polar bears. It wasn't easy to eat dinner. There was always something outside. We saw so many bears we got used to them. We started to look at landscapes, plant formations and other wildlife. We snapped the arctic fox during a lunch time and that was exciting!"
Because of the time of year and the chill in the air, camera lenses were often wrapped when inside so that they wouldn't succumb to condensation when the group ventured outside. On one day there was so much polar bear action the group decided to leave their cameras outside.
"That was when we photographed the arctic fox," said Bob. "We got some stunning photos that day. And we were able to get great shots even without big lenses. I have a 300 mm, but that was more than enough."
"You don't need a huge lens to get great shots. On the daily hikes we were able to get very close to the bears depending on their demeanor, and the guides were excellent, always chatting with us about the wildlife, the area and its history."
Bob and Nicole were also impressed by the quality of the food at the Lodge.
"Gourmet meals," said Bob. "Unbelievable. I wasn't expecting that in such a remote area. Caribou, arctic char, pickerel, goose, local berries and other ingredients from the area. You couldn't have asked for anything better."
Bob and Nicole's polar bear trip with Churchill Wild will no doubt hold a special place in their hearts for many years to come. "I've traveled the world, and anyone seriously into photography would love this place," continued Bob, who put his polar bear photos online at: http://www.robertleaper.com/polar/.
"It was an absolutely fantastic adventure that everyone should experience at least once in their lives. And it was for a great cause. It just doesn't get any better than that."
"My heart was beating out of my chest when I bid on that trip," said Nicole. "I'd never done that before."
Was it was worth it?
"In so many ways…"
Churchill Wild is happy to introduce Ian Thorleifson to the Arctic Adventure/Churchill Wild blog readers.
Ian will be contributing a semi-regular column to the blog. He has been on many of Churchill Wild's polar bear Arctic Safaris – in fact, many of you may have met Ian at the Lodge so you will know what a wealth of amazing stories he is!
Ian is the lead for GEOS Consulting services (www.ianthor.com) and has been a friend of Churchill Wild since early on. Born and raised in rural Manitoba, Ian completed a degree in Zoology and Biogeography at the University of Winnipeg.
He worked at biophysical resource inventory and land use planning in northern Manitoba and Ontario, then moved to Churchill for polar bear, moose and caribou management with Manitoba Wildlife Branch.
Ian began raising and marketing cattle, elk, bison, deer and horses in 1986, both on his own ranch and as the manager of large corporate farms in New Brunswick and Alberta. He is the co-author of The Elk Farming Handbook and many articles covering elk, deer and cattle farming.
Since 1987, Ian has been leading ecotours to study and photograph polar bears, birds, and nature in general. Destinations have included Riding Mountain, Churchill, Seal River Heritage Lodge, Dymond Lake Lodge, Nanuk Polar Bear Lodge, Wager Bay, Ungava, the Mississippi Delta and the Gulf of Mexico.
With this background, Ian has become an accomplished and appreciated storyteller and public speaker. He has extensive accomplishments in the Communications field, as a freelance or assignment writer, creating informative magazine and newspaper articles, as a project facilitator and as a communications planner.
We all look forward to Ian's first column which will posted next week.
Imagine what it would be like to get a polar bear for your birthday! Is that even possible? And if so, how would you gift wrap it? And how would you give it to the person?
The answer to question one is… not quite, but close!
The answer to question two comes from Reach for the Rainbow and Churchill Wild.
The answer to question three will have to wait until the end of this story.
Reach for the Rainbow, a non-profit organization which has pioneered the integration of children and youth with disabilities into the mainstream of society at summer camp programs throughout Ontario, provided the gift wrapping via its 24th annual Crystal Ball Fundraising Gala this past November in Toronto.
Churchill Wild provided the polar bears, in the form of a trip for two to their Polar Bear Photo Safari at Seal River Heritage Lodge, as one of 13 featured live auction items at the gala. The top prize was a BMW which went for over $130,000.
"It is due to the generosity and support of donors such as Churchill Wild that Reach for the Rainbow can deliver the integrated opportunities we do, to close to 700 children with disabilities across Ontario each year," said Jennifer Jeynes, Reach for the Rainbow's Manager of Communications & Public Relations.
"The amazing team at Churchill Wild have really stepped up to aid the charity, and we couldn't be more thrilled to be associated with such a wonderful company which provides the ultimate experience of adventure and exploration!" Churchill Wild's Polar Bear Photo Safari gives professional, amateur and hobbyist photographers the chance to walk with polar bears for incredible on the ground opportunities.
Churchill Wild's Director of Marketing & Communications Rick Kemp worked with disabled children for eight years and identified Reach for the Rainbow's Crystal Ball Gala as an ideal event to support. His enthusiasm and the worthiness of Reach for the Rainbow's goals made it was an easy sell to Churchill Wild owner's Mike and Jeanne Reimer.
"Churchill Wild is a family business," said Mike. "And when it comes to family, it's really all about the kids."
The winning bidder for the Polar Bear Photo Safari has been a guest of Fuel Advertising at the Crystal Ball Fundraising Gala for the last few years. Every year she buys her Christmas gifts at different charity events.  This year was a little different – she wanted something unique and very special.
"I wanted a spectacular once-in-a-lifetime gift," she said. "My husband is an avid photographer, he's always had an interest in it. I think he will be blown away with this because it's something he would not have discovered himself. He'll be very surprised!"
Especially when he reads this, on February 4, 2011:
Happy Birthday Bob! — Love, Nicole
Professional photographer and world traveler Larry G. Kinney of Lexington, Kentucky was at Churchill Wild's Seal River Lodge for the Polar Bear Photo Safari last fall and gave a glowing report of his first meeting with Manitoba's polar bears.
"Having photographed wildlife worldwide, I can truly say that photographing polar bears at Churchill Wild's Seal River Lodge is one of, if not the best experience I have had," said Kinney.  "The eye-level photography, the amazing scenery and backdrops, and the polar bear-like weather make for an unbeatable adventure."
High praise considering Kinney has been on some spectacular wildlife photography trips. From grizzly bears in Alaska to penguins in Antarctica, from crocodiles in Kenya to sea lion pups in Australia and more, Kinney has seen some very wild places. He's now proud to include the polar bears of Northern Manitoba, Canada in his portfolio. But it wasn't just the polar bears and the northern lights Kinney enjoyed.
"Mike and Jeanne Reimer are excellent hosts," said Kinney. "Andy and Terry (our guides) are very knowledgeable and safety conscious, and the staff were always busy taking care of the guests.  The food was great and the lodge, way beyond my expectations, was perfect.  In fact, the whole experience exceeded my expectations on every level."
A photo gallery of Kinney's trip to Seal River Lodge, along with his previous adventures, can be seen on his Web site:  http://InOurSight.com. Kinney's next trip will take him to the Virunga Mountains of Rwanda to photograph gorillas, but a return trip to visit the polar bears also made the future agenda.
"It is my goal to return to Churchill Wild's Seal River lodge and also visit their Nanuk Polar Bear Lodge for a very different experience", said Kinney. "Mike and Jeanne, please save a space for me and thanks for an incredible adventure!"