Dennis Fast is hosting our first ever Polar Bear Photo Safari at Nanuk Polar Bear Lodge. This one week departure takes place August 26-September 1, 2012 on the coast of Hudson Bay in the Cape Tatnum Wildlife Management area.
Dennis' work can be seen all over our website and promotional materials. He has been working with Churchill Wild since the beginning and is our resident photo expert (as well as an incredible guide).
Below he answers some questions many photographers have asked in recent weeks.
: : : : : : : : :
Everyone who comes to Nanuk Polar Bear Lodge wants to know what lenses to bring, and that is an important question.
Most pros would bring at least one lens that can reach out to 500mm or even 600mm. We all know, however, that those lenses are both costly and heavy. So a compromise may be in order for both reasons.
On my trip to Nanuk, I used my 500mm least of all. It's true that the coast is vast, and bears often are spotted at a distance. The temptation is to get as big a lens as possible on the camera and start shooting. In the end, a little patience delivers a curious bear right into easy range for a 100-400mm zoom or something in that range.
I have taken a lot of photos of bears using just my 70-200mm with a variety of multipliers, including 1.4x. 1.7x, and 2.0x. When mothers and cubs show up at the lodge, and they frequently do, they will be at close range and you will quickly be abandoning your long lenses. Remember also that the multiplier effect of most digital cameras, unless they are "full frame" increases the power of all your lenses by a factor of 1.3x to 1.6x depending on the camera you are using. I have a very compact 28-300mm lens which I plan to use a lot in the North this year. It's light weight and size makes it easy to hand-hold and keep at the ready at all times. With a C-size sensor it quickly becomes about a 40-450mm lens – great for almost anything.
Nanuk, however, is not just about the bears. The scenery is spectacular along the coast with sandy beaches and shallow inshore lagoons great for birds and reflections – there goes my 28-300mm again!
The sun spot activity is also increasing at a steady rate as we approach the zenith of its 11-13 year cycle. That means the northern lights could be awesome this year all over the arctic. For that you will definitely want a reasonably fast wide-angle lens. I use my 14-24mm lens a lot for the aurora, but my 24mm-70mm seems to be a great lens for that too. Any wide-angle will allow you to get some of the landscape included in the shots of the sweeping aurora to add a sense of scale. Without that you don't get the feel of how vast the aurora-filled sky really is!
: : : : :
For more information you can call our office at 204-377-5090 or toll free at 1-866-UGO-WILD (846-9453)
You can also email Doreen at info@churchillwild.com
Churchill Wild has always been devoted to minimizing their environmental footprint at their remote northern eco-lodges.
Now they're enhancing their environmental stewardship programs even further with the installation of Vertical Access Wind Turbines (VAWTs) manufactured by VBINE ENERGY in Winkler, Manitoba.
The combined power generated by the VAWTs and the solar panels currently in place at their eco-lodges will virtually eliminate the need to use fossil fuels at Seal River Heritage Lodge, Nanuk Polar Bear Lodge, North Knife Lake Lodge and Dymond Lake Lodge.
Generators will still be in place for backup power, but the combination of the current solar-panel system combined with VAWTs is expected to provide for almost, if not all, their power needs in the future.
"The beauty of it is that we have a battery storage system," said Mike Reimer of Churchill Wild. "The power generated from the VAWTs and the solar panels is stored in the batteries and we draw off of them. And they're eco-friendly and economical. There's less noise pollution, less of a carbon footprint and we'll be paying substantially less than the $1-$1.30 per kilowatt it costs for diesel generated power."
The VAWTs were invented by Barry Ireland about six years ago and refined by an engineering team. Their showcase installations include the Dr. David Suzuki Public School in Windsor, Ontario, Canada and Wayne State University in Detroit, Michigan, but the rugged VAWTs were also designed to work in remote northern locations.
"They were originally designed to work on smokestacks and silos," said Ireland. "We had to build them so that the center wouldn't rotate. We also had remote communication towers in mind when we built them. Many of those towers are powered by diesel and the VAWTs cut costs by quite a bit. That also means they will be popular with many northern lodges and outfitters."
VBINE is currently working with Canadian Solar on a combination wind/solar solution that will work for northern communities.
"VAWTs are generating a large amount of interest because of the significant cost savings that can be realized," said Ireland. "And the fact that the big windmills won't work in the north. They ice up, they have too much vibration and they won't go into the permafrost. The VAWTs are the only ones that will work up north."
VAWTs mount easily on existing buildings; they're only two meters in width; they're quiet and they're suitable for grid tie-in or battery storage. And because of the vertical design, VAWTs can take wind from any direction. They start generating power at wind speeds of 1.2 meters per second and run 24/7 generating 5 kilowatts of power with a 25 mph wind. They have a permanent magnet generator with two long-life bearings, no drive shaft and no slips springs or brushes. The lifespan of the VAWTs is estimated at 30 years with very little maintenance. Their sleek design also minimizes interference with wildlife.
The first of the Churchill Wild VAWTs were hauled up to Seal River Heritage Lodge last week via CAT train (caterpillar pulling a freight sled) across the Hudson Bay sea ice, which is still about six feet thick.
Hauling tons of freight across the Hudson Bay ice in -20 degree weather is actually better than doing it at 0 degrees. The ice can get sticky and wet in warm weather, making for dangerous conditions. While there is generally no immediate danger from polar bears, which are still further out on the ice filling up on seals before the ice melts, the weather can still cause problems.
"The wind chills can get to as low as -40," said Reimer. "And there's always the possibility of blizzards, flooding sea ice and slush holes. CATS have actually gone through the ice on a couple of occasions."
The trip takes about 15 hours from Dymond Lake Lodge to Seal River Heritage Lodge and Churchill Wild utilizes one of their two CAT track-type tractors, 1956 and 1972 models built by Caterpillar.  But how fast does that CAT really go?
"About two miles an hour downhill with a tailwind,"  said Reimer.
To learn more about how VBINE ENERGY VAWTs can benefit your operations and goals for a greener future, please visit http://www.VBINE.com, call their head office at (204) 325-0228 or e-mail info@vbine.com
If you've ever wondered what it's like to visit the polar bears at Seal River Heritage Lodge or Nanuk Polar Bear Lodge, you'll want to make sure to watch the world premiere of Polar Bears: A Summer Odyssey on Sunday, April 8 at 7 p.m. on CBC TV's The Nature of Things with David Suzuki. You'll see some of our Churchill Wild polar bears!
The wildlife documentary, much of which was filmed over a 12-month period in the vicinity of Churchill Wild's polar bear lodges, tells the story of a young male polar bear who must survive his first summer alone on land without his mother, after the ice breaks up early on Western Hudson Bay and prevents him from hunting seals. The youngster's struggle to survive is back-grounded and influenced by one of the most important environmental stories in history: climate change.
Directed by Adam Ravetch of Arctic Bear Productions and produced by Arcadia Content in association with CBC's Science and Natural History Documentary Unit, Polar Bears: A Summer Odyssey features stunning images shot with eight different types of cameras including: a polar bear collar-cam; a remote control truck-cam; a mini heli-cam and several underwater cameras.
"Filming in 3D was much more work," said Ravetch. "But we wanted immersive images so the audience could experience what it's really like to be up close at ground level with polar bears. It required multiple cameras operating at the same time to produce the special 3D effects and three of us including Stereographer Indy Saini and Camera Engineering Specialist Stewart Meyer to get the distances between the objects and between the lenses just right. Stewart also developed a smaller mobile camera system that could produce some very rare images."
Churchill Wild's Mike Reimer and polar bear guides Terry Elliot and Andy MacPherson were also essential in getting the ultimate polar bear shots.
"It's a huge challenge to film in 3D in the arctic," said Ravetch. "The guides have to have experience specifically with polar bears. They concentrate on safety so we can focus on camera angles and getting the shots we need. Being up close with the bears is quite spectacular for a filmmaker, but safety is paramount. The last thing we want is for a person or a bear to get hurt. You're not in a cage or a vehicle, you're at ground level with the polar bears. I've always worked at ground level, but there are very few places where you can photograph polar bears like this. Seal River and Nanuk are among the best places on the planet for this type of wildlife photography."
Ravetch is no stranger the arctic. He and Sarah Robertson co-directed Arctic Tale for National Geographic. Ravetch also directed some amazing in-field sequences swimming with polar bears and walruses for the IMAX production To The Arctic and was cinematographer for one of the segments on the BBC series Frozen Planet, to name just a few of his many illustrious wildlife and nature film credits.
Ravetch sometimes camps out for 4-6 weeks at a time while making his films in the arctic, which makes for a very serious and sometimes dangerous adventure (see full interview here), but Churchill Wild was lucky to have him and his crew as guests at Seal River Heritage Lodge and Nanuk Polar Bear Lodge during various segments of the filming process in 2010 and 2011.
"I woke up to Jeanne's (Reimer) omelettes every morning," said Ravetch. "Churchill Wild offers people the very unique experience of getting up close on the ground with the polar bears. Within a day of a arriving at the Lodge people can see polar bears on the tundra. But they still have a warm safe bed at the Lodge to come back to, and of course the delicious food."
Thanks Adam! And just to clarify for future guests, Churchill Wild doesn't actually "own" any polar bears.
They simply get close to them.
Churchill Wild will host the world's first ever Summer Polar Bear Photo Safari at Nanuk Polar Bear Lodge in 2012, offering photographers rare on-the-ground polar bear access and exceptional photo opportunities unavailable anywhere else on the planet.
The new Summer Polar Bear Photo Safari represents an expansion on the success of Churchill Wild's Polar Bear Photo Safari and Arctic Safari at Seal River Heritage Lodge.
"Last year was our first time running a full program at Nanuk", said Rick Kemp, Director of Marketing and Communications at Churchill Wild. "We finally had a chance to see everything the area had to offer. Guests were treated to Churchill Wild's trademark one-of-a-kind polar bear experience with on-the-ground polar bear viewing, but we also discovered wolves, black bears, moose, skunk, golden eagles, peregrine falcons, and thousands of migratory snow geese."
Located in one of the most historically significant areas of Canada on the southern coast of Hudson Bay within the Cape Tatnam Wildlife Management Area, the Summer Polar Bear Photo Safari at Nanuk will have very limited space availability from August 26 to September 1, 2012, and will be led by Churchill Wild in-house professional wildlife photographer and author Dennis Fast. Space will be very limited at a price of $6,395. For more information please call Churchill Wild at 1 ( 204) 377-5090 or e-mail info@churchillwild.com.
"People are starting to want something wilder and less traditional," said Fast. "You're on the polar bears' home turf up here. You're on the ground with the polar bears. It doesn't get any wilder than that. When you're eye-to-eye with the polar bears it elevates their status. You really get a sense of how big and powerful they really are, and it shows in your photographs."
The most compelling attraction for wildlife photographers at Nanuk is the high incidence of mothers and cubs in the area, due to two newly discovered polar bear denning sites on the edge of the Boreal Forest. The Northern Lights can also be quite spectacular at Nanuk when skies are clear, and there are beautiful interior lagoons which also make a great backdrop for photographs of the mothers and cubs.
Nanuk Polar Bear Lodge is located 40 kilometers east of York Factory, a trading post that was established in 1684 by Governor George Geyer of the Hudson's Bay Company, during the early years of the fur trade that played a major part in the exploration and development of Canada.
"We still find remnants of old ships occasionally in the mud flats," said Churchill Wild's Mike Reimer, perhaps referring to the Battle of Hudson Bay in 1697, the largest Arctic naval battle ever fought. "From brass railings to cannons to old grave sites, you never know what you might find. And our guides are direct descendants of the Western Woods Cree, the "Home Guard Indians" who worked with the Hudson Bay Company over 300 years ago at the original settlements — guiding, hunting, interpreting and procuring wild game and furs for them."
Guests at Nanuk Polar Bear Lodge may very well be walking in the footsteps of some very famous explorers during their daily hikes along the sandy and grassy tidal flats in search of polar bears and adventure. But despite taking place in one of the wildest areas on the planet, the Summer Polar Bear Photo Safari at Nanuk offers all the comforts of home with the Lodge's newly renovated cabins that include private en-suite washrooms and showers.
Breakfast, lunch and dinner take place in the separate main dining room at Nanuk Polar Bear Lodge, and the main living room/polar bear viewing area at the Lodge provides a gathering place to relax, share stories and photos after a wonderful day of exploring and photographing, unless of course… you're interrupted by polar bears walking by.
When most people think of seeing polar bears they have visions of snow and ice. Nanuk offered us the spectacular backdrop of the fall colours on the tundra to contrast with the great white bears that were our constant companions. Add to that the millions of birds that stopped at Nanuk on their way south and, if you can't get a great photo here, you won't get one anywhere! — Kerry and Leona Orchard, Nanaimo, BC
Dennis Fast is the chief in-house photographer at Churchill Wild and one of Manitoba's best known photographers. His photos have appeared in many calendars and books, including the award-winning bestseller Pelicans to Polar Bears, a Manitoba wildlife viewing guide.
He has had major contributions to many books since then, with Wapusk: White Bear of the North, being the first book to feature his work exclusively. The book showcases stunning images of polar bears and their Hudson Bay environs, but also addresses the threats to the bears' traditional migration patterns and their existence in the Churchill area.
"Polar Bears are among the most magnificent predators on earth and have fascinated me since childhood," said Fast, on the Heartland Associates Web site. "I never dreamed that someday I would actually walk in the land of Wapusk (Cree for white bear). I still remember in vivid detail my first sighting of a wild polar bear and the feeling of awe it inspired with its beauty and latent power. Since then, I have had many polar bear encounters ­ from mothers and young cubs coming out of their dens, to adult males wrestling for supremacy."
"I have even been privileged to be in the presence of a dying mother, and to witness the struggle of her young cubs forced to learn survival skills without her. Wapusk is the story of the polar bear and the land it calls home, and the story of my passion for the North."
Dennis's expertise and experience photographing in extreme northern conditions have put him among the select photographers in the world with the talents for capturing the light and magical qualities of the north.
His photography has been featured in Outdoor Photography Canada and in the Michigan publication "Whisper in the Woods". The CBC followed him on a sunset photo shoot in 2007 as part of their search for the Seven Wonders of Canada.
Dennis has been the prime photographer for seven books including The Land Where the Sky Begins which was commissioned by the Nature Conservancy of Canada featuring Manitoba's endangered tall grass prairie.
As of 2012, many of Dennis's polar bear images are featured in the new polar bear rehabilitation center at Winnipeg's Assiniboine Park Zoo. His new children's book Princess: A Special Polar Bear is slated to be released in March, to be followed by a coffee table book on Northern wildlife in early 2013.
Dennis is a frequent presenter at photo conferences and other events across Canada. His photographs and his stories are legendary!
Contact Information:
Dennis Fast
Box 151
Kleefeld, MB
R0A 0V0
Phone: (204) 377-4455
E-Mail: denroy@mts.net
Web Site: www.dennisfast.com
Have you ever wondered exactly how polar bears get intimate? They appear so ferocious when they wrestle, as many Churchill Wild guests would verify. Wrestling polar bears are a regular feature in the fall season and are often the subject of the most prized photos guests take.
But how do those cute, cuddly polar bear cubs come into this world and make their way to Churchill Wild's Seal River Heritage Lodge or Nanuk Polar Bear Lodge? We know the birds and the bees but what are the down and dirty details?
What ritual brings the cubs into this world so guests on walking tours through polar bear country can see them – an experience that only Churchill Wild offers? The mating rituals and incredible photos and footage are part of a highly anticipated documentary for the BBC's Frozen Planet series.
Few humans have ever witnessed the intimacies and drama involved. But now, for the first time, it has been filmed in its entirety for the BBC's new Frozen Planet series, presented by Sir David Attenborough.
An article written by Executive Producer Alastair Fothergill appeared on the UK Daily Mail Online website. The article introduces the episode with some incredible pictures and information about the soon-to-be-aired special.
In 2007 Fothergill worked on another project called Earth which also featured the cinematic mastery of Adam Ravetch. Ravetch's incredible imagery can be seen in other productions such as Arctic Tale, which featured the talents of Hollywood heavy-hitters Queen Latifah and Preston Bailey. Bailey played Michael C. Hall's lovable stepson Cody on the Showtime Network's number one show Dexter.
Adam Ravetch is a good friend of Churchill Wild. He has spent the last two years at Seal River and Nanuk. More details of the film will follow but we can tell you it is slated to air on CBC's Nature of Things (which stars environment guru David Suzuki) in Canada, and on National Geographic in the United States and internationally. There will be a regular version but the really exciting part is that there will be a 3D version! We've seen the preliminary footage and it is going to be AWESOME!
Below is a small sample of what's to come, which we posted on the Churchill Wild YouTube Channel last spring. Andy MacPherson, polar bear guide extraordinaire, wrote a blog post about his experiences guiding Ravetch and his film crew.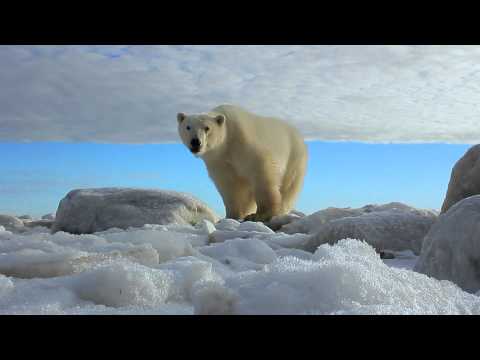 Ravetch also gave us another preview video that we will be posting soon. Keep tabs on the Churchill Wild YouTube Channel, our Arctic Adventure Travel Blog and the Churchill Wild Newsletter. When Ravetch gives us the green light to release all the information about this production, you will be the first to hear about it.
You can sign up for the Churchill Wild Newsletter here.
Yesterday Albert (Butch) Saunders and Mike Reimer completed their first overland expedition by ATV from Nanuk Polar Bear Lodge to the legendary Cape Tatnam.
Mike was complaining of a sore backside after the 135 km "jaunt" but the many sightings of polar bears and a black wolf within 20 meters helped ease the pain. Butch pointed out that his grandfather and his uncles had walked this coastline on many a hunting trip in days gone by, so we certainly were not the first people there. And we did find evidence of old camp sites, which was very interesting.
The spectacular beaches and sand dunes at Cape Tatnam rival some the finest beaches in Mexico. But these beaches also provide a beautiful if slightly surreal setting for polar bears. Many bear dens – day beds actually – were investigated on the dunes, further proof that this is obviously a major resting area for the polar bears when they first come off the sea ice. All the polar bears sighted appeared to be healthy and in excellent condition.
Thank you Mother Nature, for another wild and wonderful Churchill Wild adventure!
by Andy MacPherson
After changing the batteries and cards on the Go Pro cameras we were using to see who had been feeding on a two-week old bear carcass, we continued heading east through the grassy coastal flats of  Hudson Bay at Nanuk Polar Bear Lodge.
The "We" I'm referring to is Adam Ravetch of Arctic Bear Productions and his film crew, who came to Nanuk to film some fall polar bear activity for his upcoming film to be released in 2012. The Go Pro camera has been filming a variety of critters large and small, all coming to feed on the remains of an unfortunate bear that passed along we think due to injuries and infection, possibly due to the usual, battling for females earlier this past spring. We should know the full details of his demise soon, as Conservation officers flew in this past week and checked him out. We're hoping they'll pass along their findings.
We were hoping to find a few bears going about their daily business of sleeping, wandering or being led by their nose to anything deserving of their interest. We spotted our third bear of the day lounging contentedly out on the tidal flats, disappointingly just a little out of our reach.
We tried to get closer, but the Hudson Bay mud was a little too intimidating, causing us to leave an empty boot behind with every step forward. The bear was 150 meters away – secure as gold in Fort Knox – lazily watching our failed attempts to reach him over his left shoulder. Adam reluctantly admitted defeat to the mud and we made our way back to the chariot. But that turned out to be a good thing.
As soon as we reached the chariot we spotted another bear moving towards us from the east. At the same time we also noticed fellow guide Gordy and his buggy full of guests paralleling the bear at a distance. We moved a little closer, set up our camera gear and waited. We weren't disappointed this time.
A beautiful four or five year old female polar bear moved towards us in the glow of late afternoon light. She hopped numerous small streams and slid effortlessly through the grass, providing us with some amazing footage. She stopped to the sound of my voice when she was about 30 meters away, then casually moved around us to the seaward side, giving us the over the shoulder looks as she passed by.
We quickly packed and played leap frog with the bear all the way back to the Misatkoken River, where she sniffed out our poor unfortunate friend. That was where we left her at twilight, outlined in golden light, standing on the crest of the beach ridge.  All caught on the cameras of Adam Ravetch and…
soon to be a star on the big screen.
by Nolan Booth
There were three big polar bears hanging around Nanuk Polar Bear Lodge on the first day, one you could see from the Lodge. A mix of honkers and snow geese were buzzing the coast on and off all day. The numbers were low but it was still early. A mother black bear with three cubs showed up just outside the compound this afternoon while the guests were out "playing" with the white bears.
We have a small group of people for this trip and all are really getting along well with each other. Now all settled in and excited about the early bear sightings. Guest expectations were met right off the bat.
Had some good polar sighting bear sightings over the next two days and the guests got within 30 feet of a wicked black wolf. It was slower trying to travel east against a high tide and lots of water. Dinner was a little less formal than at Seal River Heritage Lodge as per guest recommendations and also the Aussies kept trying to clear the table etc. Everyone enjoyed the York Factory DVD.
The final day of the trip started off with a bang, literally! Lying in bed after the alarm went off I was woken up by a Kapow! That made me jump, and the screamer that followed it had me out the door in seconds to see one of our guides, Andy, backing off a big polar bear that had charged the fence. The bear backed off and we started getting the guests moving, but they certainly didn't need much encouragement after that!
The big bear stayed with us, circling, hissing, and showing us how thrilled he was with Andy. He walked the entire way around from the kitchen to the runway. He then laid around for awhile before heading towards Hudson Bay to wake up another old timer for an argument followed by a morning mud bath. There was a wolf running east on the coast. All the guests spotted him, then another and another, five arctic wolves in total. Then the horseshoe jokes started.
It was a great way to end the trip!
Churchill Wild has been the premier eco-outfitter in Northern Manitoba for over 40 years, but we're always excited when polar bear watching season begins at our Nanuk Polar Bear Lodge, the only tourist camp along a 100-mile stretch of Hudson Bay coastline in Northern Manitoba, Canada.
One of the most pristine wilderness areas left in the world, it hasn't changed in thousands of years. And we promise that you won't find a better place, anywhere in the world, for close encounters with polar bears.
Read Reviews of Nanuk Polar Bear Lodge at TripAdvisor.com
When the ice breaks up in June, the polar bears move ashore. During the summer months they socialize and prowl the shoreline, restlessly waiting for the ice to return. Many of these bears spend their summers within a few miles of our Nanuk Polar Bear Lodge. During an average season up to 400 bears pass by the Lodge.
What makes this population of polar bears so unique is the high concentration of mother bears and cubs. At Nanuk, our guests will encounter polar bears, and often these will be mothers with their offspring. Many of these bears have never seen a person before, and they have the calm demeanor of bears that have not learned to fear people.
Guests who visit Nanuk count themselves among a small group of lucky individuals who have seen these majestic animals up close, undisturbed. These are not habituated "Park bears" or hunted bears that run at the sight of humans.
"We have already been in many nature places in this world. We have seen the lions in Africa; the tigers in India; the grizzlies in Alaska; orangutans in Borneo; the penguins in the Antarctic; but one of the most beautiful places is Nanuk Polar Bear Lodge with their many polar bears. We were overwhelmed to experience so many, so close. We thank the entire staff who made these special days a wonderful experience." — Marlies & Hartmut Thierfelder and Marlies & Siegfried Neubüser, Hamburg, Germany
These are pure, wild polar bears living the way they have lived since time began.
Stay tuned for more blog posts about this year's trip to Nanuk. If you would like more information about Nanuk Polar Bear Lodge please call us at: 1.204.377.5090 or Toll Free at:1.866.846.9453. You can also e-mail us at: info@churchillwild.com.
We would love to hear from you and…
Wish you were here!