Churchill Wild has always been devoted to minimizing their environmental footprint at their remote northern eco-lodges.
Now they're enhancing their environmental stewardship programs even further with the installation of Vertical Access Wind Turbines (VAWTs) manufactured by VBINE ENERGY in Winkler, Manitoba.
The combined power generated by the VAWTs and the solar panels currently in place at their eco-lodges will virtually eliminate the need to use fossil fuels at Seal River Heritage Lodge, Nanuk Polar Bear Lodge, North Knife Lake Lodge and Dymond Lake Lodge.
Generators will still be in place for backup power, but the combination of the current solar-panel system combined with VAWTs is expected to provide for almost, if not all, their power needs in the future.
"The beauty of it is that we have a battery storage system," said Mike Reimer of Churchill Wild. "The power generated from the VAWTs and the solar panels is stored in the batteries and we draw off of them. And they're eco-friendly and economical. There's less noise pollution, less of a carbon footprint and we'll be paying substantially less than the $1-$1.30 per kilowatt it costs for diesel generated power."
The VAWTs were invented by Barry Ireland about six years ago and refined by an engineering team. Their showcase installations include the Dr. David Suzuki Public School in Windsor, Ontario, Canada and Wayne State University in Detroit, Michigan, but the rugged VAWTs were also designed to work in remote northern locations.
"They were originally designed to work on smokestacks and silos," said Ireland. "We had to build them so that the center wouldn't rotate. We also had remote communication towers in mind when we built them. Many of those towers are powered by diesel and the VAWTs cut costs by quite a bit. That also means they will be popular with many northern lodges and outfitters."
VBINE is currently working with Canadian Solar on a combination wind/solar solution that will work for northern communities.
"VAWTs are generating a large amount of interest because of the significant cost savings that can be realized," said Ireland. "And the fact that the big windmills won't work in the north. They ice up, they have too much vibration and they won't go into the permafrost. The VAWTs are the only ones that will work up north."
VAWTs mount easily on existing buildings; they're only two meters in width; they're quiet and they're suitable for grid tie-in or battery storage. And because of the vertical design, VAWTs can take wind from any direction. They start generating power at wind speeds of 1.2 meters per second and run 24/7 generating 5 kilowatts of power with a 25 mph wind. They have a permanent magnet generator with two long-life bearings, no drive shaft and no slips springs or brushes. The lifespan of the VAWTs is estimated at 30 years with very little maintenance. Their sleek design also minimizes interference with wildlife.
The first of the Churchill Wild VAWTs were hauled up to Seal River Heritage Lodge last week via CAT train (caterpillar pulling a freight sled) across the Hudson Bay sea ice, which is still about six feet thick.
Hauling tons of freight across the Hudson Bay ice in -20 degree weather is actually better than doing it at 0 degrees. The ice can get sticky and wet in warm weather, making for dangerous conditions. While there is generally no immediate danger from polar bears, which are still further out on the ice filling up on seals before the ice melts, the weather can still cause problems.
"The wind chills can get to as low as -40," said Reimer. "And there's always the possibility of blizzards, flooding sea ice and slush holes. CATS have actually gone through the ice on a couple of occasions."
The trip takes about 15 hours from Dymond Lake Lodge to Seal River Heritage Lodge and Churchill Wild utilizes one of their two CAT track-type tractors, 1956 and 1972 models built by Caterpillar.  But how fast does that CAT really go?
"About two miles an hour downhill with a tailwind,"  said Reimer.
To learn more about how VBINE ENERGY VAWTs can benefit your operations and goals for a greener future, please visit http://www.VBINE.com, call their head office at (204) 325-0228 or e-mail info@vbine.com
The following account was originally published on Ebushpilot.com back in 2006. The original story and pictures, written by John S. Goulet, can be found here.
The Seal River Heritage Lodge Pancake Breakfast
Klaus and I have finally made it.
We are greeted to the Lodge by hosts Mike and Jennie Reimer. August is the prime of their season and they are busy guiding the guests to the various sites. The lodge is perfectly placed on a spit of sub-arctic tundra surrounded on three sides by the Arctic waters of the Hudson Bay.
As we sat down in the dining room we could view the ocean waters from any of the three large picture windows. Mike has spotting scopes and binoculars handy to help spot the numerous water and shore birds of the area, and to scout for the whales off shore as they break the surface to spout.
The main attraction is the beluga whales which you can see by the thousands as they swim in and out of the North and South mouths of the fabulous Seal River. They come in with the rising tide and leave with the ebbing tide. Mostly they congregate in the mouth of the river where you can visit them in the clear waters using the rubber rafts and small outboard motors. Like shooting fish in a barrel – except you do the shooting with a camera. Mike arranges the rubber rafts for us to leave on a guided tour early the next morning.
At day break I stand on the watch tower over the lodge scanning the bay for water spouts. The rising sun saturates the backdrop sky a gumdrop orange.
As the whales blow the saltwater, back-lit by the sun, into a sparkling diamond spray we set off across the open water. Within 20 minutes we spot whales. These are large with huge black backs and a fan spray blow as they surface. We try to get near them, but they continue to swim off. They are definitely not beluga whales. My best guess is that they are the huge majestic bow whales. Bow whales were hunted commercially until only about 20 years ago and are still considered a rare sighting in this part of the Hudson Bay. We consider ourselves very lucky to have spotted them. We quit the chase and head to the mouth of the Seal River.
Long before we ever reach the Seal River, however, we can see the blow from a distance. With a sea-spray that reaches up to 90 cm the blow is very visible. We are already in the midst of belugas.
They are heading in the same direction and swimming with a purpose. We are sailing with a purpose. They are after the shallow river protein such as worms, crustaceans, shrimp, clams, snails, crabs, and small fish. Fish such as capelin, char, sand lance, smelt, flounder, herring, and cod, are usually taken in deeper water but can be caught much easier in the restricted river mouth. The total take of 25 kgs per day is not much by whale standards, but still a lot of lunch that eventually adds up to 1500 kg of adult male whale.
The beluga can stay submerged for 15-20 minutes and travel up to 2-3 km under water on one dive. That is one of the reasons the river mouth is such a great place to get close and see the whales. The space is restricted and the whales surface more often to spy hop their way around the smaller areas. In the estuaries they usually only stay submerged for only about 2 minutes, and make 1 or 2 surfacings before the longer 1-2 minutes dive.
Before long we are surrounded by whale pods cruising by. These pods are mostly small family groups, but the larger pods can reach up to 10,000 individuals. We can see them clearly, but somehow they are still cautious and do not come too close. Some of the mothers are followed closely, almost as if they are lashed to their backs, by awkward gray calves. Breeding in May means our calves were 3-4 months old. Occasionally we can hear their squawk-like calls. Like other whales, the beluga use echo-location to find their way around and to find food.
After an exhilarating several hours of watching the whales, we decide to stop for our own lunch. Mike and Quentin, his friend and acting guide, tied the two rubber rafts together so we can all share our meal and our experiences.
As we drifted along in this peaceful inner sea and quietly chatted with our fellow rafters, we noticed that the whales were finally starting to show some interest in us. I felt that when the two rubber rafts rubbed together they produced a squeak that the whale's natural curiosity could not resist.
As an experiment, I tried to make the rafts squeak more frequently, but it took a special combination that could not be duplicated easily. I tried rubbing my Gortex pants on the rubber raft but that was too soft a squeak. Finally, Mike caught on to what I was doing and rubbed his own rubber rain slicker pants on the rubber of the raft. That was the magic we needed.
The squeak he produced drove the whales crazy with curiosity and within minutes we were surrounded by over 50 whales in different pods jostling us for a closer look at what was making that peculiar noise. We pulled out our cameras and were snapping incessantly as they spy hopped closer and closer. Mike put his hand under water and the friendly beluga were swimming so close he could feel the flow of their wake.
One particular mother and calf would not leave us alone. She came by time and time again with the little one close on her back. The little gray beluga seemed to love these frequent visits as he hopped up higher each time to look see. When we finally left hours later we had several pods follow us almost all the way home. They could not leave us alone. Nor did we want to leave them, but the day was coming to a close and we had to return to base.
Spending the day with these fellow creatures of curiosity was one the most incredible one on one, or animal family to human family, experiences I have ever had in the wild.
And at Seal River there is so much more nature to go one on one with.
From the Lodge you can take guided interpretive nature and culture walks where you can see caribou, bald eagles, Canada and Snow geese, ptarmigan, sik siks, and polar bears.
Along the interpretive walks you get to visit ancient Dene and Inuit camping sites, outlined by either the weathered tent poles the Dene used, or the tent circle of stones that the Inuit used to anchor their skin tents. The sites have been investigated by archeologist Virginia Petch and the walks have been mapped by GPS to make sure you can see the most with the least trouble. The walks are tough but worth it.
That evening Jeanne, Mike's partner and wife, prepares us an incredible dinner of arctic char, garden peas, and homemade red river cereal bread. Dessert is a (locally picked) cranberry crumble and coffee.
After dinner the sun sets in a glorious blaze of orange to end a perfect day. I am to take an evening stroll on the runway's high point of ground where the evening breeze will keep the bugs swept away. The night is perfectly clear and I can see the planets of Jupiter followed by Venus and a host of northern stars. The night air is cool and I fall asleep deep into the dead of the night.
The next morning the sky is blue blazon with the gold of sunrise and Jeanne serves us the most fantastic sight we have seen since leaving Nigeria 3 weeks ago. Canadian pancakes topped with butter, maple syrup, and as a special treat, blueberry compote made with fresh picked local blueberries. The ending to our trip could not have been any more special. We have flown over 10,000 miles to have breakfast in Canada. Perhaps next time you can join us.
::::
To experience what John wrote about above check out our Birds, Bears & Belugas Adventure Safari. This one of a kind summer experience takes place at the Seal River Heritage Lodge during July and August.
Special to Churchill Wild
by +George Williams
Carol Moffatt describes herself as a "fridge photographer".  
Churchill Wild begs to differ.
The 47-year-old Reeve at the Municipality of Algonguin Highlands downplayed the fact that she took some fabulous shots of polar bears, landscapes and northern lights while attending our Polar Bear Photo Safari last October at Seal River Heritage Lodge.
"I don't take photographs to sell them," said Moffatt. "I'm a self-taught amateur photographer with a background in journalism. If someone wanted to offer me money for a photograph I might sell one, but really, if I have a nice photo, I put it on the fridge for a month."
Moffatt has taken more than a few marvelous photos during adventures that have taken her from backpacking in the Australian outback, to Africa, to visiting the 2010 volcanic eruption in Iceland as well as Peru, Ecuador, the Galapagos Islands, Alaska,  Yukon and the Southwestern United States. You can view a selection of her photos on her Web site at http://cmoff.smugmug.com/
"The Yukon was magical," said Moffatt, "but the Churchill Wild trip was the most interesting of all in terms of remoteness.  Part of the adventure was just in getting there. The whole trip was very well organized and I'd never flown in a Twin Otter before."
Moffatt was part of group of 14 photographers and spouses involved in a trip led by professional photographer Mike Beedell.
"There were photographers of every talent level in our group," said Moffatt. "Everyone was very  helpful. We were all united in a shared cause and it just worked."
"We went on hikes across the tundra and saw polar bears every day, but breakfast was always a special experience. You just never knew what might be on the other side when the (polar bear protective) shutters were opened up in the morning. The bears come right up to the lodge. And an arctic fox appeared several times!"
"The food was phenomenal," said Moffatt, impressed by being able to see desserts for later in the day being made fresh every morning in the new kitchen while they were enjoying breakfast. "And the Reimer family made fabulous hosts – ever present but never in your face."
But what about the walking with the polar bears?
"Our guides, Andy and Tara, would scout out the polar bears in the area ahead of time and walk us out into a position where we could photograph them," said Moffatt. "They were quite attuned to our needs as photographers. And you could definitely tell they knew the bears, the landscapes – and photographers in general. They would move us to the left and right, back and forth and they could sense when we needed something different. And it wasn't all polar bears, there was always something different to photograph while we were wandering along — interesting landscapes, lingonberries and other plants, the shifting ice and how the sun reflected on it…"
Two items related to polar bears stood out on the trip for Moffatt. On one occasion when a polar bear got particularly close to an employee hauling water with the ATV, and another when a large male bear chased a female and her cub away from the fenced compound at the Lodge.
"It was on the final day of our trip," said Moffatt. "A mother and her cub were just outside the compound when she sensed the presence of the big male and took off at high speed out on to the (Hudson) Bay to protect her cub. You can tell when they're bigger than usual, and this was very large male. We also got some good close shots of the bears through the fence, but we were always very careful to keep everything out of their reach — cameras, scarves, loose clothing."
"I'm told that Polar bears are the deadliest land animals on the planet. One of the guides said these bears can pull an 800-pound seal out of the water in one swoop. We're the zoo animals up there with us on the inside of the compound and the animals on the outside looking at us. But I wanted a real adventure and I sure got one. The tundra buggies just wouldn't have worked for me. The whole trip was a delight."
She has a fridge full of photographs to prove it.
by Churchill Wild Guide Terry Elliot
People come to Seal River Heritage Lodge to see the polar bears, but on this occasion the arctic fox obviously stole the show!
Vulpes Lagopus has cyclical population numbers. More prey equals more foxes, and we were seeing lots of lemmings all summer so this was obviously good for the kits (baby foxes). We counted as many as 14 at one time this year, probably a family group with lots of infighting for position in the pecking order.
The arctic foxes have always been bold and inquisitive creatures, but especially so in this photo. Typically they will follow a polar bear out on to the ice and scavenge for the winter. During the summer their coat turns brown, they breed and eat lemmings, eggs, birds, hares, even insects and frogs.
In a prosperous year the females can have as many as 16 kits. Their dense fur enables them to withstand extreme cold temperatures and leave their red-haired cousins behind at the tree line. When sleeping, they will curl into a tight ball with their bushy tail over their nose.
My wife calls this picture "Taming the Hunter". Unfortunately the photo I was taking here did not turn out as well as the photo of me taking it. It's a terrible thing when the wildlife is so close to your camera that you can't get focused. But you have to take the wonderful with the almost-wonderful.
And I did get a decent shot of his ear 🙂
I don't think there is a better place in the world to observe and photograph polar bears. — Joel D. Davidson, Photographer
Joel Davidson was at Seal River Heritage Lodge in early November for Churchill Wild's Polar Bear Photo Safari, which takes place when the polar bears congregate in large numbers on the coast of Hudson Bay in anticipation of freeze-up.
Rugged and remote, but with all the comforts of home, Seal River Heritage Lodge is ideally located in the heart of polar bear country on this coast. For the serious wildlife photographer willing to spend long hours in the field getting up close and personal with the arctic wildlife, the ground level photo opportunities at the Lodge are exceptional.
"I chose Churchill Wild and Seal River Heritage Lodge to observe and photograph polar bears at ground level," said Davidson. "I did not want to photograph the bears 15′ high from a Tundra Buggy. Our guides were very professional. Their primary concern was our safety, but they still allowed us to get close enough to the bears for good photo opportunities. My experience far exceeded my expectations!"
Photos taken on the Polar Bear Photo Safari feature stunning backdrops of sea ice and the rocky landscapes that surround the Lodge. The snowy Hudson Bay shoreline is ideal for photographing polar bears in their naturally icy environment at this time of year and is praised by the many photographers that visit the Lodge.
"I took over 4,000 photos," continued Davidson. "I have been fortunate to photograph wildlife all over the world and have never taken so many fine images in just four days!  The hardest problem was selecting the best images from hundreds of excellent photos."
Davidson immensely enjoyed watching (and videotaping) the interaction and the wrestling of the polar bears. See video below.
Although he missed the Northern Lights, which often romance and dance on clear nights for photographers and guests at the Lodge, Davidson felt that observing so many arctic fox on the trip was a bonus. And we have to agree – he did get some fabulous arctic fox photos! See gallery below.
"The accommodations were excellent, the food was superb, and the staff was outstanding," said Davidson. "Staying at Seal River Heritage Lodge is a photographer's dream."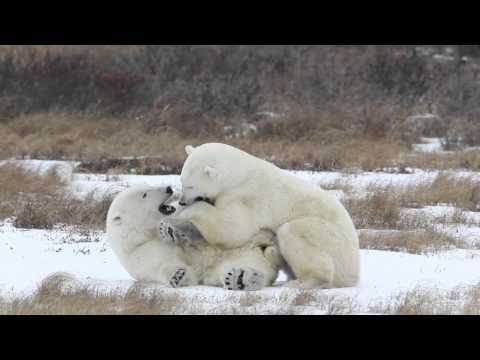 To view more of Joel Davidson's polar bear photos please visit his Web site at: http://joeldavidsonimages.com/
By Mike Reimer
Why? For how long?? Don't we all cringe when your partner floats that question?
In this case it's me (Mike) dodging the query from Jeanne as I packed up in the middle of Polar Bear season to head to PURE in Marrakech, Morocco.
PURE Life Experiences is where "the world's finest creators of travel experiences meet" and this is Churchill Wild's second year. The event is invite only and there is an extensive screening process to be approved.
This prestigious experiential/luxury travel show brings together all the best in adventure travel products on the planet for 4 days of intense marketing discussions, networking, and possibly just a little bit of fun. (But mostly hard work, honest!)
Leaving behind a lodge full of happy guests surrounded by polar bears is really not that big a deal when you have a rock solid, dependable, professional staff staying back to "hold down the fort" managed by Jeanne, the Arctic Queen.
Bear season has been fantastic this year – one of the best, in fact. We have had daily polar bear sightings and spectacular photo ops highlighted by great Northern Lights. Also both red and Arctic foxes, Gyrfalcons, and Snowy Owls are being observed. As much fun as PURE will be, I can't wait to get back to the lodge.
See you soon.
(PURE Life Experiences runs from November 1 – 4, 2011)
Churchill Wild has been the premier eco-outfitter in Northern Manitoba for over 40 years, but we're always excited when polar bear watching season begins at our Nanuk Polar Bear Lodge, the only tourist camp along a 100-mile stretch of Hudson Bay coastline in Northern Manitoba, Canada.
One of the most pristine wilderness areas left in the world, it hasn't changed in thousands of years. And we promise that you won't find a better place, anywhere in the world, for close encounters with polar bears.
Read Reviews of Nanuk Polar Bear Lodge at TripAdvisor.com
When the ice breaks up in June, the polar bears move ashore. During the summer months they socialize and prowl the shoreline, restlessly waiting for the ice to return. Many of these bears spend their summers within a few miles of our Nanuk Polar Bear Lodge. During an average season up to 400 bears pass by the Lodge.
What makes this population of polar bears so unique is the high concentration of mother bears and cubs. At Nanuk, our guests will encounter polar bears, and often these will be mothers with their offspring. Many of these bears have never seen a person before, and they have the calm demeanor of bears that have not learned to fear people.
Guests who visit Nanuk count themselves among a small group of lucky individuals who have seen these majestic animals up close, undisturbed. These are not habituated "Park bears" or hunted bears that run at the sight of humans.
"We have already been in many nature places in this world. We have seen the lions in Africa; the tigers in India; the grizzlies in Alaska; orangutans in Borneo; the penguins in the Antarctic; but one of the most beautiful places is Nanuk Polar Bear Lodge with their many polar bears. We were overwhelmed to experience so many, so close. We thank the entire staff who made these special days a wonderful experience." — Marlies & Hartmut Thierfelder and Marlies & Siegfried Neubüser, Hamburg, Germany
These are pure, wild polar bears living the way they have lived since time began.
Stay tuned for more blog posts about this year's trip to Nanuk. If you would like more information about Nanuk Polar Bear Lodge please call us at: 1.204.377.5090 or Toll Free at:1.866.846.9453. You can also e-mail us at: info@churchillwild.com.
We would love to hear from you and…
Wish you were here!
Here is a picture of the Aurora Borealis (Northern Lights) taken on August 28, 2011 at Nanuk Polar Bear Lodge. Our staff are at the lodge preparing for today's arrival of the first 2011 guests.
There has been quite a bit of talk about polar bears starving in the arctic, but we're not seeing that where we are on the coast of Hudson Bay in Manitoba, Canada. The photos in the gallery below were taken near our remote Seal River Heritage Lodge on the Hudson Bay coast during our recent Birds, Bears and Belugas Adventure.
Polar bear watching at its best, on the ground, up close and personal. But not too close. We have great respect for a polar bear's personal space – as should everyone. Still, the photos our guests are able to take with ground level access can be spectacular. You can view more polar bear photos taken by our guests here.
The Birds, Bears and Belugas Adventure is now finished for the season and we're off to Nanuk Polar Bear Lodge, followed by the Great Ice Bear Tour and the Polar Bear Photo Safari.
Wish you were here!