If you've ever wondered what it's like to visit the polar bears at Seal River Heritage Lodge or Nanuk Polar Bear Lodge, you'll want to make sure to watch the world premiere of Polar Bears: A Summer Odyssey on Sunday, April 8 at 7 p.m. on CBC TV's The Nature of Things with David Suzuki. You'll see some of our Churchill Wild polar bears!
The wildlife documentary, much of which was filmed over a 12-month period in the vicinity of Churchill Wild's polar bear lodges, tells the story of a young male polar bear who must survive his first summer alone on land without his mother, after the ice breaks up early on Western Hudson Bay and prevents him from hunting seals. The youngster's struggle to survive is back-grounded and influenced by one of the most important environmental stories in history: climate change.
Directed by Adam Ravetch of Arctic Bear Productions and produced by Arcadia Content in association with CBC's Science and Natural History Documentary Unit, Polar Bears: A Summer Odyssey features stunning images shot with eight different types of cameras including: a polar bear collar-cam; a remote control truck-cam; a mini heli-cam and several underwater cameras.
"Filming in 3D was much more work," said Ravetch. "But we wanted immersive images so the audience could experience what it's really like to be up close at ground level with polar bears. It required multiple cameras operating at the same time to produce the special 3D effects and three of us including Stereographer Indy Saini and Camera Engineering Specialist Stewart Meyer to get the distances between the objects and between the lenses just right. Stewart also developed a smaller mobile camera system that could produce some very rare images."
Churchill Wild's Mike Reimer and polar bear guides Terry Elliot and Andy MacPherson were also essential in getting the ultimate polar bear shots.
"It's a huge challenge to film in 3D in the arctic," said Ravetch. "The guides have to have experience specifically with polar bears. They concentrate on safety so we can focus on camera angles and getting the shots we need. Being up close with the bears is quite spectacular for a filmmaker, but safety is paramount. The last thing we want is for a person or a bear to get hurt. You're not in a cage or a vehicle, you're at ground level with the polar bears. I've always worked at ground level, but there are very few places where you can photograph polar bears like this. Seal River and Nanuk are among the best places on the planet for this type of wildlife photography."
Ravetch is no stranger the arctic. He and Sarah Robertson co-directed Arctic Tale for National Geographic. Ravetch also directed some amazing in-field sequences swimming with polar bears and walruses for the IMAX production To The Arctic and was cinematographer for one of the segments on the BBC series Frozen Planet, to name just a few of his many illustrious wildlife and nature film credits.
Ravetch sometimes camps out for 4-6 weeks at a time while making his films in the arctic, which makes for a very serious and sometimes dangerous adventure (see full interview here), but Churchill Wild was lucky to have him and his crew as guests at Seal River Heritage Lodge and Nanuk Polar Bear Lodge during various segments of the filming process in 2010 and 2011.
"I woke up to Jeanne's (Reimer) omelettes every morning," said Ravetch. "Churchill Wild offers people the very unique experience of getting up close on the ground with the polar bears. Within a day of a arriving at the Lodge people can see polar bears on the tundra. But they still have a warm safe bed at the Lodge to come back to, and of course the delicious food."
Thanks Adam! And just to clarify for future guests, Churchill Wild doesn't actually "own" any polar bears.
They simply get close to them.
Have you ever wondered exactly how polar bears get intimate? They appear so ferocious when they wrestle, as many Churchill Wild guests would verify. Wrestling polar bears are a regular feature in the fall season and are often the subject of the most prized photos guests take.
But how do those cute, cuddly polar bear cubs come into this world and make their way to Churchill Wild's Seal River Heritage Lodge or Nanuk Polar Bear Lodge? We know the birds and the bees but what are the down and dirty details?
What ritual brings the cubs into this world so guests on walking tours through polar bear country can see them – an experience that only Churchill Wild offers? The mating rituals and incredible photos and footage are part of a highly anticipated documentary for the BBC's Frozen Planet series.
Few humans have ever witnessed the intimacies and drama involved. But now, for the first time, it has been filmed in its entirety for the BBC's new Frozen Planet series, presented by Sir David Attenborough.
An article written by Executive Producer Alastair Fothergill appeared on the UK Daily Mail Online website. The article introduces the episode with some incredible pictures and information about the soon-to-be-aired special.
In 2007 Fothergill worked on another project called Earth which also featured the cinematic mastery of Adam Ravetch. Ravetch's incredible imagery can be seen in other productions such as Arctic Tale, which featured the talents of Hollywood heavy-hitters Queen Latifah and Preston Bailey. Bailey played Michael C. Hall's lovable stepson Cody on the Showtime Network's number one show Dexter.
Adam Ravetch is a good friend of Churchill Wild. He has spent the last two years at Seal River and Nanuk. More details of the film will follow but we can tell you it is slated to air on CBC's Nature of Things (which stars environment guru David Suzuki) in Canada, and on National Geographic in the United States and internationally. There will be a regular version but the really exciting part is that there will be a 3D version! We've seen the preliminary footage and it is going to be AWESOME!
Below is a small sample of what's to come, which we posted on the Churchill Wild YouTube Channel last spring. Andy MacPherson, polar bear guide extraordinaire, wrote a blog post about his experiences guiding Ravetch and his film crew.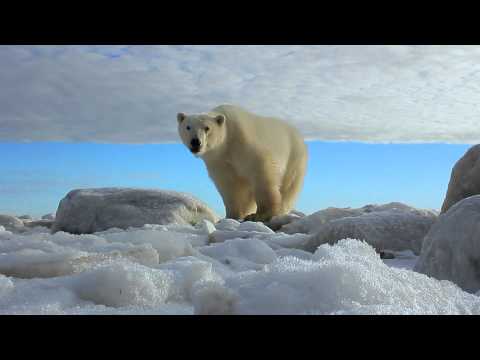 Ravetch also gave us another preview video that we will be posting soon. Keep tabs on the Churchill Wild YouTube Channel, our Arctic Adventure Travel Blog and the Churchill Wild Newsletter. When Ravetch gives us the green light to release all the information about this production, you will be the first to hear about it.
You can sign up for the Churchill Wild Newsletter here.