If you've ever wondered what it's like to visit the polar bears at Seal River Heritage Lodge or Nanuk Polar Bear Lodge, you'll want to make sure to watch the world premiere of Polar Bears: A Summer Odyssey on Sunday, April 8 at 7 p.m. on CBC TV's The Nature of Things with David Suzuki. You'll see some of our Churchill Wild polar bears!
The wildlife documentary, much of which was filmed over a 12-month period in the vicinity of Churchill Wild's polar bear lodges, tells the story of a young male polar bear who must survive his first summer alone on land without his mother, after the ice breaks up early on Western Hudson Bay and prevents him from hunting seals. The youngster's struggle to survive is back-grounded and influenced by one of the most important environmental stories in history: climate change.
Directed by Adam Ravetch of Arctic Bear Productions and produced by Arcadia Content in association with CBC's Science and Natural History Documentary Unit, Polar Bears: A Summer Odyssey features stunning images shot with eight different types of cameras including: a polar bear collar-cam; a remote control truck-cam; a mini heli-cam and several underwater cameras.
"Filming in 3D was much more work," said Ravetch. "But we wanted immersive images so the audience could experience what it's really like to be up close at ground level with polar bears. It required multiple cameras operating at the same time to produce the special 3D effects and three of us including Stereographer Indy Saini and Camera Engineering Specialist Stewart Meyer to get the distances between the objects and between the lenses just right. Stewart also developed a smaller mobile camera system that could produce some very rare images."
Churchill Wild's Mike Reimer and polar bear guides Terry Elliot and Andy MacPherson were also essential in getting the ultimate polar bear shots.
"It's a huge challenge to film in 3D in the arctic," said Ravetch. "The guides have to have experience specifically with polar bears. They concentrate on safety so we can focus on camera angles and getting the shots we need. Being up close with the bears is quite spectacular for a filmmaker, but safety is paramount. The last thing we want is for a person or a bear to get hurt. You're not in a cage or a vehicle, you're at ground level with the polar bears. I've always worked at ground level, but there are very few places where you can photograph polar bears like this. Seal River and Nanuk are among the best places on the planet for this type of wildlife photography."
Ravetch is no stranger the arctic. He and Sarah Robertson co-directed Arctic Tale for National Geographic. Ravetch also directed some amazing in-field sequences swimming with polar bears and walruses for the IMAX production To The Arctic and was cinematographer for one of the segments on the BBC series Frozen Planet, to name just a few of his many illustrious wildlife and nature film credits.
Ravetch sometimes camps out for 4-6 weeks at a time while making his films in the arctic, which makes for a very serious and sometimes dangerous adventure (see full interview here), but Churchill Wild was lucky to have him and his crew as guests at Seal River Heritage Lodge and Nanuk Polar Bear Lodge during various segments of the filming process in 2010 and 2011.
"I woke up to Jeanne's (Reimer) omelettes every morning," said Ravetch. "Churchill Wild offers people the very unique experience of getting up close on the ground with the polar bears. Within a day of a arriving at the Lodge people can see polar bears on the tundra. But they still have a warm safe bed at the Lodge to come back to, and of course the delicious food."
Thanks Adam! And just to clarify for future guests, Churchill Wild doesn't actually "own" any polar bears.
They simply get close to them.
Have you ever wondered exactly how polar bears get intimate? They appear so ferocious when they wrestle, as many Churchill Wild guests would verify. Wrestling polar bears are a regular feature in the fall season and are often the subject of the most prized photos guests take.
But how do those cute, cuddly polar bear cubs come into this world and make their way to Churchill Wild's Seal River Heritage Lodge or Nanuk Polar Bear Lodge? We know the birds and the bees but what are the down and dirty details?
What ritual brings the cubs into this world so guests on walking tours through polar bear country can see them – an experience that only Churchill Wild offers? The mating rituals and incredible photos and footage are part of a highly anticipated documentary for the BBC's Frozen Planet series.
Few humans have ever witnessed the intimacies and drama involved. But now, for the first time, it has been filmed in its entirety for the BBC's new Frozen Planet series, presented by Sir David Attenborough.
An article written by Executive Producer Alastair Fothergill appeared on the UK Daily Mail Online website. The article introduces the episode with some incredible pictures and information about the soon-to-be-aired special.
In 2007 Fothergill worked on another project called Earth which also featured the cinematic mastery of Adam Ravetch. Ravetch's incredible imagery can be seen in other productions such as Arctic Tale, which featured the talents of Hollywood heavy-hitters Queen Latifah and Preston Bailey. Bailey played Michael C. Hall's lovable stepson Cody on the Showtime Network's number one show Dexter.
Adam Ravetch is a good friend of Churchill Wild. He has spent the last two years at Seal River and Nanuk. More details of the film will follow but we can tell you it is slated to air on CBC's Nature of Things (which stars environment guru David Suzuki) in Canada, and on National Geographic in the United States and internationally. There will be a regular version but the really exciting part is that there will be a 3D version! We've seen the preliminary footage and it is going to be AWESOME!
Below is a small sample of what's to come, which we posted on the Churchill Wild YouTube Channel last spring. Andy MacPherson, polar bear guide extraordinaire, wrote a blog post about his experiences guiding Ravetch and his film crew.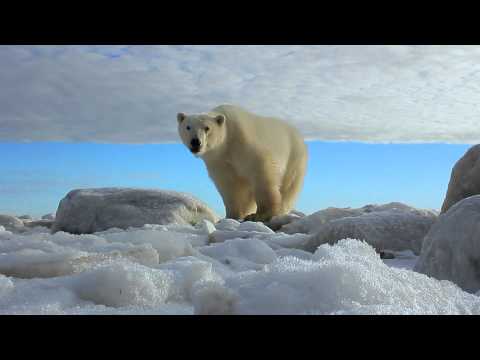 Ravetch also gave us another preview video that we will be posting soon. Keep tabs on the Churchill Wild YouTube Channel, our Arctic Adventure Travel Blog and the Churchill Wild Newsletter. When Ravetch gives us the green light to release all the information about this production, you will be the first to hear about it.
You can sign up for the Churchill Wild Newsletter here.
by Andy MacPherson
After changing the batteries and cards on the Go Pro cameras we were using to see who had been feeding on a two-week old bear carcass, we continued heading east through the grassy coastal flats of  Hudson Bay at Nanuk Polar Bear Lodge.
The "We" I'm referring to is Adam Ravetch of Arctic Bear Productions and his film crew, who came to Nanuk to film some fall polar bear activity for his upcoming film to be released in 2012. The Go Pro camera has been filming a variety of critters large and small, all coming to feed on the remains of an unfortunate bear that passed along we think due to injuries and infection, possibly due to the usual, battling for females earlier this past spring. We should know the full details of his demise soon, as Conservation officers flew in this past week and checked him out. We're hoping they'll pass along their findings.
We were hoping to find a few bears going about their daily business of sleeping, wandering or being led by their nose to anything deserving of their interest. We spotted our third bear of the day lounging contentedly out on the tidal flats, disappointingly just a little out of our reach.
We tried to get closer, but the Hudson Bay mud was a little too intimidating, causing us to leave an empty boot behind with every step forward. The bear was 150 meters away – secure as gold in Fort Knox – lazily watching our failed attempts to reach him over his left shoulder. Adam reluctantly admitted defeat to the mud and we made our way back to the chariot. But that turned out to be a good thing.
As soon as we reached the chariot we spotted another bear moving towards us from the east. At the same time we also noticed fellow guide Gordy and his buggy full of guests paralleling the bear at a distance. We moved a little closer, set up our camera gear and waited. We weren't disappointed this time.
A beautiful four or five year old female polar bear moved towards us in the glow of late afternoon light. She hopped numerous small streams and slid effortlessly through the grass, providing us with some amazing footage. She stopped to the sound of my voice when she was about 30 meters away, then casually moved around us to the seaward side, giving us the over the shoulder looks as she passed by.
We quickly packed and played leap frog with the bear all the way back to the Misatkoken River, where she sniffed out our poor unfortunate friend. That was where we left her at twilight, outlined in golden light, standing on the crest of the beach ridge.  All caught on the cameras of Adam Ravetch and…
soon to be a star on the big screen.
by Andrew McPherson, Polar Bear Guide
Working with Adam Ravetch and his film crew for the last few weeks of the season at Seal River Lodge was a fabulous experience. Every day brought new amazing wildlife encounters and guiding demands. Adam had all kinds of great ideas and new directions he wanted to take the film in, and he imaged them into existence with the help of his two crew members Indy and Stewart and their 3D cameras.
We got off to a good start when we found three bears bedded down out on a small frozen lake beyond the runway. One bear was on a small esker watching our approach. The other two were laying a short distance apart on the edge of the lake.
The closest bear lifted its head, watching us as we watched him. This resulted in a game of red-light green-light. Every time he lifted his head we stopped…. until he put his head down and closed his eyes, then we started moving again, slowly approaching.
We moved like this until we found a suitable spot to set up Adam's camera. Then the bear decided to move downwind to catch our scent and get a better idea of just who and what we were all about. Bears trust their noses far more then they trust their eyes.
Once this bear got our scent figured out and decided we weren't a threat, he made himself comfy – laying down and stretching out on the ice, cooling himself off, rolling over on his back – generally making a ham of himself for our camera. Great comedic footage!
At the same time, Mike and Stewart showed up with the remote camera, to go after the always-elusive bear-sniffing-camera-lens-in-3D shot he'd been attempting to get for the last week – maybe this time. They set up their camera near the second bear sleeping in the bush just off the ice. The camera had a 25 foot cable attached to it so the operator could move around and still focus the camera on a moving subject as it approaches. It was mounted at a height approximating a polar bear's point of view, or POV in tech talk.
The sleeping bear got up and approached the camera, but he was very hesitant. Clearly troubled by the unfamiliar device, he came closer, backed away, then approached again with head lowered – we had a very serious bear staring into the camera. He didn't like it, but he gave us an amazing eye-level sequence of how two bears might approach each other.
The bear never did get right up to the camera, but when he lost interest in that he became more interested in us, slowly approaching and giving us a great 3D shot for the film. Imagine a polar bear's head poking out of your TV screen, full frame, from the shoulders to the tip of its nose.
We had to let the bear know we didn't want to play with some stern words and aggressive behavior, and after posing and giving us a good sniff, he moved off with his buddy, who had watched all the action from his semi-reclined position in the second row.
We followed the pair and a short while later found they had been joined by two more bears on the next lake over. By the time we spotted them, they had paired off and a donnybrook was already in session. I could have sat back and watched – it was a live WWE event – but we had an opportunity to shoot more amazing footage, so off we went.
Unfortunately, when the bears caught site of us, they decided to come in for a closer look. It's a good thing we knew that they don't cooperatively hunt, because having four polar bears calmly walk towards you would probably otherwise be conceived as an unnerving situation.
But two of the bears quickly lost interest and only the smallest (600 lbs) of the other pair seemed really interested in us. His approach was somewhat aggressive, coming in fast and curious, so we let him know he wasn't that welcome. That was enough to turn him around and send him back to his buddies for some three-way sparring action.
The smaller bear was being picked on from each side by each of the larger bears and he playfully turned to engage whichever bear was nipping. The small bear eventually began to spar with only one of the bigger bears, and when they stood up we finally realized the substantial size difference. The smaller bear was at least three feet shorter, but still game, even when he was being knocked off his feet – more great footage!
There wasn't a day during the filming when we didn't find some kind of interesting bear activity, interaction or social behavior. Adam's movie unfolded in front of us daily, but we won't see the final result of his efforts for awhile.
We were excited to be a part of the creative process and can only imagine what Adam will weave together with all the incredible footage he recorded. With the kind of talent that was behind (and in front of) the cameras, this is going to be a movie you don't want to miss!