Guest Post by Fiona Harper
Note: This article originally appeared in International Traveller Magazine and is reprinted here courtesy of author, travel writer and photographer Fiona Harper, who was a recent visitor to Churchill Wild's Seal River Heritage Lodge. You can read more about Fiona at her Web site, view all of her travel photos here and see the full polar bear photo gallery from her trip here. Thanks Fiona!
It takes four exhausting days, across six tiresome flights on ever-smaller aircraft, culminating in a six-seater de Havilland Beaver floatplane, before I stand within metres of a splendid polar bear. It's worth every weary, jet-lagged minute. I'm within a whisper of Canada's Arctic Circle, closer still to the bear, listening to her breathe, gazing into her ­unblinking eyes. The only thing preventing me from being lunch is the wire fence delineating the "backyard" of the Seal River Lodge behind me. I'm tempted to walk closer, maybe press my nose against the fence, but I recall enough of lead guide Terry Elliot's safety briefing to resist.
To be precise, Terry's exact words were, "You'll be ripped through the wire like spaghetti through a pasta machine." The lodge's location – on a remote headland in the far northeast of Manitoba – makes it a popular point for bears to congregate, "so you won't be using the front door you just came in, either," Terry had said. "For your own safety, we'll be using the back door out to the fenced compound." With half-tonne males capable of charging at 50km/h, that seems a good plan. I make a mental note to forgo my usual morning jog.
Even standing a few careful metres back from the four-metre-high electric fence, I can still see the polar bear's nostrils quiver and ­teeny ears twitch before she stretches out ­contentedly on her belly, hind legs splayed, ­eyelids folding over inky-black eyes. I feel like doing the same, but there are great sloths of Nanuk – as the Inuit call polar bears – roaming the tundra and I'm keen to pull on my hiking boots and get amongst them.
Lobbing into Seal River Lodge mid-autumn on a Churchill Wild Arctic Safari, I'm here to get up close and personal with the world's ­largest land carnivore. Despite their fearsome reputation, we'll be tracking them just as Inuit have done for centuries: on foot. At this time of year, bears are virtually sleepwalking – roving around in a form of ambling hibernation. In mid-summer, once the ice melts, they lose ­access to seal hunting grounds, forcing them ashore.
Walking the same path, following their paw prints at ground level, seems to conflict with everything I've read about Ursus maritimus. Their undisputed position at the top of the ­local food chain commands respect.
Indeed, the Parks Canada pamphlet I picked up at Churchill Airport makes for sobering reading: "The great white bear can exhibit violent ­aggression toward people, but a curious bear can also be dangerous. ANY [their emphasis] encounter with a polar bear could result in ­serious injury or death for the person involved." It's a solemn message that I'm reminded of constantly throughout the next week.
"Right then, put your boots on and let's go find us some bears," laughs Terry wickedly, slinging a rifle over his shoulder. And so, with some apprehension, our small group of wildlife enthusiasts leaves behind the safety of the lodge to "go find bears".
Walking single file across spongy tundra blossoming with miniature scarlet blooms, we've barely time to find our stride before we get the hand signal from Terry to stop. A bear is basking in the longish grass on the foreshore ahead. No doubt she heard and smelt us long before we saw her, despite the tracking skills of our two heavily armed guides.
The bear watches us. We watch the bear. Soon, she rises, advancing in a cautious sideways pattern. Bears will approach prey in this zigzag manner rather than making a direct approach. "That's far enough," Terry commands harshly once the bear is about 40m from our huddled group.
Blood rushes to my head as she continues her lumbering advance. A couple of tidal pools dotted with suitcase-sized boulders are all that stand between us. She pauses ­momentarily, nostrils twitching, our camera shutters hammering rapidly, hearts even faster.
With her head bobbing down between massive shoulders, she quite deliberately lifts a paw the size of a dinner plate and resumes her approach. At around the 30m mark, Terry lobs a small rock in front of her. It's all that's required to discourage her as she wheels around and retreats a few paces. Known affectionately as Blue Moon – due to her blue-stained rear from sitting in a berry patch – she throws one more petulant glance at us over her shoulder before sauntering away.
"Go on, off you go," Terry calls to her retreating backside, just to reinforce who's the boss. Elated at this first of many close encounters, we grin foolishly at each other. Watching ­Nanuk amble away, my heartbeat gradually ­returns to normal.
Over twice-daily hikes we see so many bears that eventually they become just one component of this fascinating land. Through the dining room windows we watch them lumbering across the landscape, swimming in the sea, sunning themselves on the beach.
As we're sipping wine beside the fire, an inquisitive young bear ventures close to the lodge, standing up on all fours to peer inside. Though we also spot caribou, sic-sic squirrels, arctic hare, fox and great flocks of birds, the bears steal the show.
We return to the tiny town of Churchill, ­reluctantly, where an itinerant white bear ­contrasts against reddish foliage. I recall an Inuit legend about this great Arctic traveller, who will ride an ice floe until the bitter end when he is forced to swim.
Pihoqahiak, they called him – "the ever-wandering one". ­Energised from a safari expedition into a land few humans ever see, let alone inhabit, it ­occurs to me that polar bears might just be on to something. Could travelling far and wide ­beyond our comfort zone be the answer to that wretched travellers curse, jetlag?
Dennis Fast is hosting our first ever Polar Bear Photo Safari at Nanuk Polar Bear Lodge. This one week departure takes place August 26-September 1, 2012 on the coast of Hudson Bay in the Cape Tatnum Wildlife Management area.
Dennis' work can be seen all over our website and promotional materials. He has been working with Churchill Wild since the beginning and is our resident photo expert (as well as an incredible guide).
Below he answers some questions many photographers have asked in recent weeks.
: : : : : : : : :
Everyone who comes to Nanuk Polar Bear Lodge wants to know what lenses to bring, and that is an important question.
Most pros would bring at least one lens that can reach out to 500mm or even 600mm. We all know, however, that those lenses are both costly and heavy. So a compromise may be in order for both reasons.
On my trip to Nanuk, I used my 500mm least of all. It's true that the coast is vast, and bears often are spotted at a distance. The temptation is to get as big a lens as possible on the camera and start shooting. In the end, a little patience delivers a curious bear right into easy range for a 100-400mm zoom or something in that range.
I have taken a lot of photos of bears using just my 70-200mm with a variety of multipliers, including 1.4x. 1.7x, and 2.0x. When mothers and cubs show up at the lodge, and they frequently do, they will be at close range and you will quickly be abandoning your long lenses. Remember also that the multiplier effect of most digital cameras, unless they are "full frame" increases the power of all your lenses by a factor of 1.3x to 1.6x depending on the camera you are using. I have a very compact 28-300mm lens which I plan to use a lot in the North this year. It's light weight and size makes it easy to hand-hold and keep at the ready at all times. With a C-size sensor it quickly becomes about a 40-450mm lens – great for almost anything.
Nanuk, however, is not just about the bears. The scenery is spectacular along the coast with sandy beaches and shallow inshore lagoons great for birds and reflections – there goes my 28-300mm again!
The sun spot activity is also increasing at a steady rate as we approach the zenith of its 11-13 year cycle. That means the northern lights could be awesome this year all over the arctic. For that you will definitely want a reasonably fast wide-angle lens. I use my 14-24mm lens a lot for the aurora, but my 24mm-70mm seems to be a great lens for that too. Any wide-angle will allow you to get some of the landscape included in the shots of the sweeping aurora to add a sense of scale. Without that you don't get the feel of how vast the aurora-filled sky really is!
: : : : :
For more information you can call our office at 204-377-5090 or toll free at 1-866-UGO-WILD (846-9453)
You can also email Doreen at info@churchillwild.com
The following account was originally published on Ebushpilot.com back in 2006. The original story and pictures, written by John S. Goulet, can be found here.
The Seal River Heritage Lodge Pancake Breakfast
Klaus and I have finally made it.
We are greeted to the Lodge by hosts Mike and Jennie Reimer. August is the prime of their season and they are busy guiding the guests to the various sites. The lodge is perfectly placed on a spit of sub-arctic tundra surrounded on three sides by the Arctic waters of the Hudson Bay.
As we sat down in the dining room we could view the ocean waters from any of the three large picture windows. Mike has spotting scopes and binoculars handy to help spot the numerous water and shore birds of the area, and to scout for the whales off shore as they break the surface to spout.
The main attraction is the beluga whales which you can see by the thousands as they swim in and out of the North and South mouths of the fabulous Seal River. They come in with the rising tide and leave with the ebbing tide. Mostly they congregate in the mouth of the river where you can visit them in the clear waters using the rubber rafts and small outboard motors. Like shooting fish in a barrel – except you do the shooting with a camera. Mike arranges the rubber rafts for us to leave on a guided tour early the next morning.
At day break I stand on the watch tower over the lodge scanning the bay for water spouts. The rising sun saturates the backdrop sky a gumdrop orange.
As the whales blow the saltwater, back-lit by the sun, into a sparkling diamond spray we set off across the open water. Within 20 minutes we spot whales. These are large with huge black backs and a fan spray blow as they surface. We try to get near them, but they continue to swim off. They are definitely not beluga whales. My best guess is that they are the huge majestic bow whales. Bow whales were hunted commercially until only about 20 years ago and are still considered a rare sighting in this part of the Hudson Bay. We consider ourselves very lucky to have spotted them. We quit the chase and head to the mouth of the Seal River.
Long before we ever reach the Seal River, however, we can see the blow from a distance. With a sea-spray that reaches up to 90 cm the blow is very visible. We are already in the midst of belugas.
They are heading in the same direction and swimming with a purpose. We are sailing with a purpose. They are after the shallow river protein such as worms, crustaceans, shrimp, clams, snails, crabs, and small fish. Fish such as capelin, char, sand lance, smelt, flounder, herring, and cod, are usually taken in deeper water but can be caught much easier in the restricted river mouth. The total take of 25 kgs per day is not much by whale standards, but still a lot of lunch that eventually adds up to 1500 kg of adult male whale.
The beluga can stay submerged for 15-20 minutes and travel up to 2-3 km under water on one dive. That is one of the reasons the river mouth is such a great place to get close and see the whales. The space is restricted and the whales surface more often to spy hop their way around the smaller areas. In the estuaries they usually only stay submerged for only about 2 minutes, and make 1 or 2 surfacings before the longer 1-2 minutes dive.
Before long we are surrounded by whale pods cruising by. These pods are mostly small family groups, but the larger pods can reach up to 10,000 individuals. We can see them clearly, but somehow they are still cautious and do not come too close. Some of the mothers are followed closely, almost as if they are lashed to their backs, by awkward gray calves. Breeding in May means our calves were 3-4 months old. Occasionally we can hear their squawk-like calls. Like other whales, the beluga use echo-location to find their way around and to find food.
After an exhilarating several hours of watching the whales, we decide to stop for our own lunch. Mike and Quentin, his friend and acting guide, tied the two rubber rafts together so we can all share our meal and our experiences.
As we drifted along in this peaceful inner sea and quietly chatted with our fellow rafters, we noticed that the whales were finally starting to show some interest in us. I felt that when the two rubber rafts rubbed together they produced a squeak that the whale's natural curiosity could not resist.
As an experiment, I tried to make the rafts squeak more frequently, but it took a special combination that could not be duplicated easily. I tried rubbing my Gortex pants on the rubber raft but that was too soft a squeak. Finally, Mike caught on to what I was doing and rubbed his own rubber rain slicker pants on the rubber of the raft. That was the magic we needed.
The squeak he produced drove the whales crazy with curiosity and within minutes we were surrounded by over 50 whales in different pods jostling us for a closer look at what was making that peculiar noise. We pulled out our cameras and were snapping incessantly as they spy hopped closer and closer. Mike put his hand under water and the friendly beluga were swimming so close he could feel the flow of their wake.
One particular mother and calf would not leave us alone. She came by time and time again with the little one close on her back. The little gray beluga seemed to love these frequent visits as he hopped up higher each time to look see. When we finally left hours later we had several pods follow us almost all the way home. They could not leave us alone. Nor did we want to leave them, but the day was coming to a close and we had to return to base.
Spending the day with these fellow creatures of curiosity was one the most incredible one on one, or animal family to human family, experiences I have ever had in the wild.
And at Seal River there is so much more nature to go one on one with.
From the Lodge you can take guided interpretive nature and culture walks where you can see caribou, bald eagles, Canada and Snow geese, ptarmigan, sik siks, and polar bears.
Along the interpretive walks you get to visit ancient Dene and Inuit camping sites, outlined by either the weathered tent poles the Dene used, or the tent circle of stones that the Inuit used to anchor their skin tents. The sites have been investigated by archeologist Virginia Petch and the walks have been mapped by GPS to make sure you can see the most with the least trouble. The walks are tough but worth it.
That evening Jeanne, Mike's partner and wife, prepares us an incredible dinner of arctic char, garden peas, and homemade red river cereal bread. Dessert is a (locally picked) cranberry crumble and coffee.
After dinner the sun sets in a glorious blaze of orange to end a perfect day. I am to take an evening stroll on the runway's high point of ground where the evening breeze will keep the bugs swept away. The night is perfectly clear and I can see the planets of Jupiter followed by Venus and a host of northern stars. The night air is cool and I fall asleep deep into the dead of the night.
The next morning the sky is blue blazon with the gold of sunrise and Jeanne serves us the most fantastic sight we have seen since leaving Nigeria 3 weeks ago. Canadian pancakes topped with butter, maple syrup, and as a special treat, blueberry compote made with fresh picked local blueberries. The ending to our trip could not have been any more special. We have flown over 10,000 miles to have breakfast in Canada. Perhaps next time you can join us.
::::
To experience what John wrote about above check out our Birds, Bears & Belugas Adventure Safari. This one of a kind summer experience takes place at the Seal River Heritage Lodge during July and August.
Churchill Wild will host the world's first ever Summer Polar Bear Photo Safari at Nanuk Polar Bear Lodge in 2012, offering photographers rare on-the-ground polar bear access and exceptional photo opportunities unavailable anywhere else on the planet.
The new Summer Polar Bear Photo Safari represents an expansion on the success of Churchill Wild's Polar Bear Photo Safari and Arctic Safari at Seal River Heritage Lodge.
"Last year was our first time running a full program at Nanuk", said Rick Kemp, Director of Marketing and Communications at Churchill Wild. "We finally had a chance to see everything the area had to offer. Guests were treated to Churchill Wild's trademark one-of-a-kind polar bear experience with on-the-ground polar bear viewing, but we also discovered wolves, black bears, moose, skunk, golden eagles, peregrine falcons, and thousands of migratory snow geese."
Located in one of the most historically significant areas of Canada on the southern coast of Hudson Bay within the Cape Tatnam Wildlife Management Area, the Summer Polar Bear Photo Safari at Nanuk will have very limited space availability from August 26 to September 1, 2012, and will be led by Churchill Wild in-house professional wildlife photographer and author Dennis Fast. Space will be very limited at a price of $6,395. For more information please call Churchill Wild at 1 ( 204) 377-5090 or e-mail info@churchillwild.com.
"People are starting to want something wilder and less traditional," said Fast. "You're on the polar bears' home turf up here. You're on the ground with the polar bears. It doesn't get any wilder than that. When you're eye-to-eye with the polar bears it elevates their status. You really get a sense of how big and powerful they really are, and it shows in your photographs."
The most compelling attraction for wildlife photographers at Nanuk is the high incidence of mothers and cubs in the area, due to two newly discovered polar bear denning sites on the edge of the Boreal Forest. The Northern Lights can also be quite spectacular at Nanuk when skies are clear, and there are beautiful interior lagoons which also make a great backdrop for photographs of the mothers and cubs.
Nanuk Polar Bear Lodge is located 40 kilometers east of York Factory, a trading post that was established in 1684 by Governor George Geyer of the Hudson's Bay Company, during the early years of the fur trade that played a major part in the exploration and development of Canada.
"We still find remnants of old ships occasionally in the mud flats," said Churchill Wild's Mike Reimer, perhaps referring to the Battle of Hudson Bay in 1697, the largest Arctic naval battle ever fought. "From brass railings to cannons to old grave sites, you never know what you might find. And our guides are direct descendants of the Western Woods Cree, the "Home Guard Indians" who worked with the Hudson Bay Company over 300 years ago at the original settlements — guiding, hunting, interpreting and procuring wild game and furs for them."
Guests at Nanuk Polar Bear Lodge may very well be walking in the footsteps of some very famous explorers during their daily hikes along the sandy and grassy tidal flats in search of polar bears and adventure. But despite taking place in one of the wildest areas on the planet, the Summer Polar Bear Photo Safari at Nanuk offers all the comforts of home with the Lodge's newly renovated cabins that include private en-suite washrooms and showers.
Breakfast, lunch and dinner take place in the separate main dining room at Nanuk Polar Bear Lodge, and the main living room/polar bear viewing area at the Lodge provides a gathering place to relax, share stories and photos after a wonderful day of exploring and photographing, unless of course… you're interrupted by polar bears walking by.
When most people think of seeing polar bears they have visions of snow and ice. Nanuk offered us the spectacular backdrop of the fall colours on the tundra to contrast with the great white bears that were our constant companions. Add to that the millions of birds that stopped at Nanuk on their way south and, if you can't get a great photo here, you won't get one anywhere! — Kerry and Leona Orchard, Nanaimo, BC
Special to Churchill Wild
by +George Williams
It's unlikely physician Daniel D'Auria thought his photography hobby would turn him into an author, but that's exactly what happened after his Polar Bear Photo Safari with Churchill Wild.
The 54-year-old from Tabernacle, New Jersey, has now created three children's books about polar bears, each featuring a selection of photographs from the 17,000 he captured at Churchill Wild's Seal River Heritage Lodge. Images from his trip can also be seen at his LifeScapes Imaging Web site.
"I never knew where wildlife photography would take me," said Daniel. "But I had an idea for a book for preschoolers – a whimsical, rhyming book about polar bears.
"We have four children ages 8-23, and some of my fondest memories are of reading to them to when they were growing up. I wanted to create something that would get parents reading to their children and get children interested in wildlife. Parents are interested in the beautiful photos. Children are curious about the bears. And because parents are spending quality time with their children reading the books to them, it gets the children more interested in reading."
A noble cause to be sure, and it's been a long journey to get to the stage of published author, but Daniel has enjoyed every bit of it. He took up photography in high school and spent the last year or so photographing weekly in New Jersey before being able to participate in some of the more elite photography adventures.
Daniel's wife probably had something to do with ramping up the photography hobby in the family. A former dental hygienist with an interest in sports, she participated in the Sports Photography Workshop at the Summit Series of Photography Workshops. Daniel tagged along and this led to him attending the Summit Landscape and Wildlife photography workshop a few years later. Unfortunately, his medical career still didn't leave him the time he would have liked to have spent on photography — until recently.
About two years ago, Daniel hired an associate, which allowed him to free up some time for longer trips to elite photography havens that included the Richard Clarkson Photography at the Summit Workshop in the Grand Tetons of Wyoming; the J. N. "Ding" Darling National Wildlife Refuge located on the subtropical barrier island of Sanibel in the Gulf of Mexico; the Bosque del Apache National Wildlife Refuge in New Mexico; and finally the Polar Bear Photo Safari at Churchill Wild's Seal River Heritage Lodge on the West Coast of Hudson Bay in Manitoba, Canada.
"The Churchill Wild experience was the trip of a lifetime," said Daniel. "We first heard about it from Scott Fryer and his wife Paula, who he met while at the Photography at the Summit Workshop in Jackson Hole, Wyoming. We went on the trip as part of a group with Bob Smith of Elk Meadow Images, who organized a photography workshop for 14 people at Churchill Wild.
"The trip from Winnipeg to Churchill with CalmAir was wonderful. And we had a lovely flight on a small plane from Churchill to the Lodge. It was my first trip on a small plane and we had an excellent pilot. Seal River Heritage Lodge is beautifully hand constructed and extremely comfortable. The staff was unbelievably accommodating and the food was outstanding. It was just like home.
"Our guides, Andy and Terra, really made us feel like we belonged, not like we were goofy outsiders. They would scout the polar bears first to see where they were at, and then we would go on two hikes a day. The furthest we had to go was about a mile and we were able to set up for polar bears, arctic fox, ptarmigan and briefly an arctic hare."
Being able to take on-the-ground photos of wildlife has been Daniel's modus operandi in photography, so the daily hikes worked out perfectly for the group. This despite the fact that Daniel brought his 28 lbs. 2½ foot 600 mm lens, which it was suggested he consider leaving at home.
"I'm used to carrying my lenses in the wilderness," said Daniel. "Whenever I'm photographing I have one smaller lens on my right shoulder, the heavier one on my left, and my backpack. So that wasn't a problem.
"And we weren't interested in going out in tundra buggies. I wanted to be on the ground with the polar bears. I like the freedom of the out of doors, the solitude of hiking the trails, and the beauty of observing nature. I don't want to do it from inside a vehicle unless it is an absolute necessity. Whenever you're out in the wild there will be certain element of danger involved. In Jackson Hole, Wyoming, I carry bear spray. In New Jersey it's not an issue.
"Sure there is some fear of bears. But we learned there is a mutual respect between the polar bears and the people up there in Churchill. If done carefully and properly there is an acceptable risk. We never felt unsafe at any time. I think our group would uniformly say we would like to repeat our experience at Churchill Wild."
Daniel went on to describe how much he enjoyed the spectacular landscapes, sunrises and sunsets over Hudson Bay. Flat, rugged and desolate, "it was like looking out over the surface of mars when the tide was out. You'd think you just went to another planet.
"But that's the best thing about wildlife photography. You can never predict what you'll see. Every day is a little bit of joy. And when I get back from a trip like this – my family notices the difference in me."
Besides being a new author, Daniel also donates framed polar bear and wildlife prints to his local hospital. "I sell a few prints," he said, "But the people at the hospital love them. They have them up on the walls and they always get nice comments from the patients and visitors.
"Wildlife photography has made me a much happier and more content person. It's like being rich… but in different way."
---
Daniel D'Auria's polar bear books for children can be found on Amazon.com at the links below. He's also working on two more children's books about birds and is always interested in pursuing joint ventures that will also benefit a good cause in some way. Thank you Daniel!
So often news stories involving polar bears consist of experts predicting the end of our beloved polar bear. Doom & gloom is effective in an awareness campaign but never fun to hear about.
So how about some positive news from waaaay up north? Well… positive for polar bears and possibly ice caps (not to be confused with the popular Canadian "Iced Capp").
It seems Alaska is getting a lot of the white stuff this year. According to meteorologist Shaun Baines, Sarah Palin's home state is on track for snowiest winter on record:
About 150 miles to the southeast (of Anchorage), the Prince William Sound community of Cordova, which has already been buried under 172 inches of snow since November, could get another 7 inches today
… It has been difficult to keep up with the shovelling – and 8ft walls of snow line either side of her driveway. After snow fell off her roof she cannot see out either the front or back of her house.
… If it keeps up, Anchorage is on track to have the snowiest winter ever, surpassing the previous record of 132.8 inches in 1954-55, meteorologist Shaun Baines said.
Snowboarding anyone? All we can say is "Wow"…
Hopefully the Hudson Bay polar bears that hang out at Seal River Heritage Lodge don't decide to relocate to Alaska. We'll have to make sure we don't mention this to them.
:::
Elsewhere there have been numerous news stories and YouTube videos of polar bear cubs popping up. We've posted a few to our Facebook page but this one was an absolute cuddly little doll! The latest comes out of the Scandinavian Wildlife Park and appeared in the Washington Post's "Kids Post" section.
Meet Siku! Internet sensation!
This baby polar bear was born November 22 at the Scandinavian Wildlife Park in Kolind, Denmark. But because his mother couldn't produce milk to feed the cub…
Keepers named the cub Siku, which means "sea ice."
Well, I guess there is little extra "sea ice" this year after all. Always good news.
:::
The valiant Prince William came to Canada recently to show off his new bride Kate. There was a huge media blitz and Canadians were genuinely excited and gracious hosts.
Churchill Wild sent out the invitation but we did not make the itinerary. Maybe next time. We're sure there are many Seal River alumni (see our Trip Advisor reviews) that would vouch for the suitability of our lodge.
During their whirlwind tour of our homeland the Premier of Northwest Territories gifted the royal couple some fabulous polar bear bling.
Some people are making a fuss about it. We think it was a nice gesture:
We wonder if the Churchill Wild logo would look good encrusted with diamonds. The polar bear brooch is worth around $30,000 dollars (19,000 British pounds). A Churchill Wild limited edition logo brooch? We may never know…
:::
Finally, no scan of the news for "polar bears" is ever complete without one of these:
Yes – every year around this time people strip down and brave the frigid waters for their local "polar bear club". It is hilarious to watch from the warm comfort of your recliner in front of the television.
While we have to commend those brave souls who peel and dive into the cold water we find ourselves contemplating the addition of our own "polar bear challenge" during the Great Ice Bear Adventure at Dymond Lake EcoLodge.
Nahhh… wouldn't be a big seller. That's what Dymond Lake looks like when it starts freezing up in October/November (sans swimmer and umbrella). Floating balls of ice. Wanna jump in?
Actually, when Churchill Wild's guests get into the water in the summer for a beluga swim the Hudson Bay waters are just as cold (or colder) than what most "polar bear clubs" would experience. Wanna try it? That's our extremely popular Birds, Bears & Belugas Adventure which takes place during July and August at the Seal River Heritage Lodge.
Our guests wear heavily insulated dry suits to keep them from freezing up. This photo is courtesy of Mark Seth Lender who was up last summer for our Birds, Bears & Belugas Adventure. Mark has a series of blog posts on his site about his time at the lodge. They are accompanied by some incredible pictures. Check them out.
Mark has a syndicated column and is a frequent contributor to Living on Earth (PRI) a nationally syndicated radio program on NPR. He's putting the final touches on his Churchill Wild segments and they will be airing in the coming months. Stay in touch with us through our newsletter, blog, Facebook and Twitter for air dates.
::::
That's all for this time. Thanks for reading.
You just can't take spectacular photos of polar bears without having excellent guides to watch your back.
That's according to professional photographer Bob Smith of Elk Meadow Images, who organized a photography workshop for 14 people this fall at Seal River Heritage Lodge. Smith's group were taking part in Churchill Wild's annual Polar Bear Photo Safari and were there to snap ground-level shots of polar bears in their natural environment on the coast of Hudson Bay in Manitoba, Canada.
"The guides are so important," said Smith. "They're the real key to getting great ground-level shots of polar bears while at the same time making as little impact as possible. We respect the bears and don't want them to feel threatened. We don't want to disturb them when they're feeding and if they're resting we want them to rest."
"The guides know the bears and they can get us set up in the best position possible to use our equipment," continued Smith. "If we have to move to get a better angle, we depend on the guides to help us do it in a safe and efficient manner. And they also make sure there are no bears approaching from behind."
Smith has been organizing photography workshops for over 20 years and says he likes to search out locations that are "off the beaten path."  The 55-year-old from Denver, Colorado has held photography workshops in Antarctica, Alaska, the high Arctic and Africa.
"We do two or three workshops a year," said Smith. "Our locations attract an elite clientele and we make it easy for them – we do the advance planning, make the arrangements, set up the itinerary and plan the on-location daily schedules."
Smith's photography workshops include instruction on both photography and computer skills.
"Wildlife photography is combination of art and a science, "said Smith. "Effectively capturing wildlife in its natural environment requires knowledge of animal behavior as well as an understanding of how and where to take a photo that will best portray different elements such as strength, size, motion, behavior, interactions within the species etc. There are also different methods of using natural light to enhance photos."
Computer skills featured in Smith's workshops include those needed for processing and sharing images, creating photo albums and more.
Smith has three workshops planned for 2012 that include photographing grizzly bears in Alaska; large mammals in Botswana, South Africa and endangered whooping cranes in southern Texas with Popular Photography Magazine.  For more information on Smith's upcoming photography workshops please visit his Web site at: www.ElkMeadowImages.com or e-mail him directly at: bsmith@elkmeadowimages.com
Smith is currently working on a new book of his photography that will include grizzly bears, eagles and narwhals in Alaska; walrus, bearded seals, ice and polar bears in Svalbard, Norway; and the polar bears at Seal River Heritage Lodge.
The Polar Bear Photo Safari at Seal River Heritage Lodge takes place in the heart of polar bear country on the rugged and wild coast of Hudson Bay. It caters to dedicated wildlife photographers who are willing to spend the hours required to get up close and personal with polar bears and other arctic wildlife. Polar bears can be photographed on the ground in their natural environment of ice and snow along the Hudson Bay shoreline amidst a background of dramatic seascapes and landscapes. More examples of the type of polar bear photos that can be taken at Seal River can be seen in Churchill Wild's 2010 Photo Contest Gallery.
"Photographing polar bears in Churchill doesn't give you the same experiences as the ground-level photo opportunities available at Seal River Heritage Lodge," said Smith. "The workshop participants were enamored with the polar bears and the unique access to them. Many of them told me it was the best trip they've ever been on."
I don't think there is a better place in the world to observe and photograph polar bears. — Joel D. Davidson, Photographer
Joel Davidson was at Seal River Heritage Lodge in early November for Churchill Wild's Polar Bear Photo Safari, which takes place when the polar bears congregate in large numbers on the coast of Hudson Bay in anticipation of freeze-up.
Rugged and remote, but with all the comforts of home, Seal River Heritage Lodge is ideally located in the heart of polar bear country on this coast. For the serious wildlife photographer willing to spend long hours in the field getting up close and personal with the arctic wildlife, the ground level photo opportunities at the Lodge are exceptional.
"I chose Churchill Wild and Seal River Heritage Lodge to observe and photograph polar bears at ground level," said Davidson. "I did not want to photograph the bears 15′ high from a Tundra Buggy. Our guides were very professional. Their primary concern was our safety, but they still allowed us to get close enough to the bears for good photo opportunities. My experience far exceeded my expectations!"
Photos taken on the Polar Bear Photo Safari feature stunning backdrops of sea ice and the rocky landscapes that surround the Lodge. The snowy Hudson Bay shoreline is ideal for photographing polar bears in their naturally icy environment at this time of year and is praised by the many photographers that visit the Lodge.
"I took over 4,000 photos," continued Davidson. "I have been fortunate to photograph wildlife all over the world and have never taken so many fine images in just four days!  The hardest problem was selecting the best images from hundreds of excellent photos."
Davidson immensely enjoyed watching (and videotaping) the interaction and the wrestling of the polar bears. See video below.
Although he missed the Northern Lights, which often romance and dance on clear nights for photographers and guests at the Lodge, Davidson felt that observing so many arctic fox on the trip was a bonus. And we have to agree – he did get some fabulous arctic fox photos! See gallery below.
"The accommodations were excellent, the food was superb, and the staff was outstanding," said Davidson. "Staying at Seal River Heritage Lodge is a photographer's dream."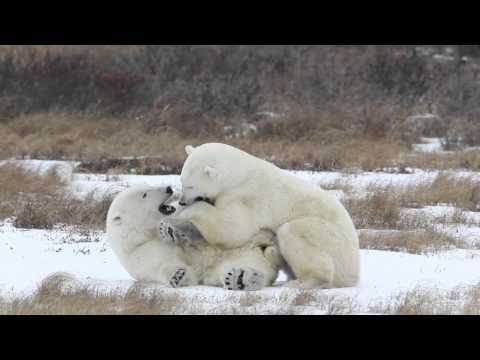 To view more of Joel Davidson's polar bear photos please visit his Web site at: http://joeldavidsonimages.com/
by Andy MacPherson
The start of a new fall polar bear season!
The Turbo Beaver being busy down south, our first group of guests arrived in style in a helicopter, landing right at our front door. After settling into their rooms and taking in a brief safety orientation, we had them out viewing polar bears Churchill Wild style before lunch.
There were three bears in the immediate vicinity and all were accommodating. We were able to get close and view all three without disturbing them from their day beds. At this time of year the polar bears are focused on conserving as much energy as possible in anticipation of freeze up and the availability of their favourite meal, ringed seals, which will help them replenish their waning fat reserves.
On our way back to the lodge for lunch we discovered that the first bear we'd stopped to view earlier had ambled into the bay north of us. He was now comfortably bedded down in a bed of kelp lying on his back; stretching and playing with a piece of kelp, pulling it gently threw his teeth as if he were flossing.
After lunch we hiked out towards the west, to Swan Lake and back. We were met by a subadult bear on our way back, walking towards us up the path. He stopped when we asked him to, looking a little confused as to why we were blocking 'His' way.  We moved off to one side, giving him the right of way – a smart thing to do when questioned by a polar bear. He passed by at a safe distance as our hearts pounded, pausing to get a good scent of us and posing for a few great photos along the way.
We are often approached by polar bears while we are out on hikes and away from the safety and comfort of the lodge. These are always exciting moments, and important times to be very observant of bear behaviour. Every bear that approaches us acts differently based on life experiences past and present. Negative or positive, these experiences will influence the way a bear reacts to us. This initial communication will determine our response to each approaching bear. While polar bears aren't usually vocal, they do communicate very well through subtle (and sometimes not so subtle) body language and behaviour.
We watched the bear as he moved away from us and continued down the path towards Swan Lake, our excitement at his approach subsiding slightly as we moved back on to the path. Some of the guests asked where the bear was going and what he was thinking; how old he was and how much he weighed. Others marveled at what had just happened.
The largest land carnivore on the planet, a Churchill polar bear, had just walked by us and gone about his business, whatever that might be. It just wasn't us…
at the moment.
by Andy MacPherson
After changing the batteries and cards on the Go Pro cameras we were using to see who had been feeding on a two-week old bear carcass, we continued heading east through the grassy coastal flats of  Hudson Bay at Nanuk Polar Bear Lodge.
The "We" I'm referring to is Adam Ravetch of Arctic Bear Productions and his film crew, who came to Nanuk to film some fall polar bear activity for his upcoming film to be released in 2012. The Go Pro camera has been filming a variety of critters large and small, all coming to feed on the remains of an unfortunate bear that passed along we think due to injuries and infection, possibly due to the usual, battling for females earlier this past spring. We should know the full details of his demise soon, as Conservation officers flew in this past week and checked him out. We're hoping they'll pass along their findings.
We were hoping to find a few bears going about their daily business of sleeping, wandering or being led by their nose to anything deserving of their interest. We spotted our third bear of the day lounging contentedly out on the tidal flats, disappointingly just a little out of our reach.
We tried to get closer, but the Hudson Bay mud was a little too intimidating, causing us to leave an empty boot behind with every step forward. The bear was 150 meters away – secure as gold in Fort Knox – lazily watching our failed attempts to reach him over his left shoulder. Adam reluctantly admitted defeat to the mud and we made our way back to the chariot. But that turned out to be a good thing.
As soon as we reached the chariot we spotted another bear moving towards us from the east. At the same time we also noticed fellow guide Gordy and his buggy full of guests paralleling the bear at a distance. We moved a little closer, set up our camera gear and waited. We weren't disappointed this time.
A beautiful four or five year old female polar bear moved towards us in the glow of late afternoon light. She hopped numerous small streams and slid effortlessly through the grass, providing us with some amazing footage. She stopped to the sound of my voice when she was about 30 meters away, then casually moved around us to the seaward side, giving us the over the shoulder looks as she passed by.
We quickly packed and played leap frog with the bear all the way back to the Misatkoken River, where she sniffed out our poor unfortunate friend. That was where we left her at twilight, outlined in golden light, standing on the crest of the beach ridge.  All caught on the cameras of Adam Ravetch and…
soon to be a star on the big screen.