Guest Post by Fiona Harper
Note: This article originally appeared in International Traveller Magazine and is reprinted here courtesy of author, travel writer and photographer Fiona Harper, who was a recent visitor to Churchill Wild's Seal River Heritage Lodge. You can read more about Fiona at her Web site, view all of her travel photos here and see the full polar bear photo gallery from her trip here. Thanks Fiona!
It takes four exhausting days, across six tiresome flights on ever-smaller aircraft, culminating in a six-seater de Havilland Beaver floatplane, before I stand within metres of a splendid polar bear. It's worth every weary, jet-lagged minute. I'm within a whisper of Canada's Arctic Circle, closer still to the bear, listening to her breathe, gazing into her ­unblinking eyes. The only thing preventing me from being lunch is the wire fence delineating the "backyard" of the Seal River Lodge behind me. I'm tempted to walk closer, maybe press my nose against the fence, but I recall enough of lead guide Terry Elliot's safety briefing to resist.
To be precise, Terry's exact words were, "You'll be ripped through the wire like spaghetti through a pasta machine." The lodge's location – on a remote headland in the far northeast of Manitoba – makes it a popular point for bears to congregate, "so you won't be using the front door you just came in, either," Terry had said. "For your own safety, we'll be using the back door out to the fenced compound." With half-tonne males capable of charging at 50km/h, that seems a good plan. I make a mental note to forgo my usual morning jog.
Even standing a few careful metres back from the four-metre-high electric fence, I can still see the polar bear's nostrils quiver and ­teeny ears twitch before she stretches out ­contentedly on her belly, hind legs splayed, ­eyelids folding over inky-black eyes. I feel like doing the same, but there are great sloths of Nanuk – as the Inuit call polar bears – roaming the tundra and I'm keen to pull on my hiking boots and get amongst them.
Lobbing into Seal River Lodge mid-autumn on a Churchill Wild Arctic Safari, I'm here to get up close and personal with the world's ­largest land carnivore. Despite their fearsome reputation, we'll be tracking them just as Inuit have done for centuries: on foot. At this time of year, bears are virtually sleepwalking – roving around in a form of ambling hibernation. In mid-summer, once the ice melts, they lose ­access to seal hunting grounds, forcing them ashore.
Walking the same path, following their paw prints at ground level, seems to conflict with everything I've read about Ursus maritimus. Their undisputed position at the top of the ­local food chain commands respect.
Indeed, the Parks Canada pamphlet I picked up at Churchill Airport makes for sobering reading: "The great white bear can exhibit violent ­aggression toward people, but a curious bear can also be dangerous. ANY [their emphasis] encounter with a polar bear could result in ­serious injury or death for the person involved." It's a solemn message that I'm reminded of constantly throughout the next week.
"Right then, put your boots on and let's go find us some bears," laughs Terry wickedly, slinging a rifle over his shoulder. And so, with some apprehension, our small group of wildlife enthusiasts leaves behind the safety of the lodge to "go find bears".
Walking single file across spongy tundra blossoming with miniature scarlet blooms, we've barely time to find our stride before we get the hand signal from Terry to stop. A bear is basking in the longish grass on the foreshore ahead. No doubt she heard and smelt us long before we saw her, despite the tracking skills of our two heavily armed guides.
The bear watches us. We watch the bear. Soon, she rises, advancing in a cautious sideways pattern. Bears will approach prey in this zigzag manner rather than making a direct approach. "That's far enough," Terry commands harshly once the bear is about 40m from our huddled group.
Blood rushes to my head as she continues her lumbering advance. A couple of tidal pools dotted with suitcase-sized boulders are all that stand between us. She pauses ­momentarily, nostrils twitching, our camera shutters hammering rapidly, hearts even faster.
With her head bobbing down between massive shoulders, she quite deliberately lifts a paw the size of a dinner plate and resumes her approach. At around the 30m mark, Terry lobs a small rock in front of her. It's all that's required to discourage her as she wheels around and retreats a few paces. Known affectionately as Blue Moon – due to her blue-stained rear from sitting in a berry patch – she throws one more petulant glance at us over her shoulder before sauntering away.
"Go on, off you go," Terry calls to her retreating backside, just to reinforce who's the boss. Elated at this first of many close encounters, we grin foolishly at each other. Watching ­Nanuk amble away, my heartbeat gradually ­returns to normal.
Over twice-daily hikes we see so many bears that eventually they become just one component of this fascinating land. Through the dining room windows we watch them lumbering across the landscape, swimming in the sea, sunning themselves on the beach.
As we're sipping wine beside the fire, an inquisitive young bear ventures close to the lodge, standing up on all fours to peer inside. Though we also spot caribou, sic-sic squirrels, arctic hare, fox and great flocks of birds, the bears steal the show.
We return to the tiny town of Churchill, ­reluctantly, where an itinerant white bear ­contrasts against reddish foliage. I recall an Inuit legend about this great Arctic traveller, who will ride an ice floe until the bitter end when he is forced to swim.
Pihoqahiak, they called him – "the ever-wandering one". ­Energised from a safari expedition into a land few humans ever see, let alone inhabit, it ­occurs to me that polar bears might just be on to something. Could travelling far and wide ­beyond our comfort zone be the answer to that wretched travellers curse, jetlag?
Dennis Fast is hosting our first ever Polar Bear Photo Safari at Nanuk Polar Bear Lodge. This one week departure takes place August 26-September 1, 2012 on the coast of Hudson Bay in the Cape Tatnum Wildlife Management area.
Dennis' work can be seen all over our website and promotional materials. He has been working with Churchill Wild since the beginning and is our resident photo expert (as well as an incredible guide).
Below he answers some questions many photographers have asked in recent weeks.
: : : : : : : : :
Everyone who comes to Nanuk Polar Bear Lodge wants to know what lenses to bring, and that is an important question.
Most pros would bring at least one lens that can reach out to 500mm or even 600mm. We all know, however, that those lenses are both costly and heavy. So a compromise may be in order for both reasons.
On my trip to Nanuk, I used my 500mm least of all. It's true that the coast is vast, and bears often are spotted at a distance. The temptation is to get as big a lens as possible on the camera and start shooting. In the end, a little patience delivers a curious bear right into easy range for a 100-400mm zoom or something in that range.
I have taken a lot of photos of bears using just my 70-200mm with a variety of multipliers, including 1.4x. 1.7x, and 2.0x. When mothers and cubs show up at the lodge, and they frequently do, they will be at close range and you will quickly be abandoning your long lenses. Remember also that the multiplier effect of most digital cameras, unless they are "full frame" increases the power of all your lenses by a factor of 1.3x to 1.6x depending on the camera you are using. I have a very compact 28-300mm lens which I plan to use a lot in the North this year. It's light weight and size makes it easy to hand-hold and keep at the ready at all times. With a C-size sensor it quickly becomes about a 40-450mm lens – great for almost anything.
Nanuk, however, is not just about the bears. The scenery is spectacular along the coast with sandy beaches and shallow inshore lagoons great for birds and reflections – there goes my 28-300mm again!
The sun spot activity is also increasing at a steady rate as we approach the zenith of its 11-13 year cycle. That means the northern lights could be awesome this year all over the arctic. For that you will definitely want a reasonably fast wide-angle lens. I use my 14-24mm lens a lot for the aurora, but my 24mm-70mm seems to be a great lens for that too. Any wide-angle will allow you to get some of the landscape included in the shots of the sweeping aurora to add a sense of scale. Without that you don't get the feel of how vast the aurora-filled sky really is!
: : : : :
For more information you can call our office at 204-377-5090 or toll free at 1-866-UGO-WILD (846-9453)
You can also email Doreen at info@churchillwild.com
This cool polar bear photo was taken by Julie Thompson at Seal River Heritage Lodge and it was attracting all kinds of attention on the Churchill Wild Facebook Page. It was suggested that the bear smelled the Cranberry Cake with Butter Sauce, a Lodge favorite from our Blueberries and Polar Bears Cookbooks. Hmm… well… it is delicious! The bear obviously knew that 🙂
Here's what Julie had to say:
I tell people I walked amongst the polar bears just to see the looks on their faces.  Some can't believe it's possible.  They've never heard of such a thing.
"How close were you to one of the greatest predators on earth?" is usually a question which follows.
"Pretty close" I say, as they peruse our photo book with awestruck faces.
Standing outside of the lodge, we cautiously watched our resident bear approach.  He was an inquisitive one, determined to enter into our "home away from home."
I think he enjoyed the attention and our company.  Always peeking into windows and pacing around the compound looking for a quick entry.  He was affectionately known as Snuggleputz.  The previous group staying at the lodge named him.  While there was much discussion surrounding renaming him, Snuggleputz is the only name which sticks in my mind.
This bear gave us fantastic photo opportunities throughout our stay.  With expert wildlife photographer, Dennis Fast, leading our group, we were always learning, whether it be out on a tundra trek or during one of his early evening fireside chats.  We met fantastic people from around the globe who shared in our love of photography, we ate great food and were welcomed into the lodge as if we were part of the family.
Perhaps Snuggleputz sensed this warmth, the fun and friendliness of the lodge and he just wanted a glimpse of it for himself.  If only someone would hear his knock.
If you've ever wondered what it's like to visit the polar bears at Seal River Heritage Lodge or Nanuk Polar Bear Lodge, you'll want to make sure to watch the world premiere of Polar Bears: A Summer Odyssey on Sunday, April 8 at 7 p.m. on CBC TV's The Nature of Things with David Suzuki. You'll see some of our Churchill Wild polar bears!
The wildlife documentary, much of which was filmed over a 12-month period in the vicinity of Churchill Wild's polar bear lodges, tells the story of a young male polar bear who must survive his first summer alone on land without his mother, after the ice breaks up early on Western Hudson Bay and prevents him from hunting seals. The youngster's struggle to survive is back-grounded and influenced by one of the most important environmental stories in history: climate change.
Directed by Adam Ravetch of Arctic Bear Productions and produced by Arcadia Content in association with CBC's Science and Natural History Documentary Unit, Polar Bears: A Summer Odyssey features stunning images shot with eight different types of cameras including: a polar bear collar-cam; a remote control truck-cam; a mini heli-cam and several underwater cameras.
"Filming in 3D was much more work," said Ravetch. "But we wanted immersive images so the audience could experience what it's really like to be up close at ground level with polar bears. It required multiple cameras operating at the same time to produce the special 3D effects and three of us including Stereographer Indy Saini and Camera Engineering Specialist Stewart Meyer to get the distances between the objects and between the lenses just right. Stewart also developed a smaller mobile camera system that could produce some very rare images."
Churchill Wild's Mike Reimer and polar bear guides Terry Elliot and Andy MacPherson were also essential in getting the ultimate polar bear shots.
"It's a huge challenge to film in 3D in the arctic," said Ravetch. "The guides have to have experience specifically with polar bears. They concentrate on safety so we can focus on camera angles and getting the shots we need. Being up close with the bears is quite spectacular for a filmmaker, but safety is paramount. The last thing we want is for a person or a bear to get hurt. You're not in a cage or a vehicle, you're at ground level with the polar bears. I've always worked at ground level, but there are very few places where you can photograph polar bears like this. Seal River and Nanuk are among the best places on the planet for this type of wildlife photography."
Ravetch is no stranger the arctic. He and Sarah Robertson co-directed Arctic Tale for National Geographic. Ravetch also directed some amazing in-field sequences swimming with polar bears and walruses for the IMAX production To The Arctic and was cinematographer for one of the segments on the BBC series Frozen Planet, to name just a few of his many illustrious wildlife and nature film credits.
Ravetch sometimes camps out for 4-6 weeks at a time while making his films in the arctic, which makes for a very serious and sometimes dangerous adventure (see full interview here), but Churchill Wild was lucky to have him and his crew as guests at Seal River Heritage Lodge and Nanuk Polar Bear Lodge during various segments of the filming process in 2010 and 2011.
"I woke up to Jeanne's (Reimer) omelettes every morning," said Ravetch. "Churchill Wild offers people the very unique experience of getting up close on the ground with the polar bears. Within a day of a arriving at the Lodge people can see polar bears on the tundra. But they still have a warm safe bed at the Lodge to come back to, and of course the delicious food."
Thanks Adam! And just to clarify for future guests, Churchill Wild doesn't actually "own" any polar bears.
They simply get close to them.
Churchill Wild will host the world's first ever Summer Polar Bear Photo Safari at Nanuk Polar Bear Lodge in 2012, offering photographers rare on-the-ground polar bear access and exceptional photo opportunities unavailable anywhere else on the planet.
The new Summer Polar Bear Photo Safari represents an expansion on the success of Churchill Wild's Polar Bear Photo Safari and Arctic Safari at Seal River Heritage Lodge.
"Last year was our first time running a full program at Nanuk", said Rick Kemp, Director of Marketing and Communications at Churchill Wild. "We finally had a chance to see everything the area had to offer. Guests were treated to Churchill Wild's trademark one-of-a-kind polar bear experience with on-the-ground polar bear viewing, but we also discovered wolves, black bears, moose, skunk, golden eagles, peregrine falcons, and thousands of migratory snow geese."
Located in one of the most historically significant areas of Canada on the southern coast of Hudson Bay within the Cape Tatnam Wildlife Management Area, the Summer Polar Bear Photo Safari at Nanuk will have very limited space availability from August 26 to September 1, 2012, and will be led by Churchill Wild in-house professional wildlife photographer and author Dennis Fast. Space will be very limited at a price of $6,395. For more information please call Churchill Wild at 1 ( 204) 377-5090 or e-mail info@churchillwild.com.
"People are starting to want something wilder and less traditional," said Fast. "You're on the polar bears' home turf up here. You're on the ground with the polar bears. It doesn't get any wilder than that. When you're eye-to-eye with the polar bears it elevates their status. You really get a sense of how big and powerful they really are, and it shows in your photographs."
The most compelling attraction for wildlife photographers at Nanuk is the high incidence of mothers and cubs in the area, due to two newly discovered polar bear denning sites on the edge of the Boreal Forest. The Northern Lights can also be quite spectacular at Nanuk when skies are clear, and there are beautiful interior lagoons which also make a great backdrop for photographs of the mothers and cubs.
Nanuk Polar Bear Lodge is located 40 kilometers east of York Factory, a trading post that was established in 1684 by Governor George Geyer of the Hudson's Bay Company, during the early years of the fur trade that played a major part in the exploration and development of Canada.
"We still find remnants of old ships occasionally in the mud flats," said Churchill Wild's Mike Reimer, perhaps referring to the Battle of Hudson Bay in 1697, the largest Arctic naval battle ever fought. "From brass railings to cannons to old grave sites, you never know what you might find. And our guides are direct descendants of the Western Woods Cree, the "Home Guard Indians" who worked with the Hudson Bay Company over 300 years ago at the original settlements — guiding, hunting, interpreting and procuring wild game and furs for them."
Guests at Nanuk Polar Bear Lodge may very well be walking in the footsteps of some very famous explorers during their daily hikes along the sandy and grassy tidal flats in search of polar bears and adventure. But despite taking place in one of the wildest areas on the planet, the Summer Polar Bear Photo Safari at Nanuk offers all the comforts of home with the Lodge's newly renovated cabins that include private en-suite washrooms and showers.
Breakfast, lunch and dinner take place in the separate main dining room at Nanuk Polar Bear Lodge, and the main living room/polar bear viewing area at the Lodge provides a gathering place to relax, share stories and photos after a wonderful day of exploring and photographing, unless of course… you're interrupted by polar bears walking by.
When most people think of seeing polar bears they have visions of snow and ice. Nanuk offered us the spectacular backdrop of the fall colours on the tundra to contrast with the great white bears that were our constant companions. Add to that the millions of birds that stopped at Nanuk on their way south and, if you can't get a great photo here, you won't get one anywhere! — Kerry and Leona Orchard, Nanaimo, BC
Special to Churchill Wild
by +George Williams
Carol Moffatt describes herself as a "fridge photographer".  
Churchill Wild begs to differ.
The 47-year-old Reeve at the Municipality of Algonguin Highlands downplayed the fact that she took some fabulous shots of polar bears, landscapes and northern lights while attending our Polar Bear Photo Safari last October at Seal River Heritage Lodge.
"I don't take photographs to sell them," said Moffatt. "I'm a self-taught amateur photographer with a background in journalism. If someone wanted to offer me money for a photograph I might sell one, but really, if I have a nice photo, I put it on the fridge for a month."
Moffatt has taken more than a few marvelous photos during adventures that have taken her from backpacking in the Australian outback, to Africa, to visiting the 2010 volcanic eruption in Iceland as well as Peru, Ecuador, the Galapagos Islands, Alaska,  Yukon and the Southwestern United States. You can view a selection of her photos on her Web site at http://cmoff.smugmug.com/
"The Yukon was magical," said Moffatt, "but the Churchill Wild trip was the most interesting of all in terms of remoteness.  Part of the adventure was just in getting there. The whole trip was very well organized and I'd never flown in a Twin Otter before."
Moffatt was part of group of 14 photographers and spouses involved in a trip led by professional photographer Mike Beedell.
"There were photographers of every talent level in our group," said Moffatt. "Everyone was very  helpful. We were all united in a shared cause and it just worked."
"We went on hikes across the tundra and saw polar bears every day, but breakfast was always a special experience. You just never knew what might be on the other side when the (polar bear protective) shutters were opened up in the morning. The bears come right up to the lodge. And an arctic fox appeared several times!"
"The food was phenomenal," said Moffatt, impressed by being able to see desserts for later in the day being made fresh every morning in the new kitchen while they were enjoying breakfast. "And the Reimer family made fabulous hosts – ever present but never in your face."
But what about the walking with the polar bears?
"Our guides, Andy and Tara, would scout out the polar bears in the area ahead of time and walk us out into a position where we could photograph them," said Moffatt. "They were quite attuned to our needs as photographers. And you could definitely tell they knew the bears, the landscapes – and photographers in general. They would move us to the left and right, back and forth and they could sense when we needed something different. And it wasn't all polar bears, there was always something different to photograph while we were wandering along — interesting landscapes, lingonberries and other plants, the shifting ice and how the sun reflected on it…"
Two items related to polar bears stood out on the trip for Moffatt. On one occasion when a polar bear got particularly close to an employee hauling water with the ATV, and another when a large male bear chased a female and her cub away from the fenced compound at the Lodge.
"It was on the final day of our trip," said Moffatt. "A mother and her cub were just outside the compound when she sensed the presence of the big male and took off at high speed out on to the (Hudson) Bay to protect her cub. You can tell when they're bigger than usual, and this was very large male. We also got some good close shots of the bears through the fence, but we were always very careful to keep everything out of their reach — cameras, scarves, loose clothing."
"I'm told that Polar bears are the deadliest land animals on the planet. One of the guides said these bears can pull an 800-pound seal out of the water in one swoop. We're the zoo animals up there with us on the inside of the compound and the animals on the outside looking at us. But I wanted a real adventure and I sure got one. The tundra buggies just wouldn't have worked for me. The whole trip was a delight."
She has a fridge full of photographs to prove it.
Dennis Fast is the chief in-house photographer at Churchill Wild and one of Manitoba's best known photographers. His photos have appeared in many calendars and books, including the award-winning bestseller Pelicans to Polar Bears, a Manitoba wildlife viewing guide.
He has had major contributions to many books since then, with Wapusk: White Bear of the North, being the first book to feature his work exclusively. The book showcases stunning images of polar bears and their Hudson Bay environs, but also addresses the threats to the bears' traditional migration patterns and their existence in the Churchill area.
"Polar Bears are among the most magnificent predators on earth and have fascinated me since childhood," said Fast, on the Heartland Associates Web site. "I never dreamed that someday I would actually walk in the land of Wapusk (Cree for white bear). I still remember in vivid detail my first sighting of a wild polar bear and the feeling of awe it inspired with its beauty and latent power. Since then, I have had many polar bear encounters ­ from mothers and young cubs coming out of their dens, to adult males wrestling for supremacy."
"I have even been privileged to be in the presence of a dying mother, and to witness the struggle of her young cubs forced to learn survival skills without her. Wapusk is the story of the polar bear and the land it calls home, and the story of my passion for the North."
Dennis's expertise and experience photographing in extreme northern conditions have put him among the select photographers in the world with the talents for capturing the light and magical qualities of the north.
His photography has been featured in Outdoor Photography Canada and in the Michigan publication "Whisper in the Woods". The CBC followed him on a sunset photo shoot in 2007 as part of their search for the Seven Wonders of Canada.
Dennis has been the prime photographer for seven books including The Land Where the Sky Begins which was commissioned by the Nature Conservancy of Canada featuring Manitoba's endangered tall grass prairie.
As of 2012, many of Dennis's polar bear images are featured in the new polar bear rehabilitation center at Winnipeg's Assiniboine Park Zoo. His new children's book Princess: A Special Polar Bear is slated to be released in March, to be followed by a coffee table book on Northern wildlife in early 2013.
Dennis is a frequent presenter at photo conferences and other events across Canada. His photographs and his stories are legendary!
Contact Information:
Dennis Fast
Box 151
Kleefeld, MB
R0A 0V0
Phone: (204) 377-4455
E-Mail: denroy@mts.net
Web Site: www.dennisfast.com
Special to Churchill Wild
by +George Williams
It's unlikely physician Daniel D'Auria thought his photography hobby would turn him into an author, but that's exactly what happened after his Polar Bear Photo Safari with Churchill Wild.
The 54-year-old from Tabernacle, New Jersey, has now created three children's books about polar bears, each featuring a selection of photographs from the 17,000 he captured at Churchill Wild's Seal River Heritage Lodge. Images from his trip can also be seen at his LifeScapes Imaging Web site.
"I never knew where wildlife photography would take me," said Daniel. "But I had an idea for a book for preschoolers – a whimsical, rhyming book about polar bears.
"We have four children ages 8-23, and some of my fondest memories are of reading to them to when they were growing up. I wanted to create something that would get parents reading to their children and get children interested in wildlife. Parents are interested in the beautiful photos. Children are curious about the bears. And because parents are spending quality time with their children reading the books to them, it gets the children more interested in reading."
A noble cause to be sure, and it's been a long journey to get to the stage of published author, but Daniel has enjoyed every bit of it. He took up photography in high school and spent the last year or so photographing weekly in New Jersey before being able to participate in some of the more elite photography adventures.
Daniel's wife probably had something to do with ramping up the photography hobby in the family. A former dental hygienist with an interest in sports, she participated in the Sports Photography Workshop at the Summit Series of Photography Workshops. Daniel tagged along and this led to him attending the Summit Landscape and Wildlife photography workshop a few years later. Unfortunately, his medical career still didn't leave him the time he would have liked to have spent on photography — until recently.
About two years ago, Daniel hired an associate, which allowed him to free up some time for longer trips to elite photography havens that included the Richard Clarkson Photography at the Summit Workshop in the Grand Tetons of Wyoming; the J. N. "Ding" Darling National Wildlife Refuge located on the subtropical barrier island of Sanibel in the Gulf of Mexico; the Bosque del Apache National Wildlife Refuge in New Mexico; and finally the Polar Bear Photo Safari at Churchill Wild's Seal River Heritage Lodge on the West Coast of Hudson Bay in Manitoba, Canada.
"The Churchill Wild experience was the trip of a lifetime," said Daniel. "We first heard about it from Scott Fryer and his wife Paula, who he met while at the Photography at the Summit Workshop in Jackson Hole, Wyoming. We went on the trip as part of a group with Bob Smith of Elk Meadow Images, who organized a photography workshop for 14 people at Churchill Wild.
"The trip from Winnipeg to Churchill with CalmAir was wonderful. And we had a lovely flight on a small plane from Churchill to the Lodge. It was my first trip on a small plane and we had an excellent pilot. Seal River Heritage Lodge is beautifully hand constructed and extremely comfortable. The staff was unbelievably accommodating and the food was outstanding. It was just like home.
"Our guides, Andy and Terra, really made us feel like we belonged, not like we were goofy outsiders. They would scout the polar bears first to see where they were at, and then we would go on two hikes a day. The furthest we had to go was about a mile and we were able to set up for polar bears, arctic fox, ptarmigan and briefly an arctic hare."
Being able to take on-the-ground photos of wildlife has been Daniel's modus operandi in photography, so the daily hikes worked out perfectly for the group. This despite the fact that Daniel brought his 28 lbs. 2½ foot 600 mm lens, which it was suggested he consider leaving at home.
"I'm used to carrying my lenses in the wilderness," said Daniel. "Whenever I'm photographing I have one smaller lens on my right shoulder, the heavier one on my left, and my backpack. So that wasn't a problem.
"And we weren't interested in going out in tundra buggies. I wanted to be on the ground with the polar bears. I like the freedom of the out of doors, the solitude of hiking the trails, and the beauty of observing nature. I don't want to do it from inside a vehicle unless it is an absolute necessity. Whenever you're out in the wild there will be certain element of danger involved. In Jackson Hole, Wyoming, I carry bear spray. In New Jersey it's not an issue.
"Sure there is some fear of bears. But we learned there is a mutual respect between the polar bears and the people up there in Churchill. If done carefully and properly there is an acceptable risk. We never felt unsafe at any time. I think our group would uniformly say we would like to repeat our experience at Churchill Wild."
Daniel went on to describe how much he enjoyed the spectacular landscapes, sunrises and sunsets over Hudson Bay. Flat, rugged and desolate, "it was like looking out over the surface of mars when the tide was out. You'd think you just went to another planet.
"But that's the best thing about wildlife photography. You can never predict what you'll see. Every day is a little bit of joy. And when I get back from a trip like this – my family notices the difference in me."
Besides being a new author, Daniel also donates framed polar bear and wildlife prints to his local hospital. "I sell a few prints," he said, "But the people at the hospital love them. They have them up on the walls and they always get nice comments from the patients and visitors.
"Wildlife photography has made me a much happier and more content person. It's like being rich… but in different way."
---
Daniel D'Auria's polar bear books for children can be found on Amazon.com at the links below. He's also working on two more children's books about birds and is always interested in pursuing joint ventures that will also benefit a good cause in some way. Thank you Daniel!
You just can't take spectacular photos of polar bears without having excellent guides to watch your back.
That's according to professional photographer Bob Smith of Elk Meadow Images, who organized a photography workshop for 14 people this fall at Seal River Heritage Lodge. Smith's group were taking part in Churchill Wild's annual Polar Bear Photo Safari and were there to snap ground-level shots of polar bears in their natural environment on the coast of Hudson Bay in Manitoba, Canada.
"The guides are so important," said Smith. "They're the real key to getting great ground-level shots of polar bears while at the same time making as little impact as possible. We respect the bears and don't want them to feel threatened. We don't want to disturb them when they're feeding and if they're resting we want them to rest."
"The guides know the bears and they can get us set up in the best position possible to use our equipment," continued Smith. "If we have to move to get a better angle, we depend on the guides to help us do it in a safe and efficient manner. And they also make sure there are no bears approaching from behind."
Smith has been organizing photography workshops for over 20 years and says he likes to search out locations that are "off the beaten path."  The 55-year-old from Denver, Colorado has held photography workshops in Antarctica, Alaska, the high Arctic and Africa.
"We do two or three workshops a year," said Smith. "Our locations attract an elite clientele and we make it easy for them – we do the advance planning, make the arrangements, set up the itinerary and plan the on-location daily schedules."
Smith's photography workshops include instruction on both photography and computer skills.
"Wildlife photography is combination of art and a science, "said Smith. "Effectively capturing wildlife in its natural environment requires knowledge of animal behavior as well as an understanding of how and where to take a photo that will best portray different elements such as strength, size, motion, behavior, interactions within the species etc. There are also different methods of using natural light to enhance photos."
Computer skills featured in Smith's workshops include those needed for processing and sharing images, creating photo albums and more.
Smith has three workshops planned for 2012 that include photographing grizzly bears in Alaska; large mammals in Botswana, South Africa and endangered whooping cranes in southern Texas with Popular Photography Magazine.  For more information on Smith's upcoming photography workshops please visit his Web site at: www.ElkMeadowImages.com or e-mail him directly at: bsmith@elkmeadowimages.com
Smith is currently working on a new book of his photography that will include grizzly bears, eagles and narwhals in Alaska; walrus, bearded seals, ice and polar bears in Svalbard, Norway; and the polar bears at Seal River Heritage Lodge.
The Polar Bear Photo Safari at Seal River Heritage Lodge takes place in the heart of polar bear country on the rugged and wild coast of Hudson Bay. It caters to dedicated wildlife photographers who are willing to spend the hours required to get up close and personal with polar bears and other arctic wildlife. Polar bears can be photographed on the ground in their natural environment of ice and snow along the Hudson Bay shoreline amidst a background of dramatic seascapes and landscapes. More examples of the type of polar bear photos that can be taken at Seal River can be seen in Churchill Wild's 2010 Photo Contest Gallery.
"Photographing polar bears in Churchill doesn't give you the same experiences as the ground-level photo opportunities available at Seal River Heritage Lodge," said Smith. "The workshop participants were enamored with the polar bears and the unique access to them. Many of them told me it was the best trip they've ever been on."
I don't think there is a better place in the world to observe and photograph polar bears. — Joel D. Davidson, Photographer
Joel Davidson was at Seal River Heritage Lodge in early November for Churchill Wild's Polar Bear Photo Safari, which takes place when the polar bears congregate in large numbers on the coast of Hudson Bay in anticipation of freeze-up.
Rugged and remote, but with all the comforts of home, Seal River Heritage Lodge is ideally located in the heart of polar bear country on this coast. For the serious wildlife photographer willing to spend long hours in the field getting up close and personal with the arctic wildlife, the ground level photo opportunities at the Lodge are exceptional.
"I chose Churchill Wild and Seal River Heritage Lodge to observe and photograph polar bears at ground level," said Davidson. "I did not want to photograph the bears 15′ high from a Tundra Buggy. Our guides were very professional. Their primary concern was our safety, but they still allowed us to get close enough to the bears for good photo opportunities. My experience far exceeded my expectations!"
Photos taken on the Polar Bear Photo Safari feature stunning backdrops of sea ice and the rocky landscapes that surround the Lodge. The snowy Hudson Bay shoreline is ideal for photographing polar bears in their naturally icy environment at this time of year and is praised by the many photographers that visit the Lodge.
"I took over 4,000 photos," continued Davidson. "I have been fortunate to photograph wildlife all over the world and have never taken so many fine images in just four days!  The hardest problem was selecting the best images from hundreds of excellent photos."
Davidson immensely enjoyed watching (and videotaping) the interaction and the wrestling of the polar bears. See video below.
Although he missed the Northern Lights, which often romance and dance on clear nights for photographers and guests at the Lodge, Davidson felt that observing so many arctic fox on the trip was a bonus. And we have to agree – he did get some fabulous arctic fox photos! See gallery below.
"The accommodations were excellent, the food was superb, and the staff was outstanding," said Davidson. "Staying at Seal River Heritage Lodge is a photographer's dream."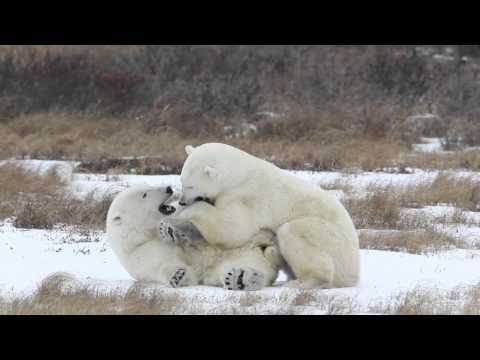 To view more of Joel Davidson's polar bear photos please visit his Web site at: http://joeldavidsonimages.com/