Churchill Wild has always been devoted to minimizing their environmental footprint at their remote northern eco-lodges.
Now they're enhancing their environmental stewardship programs even further with the installation of Vertical Access Wind Turbines (VAWTs) manufactured by VBINE ENERGY in Winkler, Manitoba.
The combined power generated by the VAWTs and the solar panels currently in place at their eco-lodges will virtually eliminate the need to use fossil fuels at Seal River Heritage Lodge, Nanuk Polar Bear Lodge, North Knife Lake Lodge and Dymond Lake Lodge.
Generators will still be in place for backup power, but the combination of the current solar-panel system combined with VAWTs is expected to provide for almost, if not all, their power needs in the future.
"The beauty of it is that we have a battery storage system," said Mike Reimer of Churchill Wild. "The power generated from the VAWTs and the solar panels is stored in the batteries and we draw off of them. And they're eco-friendly and economical. There's less noise pollution, less of a carbon footprint and we'll be paying substantially less than the $1-$1.30 per kilowatt it costs for diesel generated power."
The VAWTs were invented by Barry Ireland about six years ago and refined by an engineering team. Their showcase installations include the Dr. David Suzuki Public School in Windsor, Ontario, Canada and Wayne State University in Detroit, Michigan, but the rugged VAWTs were also designed to work in remote northern locations.
"They were originally designed to work on smokestacks and silos," said Ireland. "We had to build them so that the center wouldn't rotate. We also had remote communication towers in mind when we built them. Many of those towers are powered by diesel and the VAWTs cut costs by quite a bit. That also means they will be popular with many northern lodges and outfitters."
VBINE is currently working with Canadian Solar on a combination wind/solar solution that will work for northern communities.
"VAWTs are generating a large amount of interest because of the significant cost savings that can be realized," said Ireland. "And the fact that the big windmills won't work in the north. They ice up, they have too much vibration and they won't go into the permafrost. The VAWTs are the only ones that will work up north."
VAWTs mount easily on existing buildings; they're only two meters in width; they're quiet and they're suitable for grid tie-in or battery storage. And because of the vertical design, VAWTs can take wind from any direction. They start generating power at wind speeds of 1.2 meters per second and run 24/7 generating 5 kilowatts of power with a 25 mph wind. They have a permanent magnet generator with two long-life bearings, no drive shaft and no slips springs or brushes. The lifespan of the VAWTs is estimated at 30 years with very little maintenance. Their sleek design also minimizes interference with wildlife.
The first of the Churchill Wild VAWTs were hauled up to Seal River Heritage Lodge last week via CAT train (caterpillar pulling a freight sled) across the Hudson Bay sea ice, which is still about six feet thick.
Hauling tons of freight across the Hudson Bay ice in -20 degree weather is actually better than doing it at 0 degrees. The ice can get sticky and wet in warm weather, making for dangerous conditions. While there is generally no immediate danger from polar bears, which are still further out on the ice filling up on seals before the ice melts, the weather can still cause problems.
"The wind chills can get to as low as -40," said Reimer. "And there's always the possibility of blizzards, flooding sea ice and slush holes. CATS have actually gone through the ice on a couple of occasions."
The trip takes about 15 hours from Dymond Lake Lodge to Seal River Heritage Lodge and Churchill Wild utilizes one of their two CAT track-type tractors, 1956 and 1972 models built by Caterpillar.  But how fast does that CAT really go?
"About two miles an hour downhill with a tailwind,"  said Reimer.
To learn more about how VBINE ENERGY VAWTs can benefit your operations and goals for a greener future, please visit http://www.VBINE.com, call their head office at (204) 325-0228 or e-mail info@vbine.com
by Doreen Booth, Churchill Wild Adventure Specialist
This past November, I was at our Seal River Heritage Lodge for the last departure of the Polar Bear Photo Safari.  While at the Lodge, I had the opportunity to visit with Clare and Andy Coleman, two guests who were up for their second trip with us. I knew they lived near London, England, so when I told them I might have a trip to London coming up, they told me to contact them should the trip go ahead.
It is a rare opportunity that I get to visit with our guests in their home country, so I jumped at the opportunity to meet up with Clare and Andy for a visit. This was primarily a work trip (of course) but, due to timing, I found myself with a free weekend.
Clare and Andy live outside of London and had not had the opportunity to be "tourists" in London for many years so they were excited to take me around to see the sights. My only requests were to get as many pictures as I could of all the sights I had been driving by all week, and to see a musical.
We met up Saturday morning and our first stop was the very long line for Wicked tickets (yes, my musical wish come true!)  From there, we found "Big Bus Tours" and purchased a hop-on hop-off two day pass. This became our mode of transportation for the weekend!
Our first stop was the Tower of London – "Built to strike fear and submission into the unruly citizens of London."  There were many people who lost their heads in this tower over the years for their unruly behavior. In the White Tower we saw the armor of Henry VIII, the beautiful 11th-century Chapel of St John the Evangelist, and the Crown Jewels.
The Tower of London was also used to house exotic animals. These animals were given as royal gifts and animals were kept at the Royal Menagerie for the entertainment and curiosity of the court. There were many stone sculptures around the Tower showing the different types of exotic animals including a polar bear that was gift from the King of Norway. We spent almost five hours exploring.
Our evening was comprised of a cruise on the River Thames, more sightseeing on the Big Bus Tour, a dinner of fish and chips at a small pub in the theatre district, and Wicked the musical. I have to admit I now have a different opinion of the Wicked Witch.
Sunday brought an open sky and wonderful sunlight! We headed straight for the London Eye, as it was the perfect day to see the sights from high above. After driving around the city all week it was great to see the city from a different vantage point.
Afterwards, we walked past Big Ben to get some close-up pictures and then we headed over to Westminster Abbey. It was neat to see the buildings in person and remember them from when the royal wedding took place.
Next, we headed over to Buckingham Palace for more photo opportunities and then to the Queen's Gallery to view an exhibit titled The Heart of the Great Alone: Scott, Shackleton & Antarctic Photography.
After viewing the wonderful display of pictures we headed to a restaurant for lunch before parting ways. There was still work for me to do before Monday.
It was wonderful to meet up with my friends in London.  I appreciate the time they took to show me around the city and keep me company.  I learned a lot, laughed a lot, and will remember my trip to London for many years to come.
Thank you to Andy and Clare for being great "tour leaders" on my trip!
Wow,  talk about role reversal!
If you've ever wondered what it's like to visit the polar bears at Seal River Heritage Lodge or Nanuk Polar Bear Lodge, you'll want to make sure to watch the world premiere of Polar Bears: A Summer Odyssey on Sunday, April 8 at 7 p.m. on CBC TV's The Nature of Things with David Suzuki. You'll see some of our Churchill Wild polar bears!
The wildlife documentary, much of which was filmed over a 12-month period in the vicinity of Churchill Wild's polar bear lodges, tells the story of a young male polar bear who must survive his first summer alone on land without his mother, after the ice breaks up early on Western Hudson Bay and prevents him from hunting seals. The youngster's struggle to survive is back-grounded and influenced by one of the most important environmental stories in history: climate change.
Directed by Adam Ravetch of Arctic Bear Productions and produced by Arcadia Content in association with CBC's Science and Natural History Documentary Unit, Polar Bears: A Summer Odyssey features stunning images shot with eight different types of cameras including: a polar bear collar-cam; a remote control truck-cam; a mini heli-cam and several underwater cameras.
"Filming in 3D was much more work," said Ravetch. "But we wanted immersive images so the audience could experience what it's really like to be up close at ground level with polar bears. It required multiple cameras operating at the same time to produce the special 3D effects and three of us including Stereographer Indy Saini and Camera Engineering Specialist Stewart Meyer to get the distances between the objects and between the lenses just right. Stewart also developed a smaller mobile camera system that could produce some very rare images."
Churchill Wild's Mike Reimer and polar bear guides Terry Elliot and Andy MacPherson were also essential in getting the ultimate polar bear shots.
"It's a huge challenge to film in 3D in the arctic," said Ravetch. "The guides have to have experience specifically with polar bears. They concentrate on safety so we can focus on camera angles and getting the shots we need. Being up close with the bears is quite spectacular for a filmmaker, but safety is paramount. The last thing we want is for a person or a bear to get hurt. You're not in a cage or a vehicle, you're at ground level with the polar bears. I've always worked at ground level, but there are very few places where you can photograph polar bears like this. Seal River and Nanuk are among the best places on the planet for this type of wildlife photography."
Ravetch is no stranger the arctic. He and Sarah Robertson co-directed Arctic Tale for National Geographic. Ravetch also directed some amazing in-field sequences swimming with polar bears and walruses for the IMAX production To The Arctic and was cinematographer for one of the segments on the BBC series Frozen Planet, to name just a few of his many illustrious wildlife and nature film credits.
Ravetch sometimes camps out for 4-6 weeks at a time while making his films in the arctic, which makes for a very serious and sometimes dangerous adventure (see full interview here), but Churchill Wild was lucky to have him and his crew as guests at Seal River Heritage Lodge and Nanuk Polar Bear Lodge during various segments of the filming process in 2010 and 2011.
"I woke up to Jeanne's (Reimer) omelettes every morning," said Ravetch. "Churchill Wild offers people the very unique experience of getting up close on the ground with the polar bears. Within a day of a arriving at the Lodge people can see polar bears on the tundra. But they still have a warm safe bed at the Lodge to come back to, and of course the delicious food."
Thanks Adam! And just to clarify for future guests, Churchill Wild doesn't actually "own" any polar bears.
They simply get close to them.
Churchill Wild will host the world's first ever Summer Polar Bear Photo Safari at Nanuk Polar Bear Lodge in 2012, offering photographers rare on-the-ground polar bear access and exceptional photo opportunities unavailable anywhere else on the planet.
The new Summer Polar Bear Photo Safari represents an expansion on the success of Churchill Wild's Polar Bear Photo Safari and Arctic Safari at Seal River Heritage Lodge.
"Last year was our first time running a full program at Nanuk", said Rick Kemp, Director of Marketing and Communications at Churchill Wild. "We finally had a chance to see everything the area had to offer. Guests were treated to Churchill Wild's trademark one-of-a-kind polar bear experience with on-the-ground polar bear viewing, but we also discovered wolves, black bears, moose, skunk, golden eagles, peregrine falcons, and thousands of migratory snow geese."
Located in one of the most historically significant areas of Canada on the southern coast of Hudson Bay within the Cape Tatnam Wildlife Management Area, the Summer Polar Bear Photo Safari at Nanuk will have very limited space availability from August 26 to September 1, 2012, and will be led by Churchill Wild in-house professional wildlife photographer and author Dennis Fast. Space will be very limited at a price of $6,395. For more information please call Churchill Wild at 1 ( 204) 377-5090 or e-mail info@churchillwild.com.
"People are starting to want something wilder and less traditional," said Fast. "You're on the polar bears' home turf up here. You're on the ground with the polar bears. It doesn't get any wilder than that. When you're eye-to-eye with the polar bears it elevates their status. You really get a sense of how big and powerful they really are, and it shows in your photographs."
The most compelling attraction for wildlife photographers at Nanuk is the high incidence of mothers and cubs in the area, due to two newly discovered polar bear denning sites on the edge of the Boreal Forest. The Northern Lights can also be quite spectacular at Nanuk when skies are clear, and there are beautiful interior lagoons which also make a great backdrop for photographs of the mothers and cubs.
Nanuk Polar Bear Lodge is located 40 kilometers east of York Factory, a trading post that was established in 1684 by Governor George Geyer of the Hudson's Bay Company, during the early years of the fur trade that played a major part in the exploration and development of Canada.
"We still find remnants of old ships occasionally in the mud flats," said Churchill Wild's Mike Reimer, perhaps referring to the Battle of Hudson Bay in 1697, the largest Arctic naval battle ever fought. "From brass railings to cannons to old grave sites, you never know what you might find. And our guides are direct descendants of the Western Woods Cree, the "Home Guard Indians" who worked with the Hudson Bay Company over 300 years ago at the original settlements — guiding, hunting, interpreting and procuring wild game and furs for them."
Guests at Nanuk Polar Bear Lodge may very well be walking in the footsteps of some very famous explorers during their daily hikes along the sandy and grassy tidal flats in search of polar bears and adventure. But despite taking place in one of the wildest areas on the planet, the Summer Polar Bear Photo Safari at Nanuk offers all the comforts of home with the Lodge's newly renovated cabins that include private en-suite washrooms and showers.
Breakfast, lunch and dinner take place in the separate main dining room at Nanuk Polar Bear Lodge, and the main living room/polar bear viewing area at the Lodge provides a gathering place to relax, share stories and photos after a wonderful day of exploring and photographing, unless of course… you're interrupted by polar bears walking by.
When most people think of seeing polar bears they have visions of snow and ice. Nanuk offered us the spectacular backdrop of the fall colours on the tundra to contrast with the great white bears that were our constant companions. Add to that the millions of birds that stopped at Nanuk on their way south and, if you can't get a great photo here, you won't get one anywhere! — Kerry and Leona Orchard, Nanaimo, BC
Today on the drive into work the weather guy on CBC was raving about the low, low temperature we are about to endure.
Environment Canada is forecasting -37° C. Add to that the blowing wind (wind chill factor) and it is the equivalent of MINUS 55!
BRRRRRRRRRRRRRRRRRRRRRRRR!
We always say 'Churchill Wild: Touch the Arctic!" – today you may want to make sure you have heavy gear on before touching anything in the Arctic.
Thankfully (for our guests) it does not get this cold during polar bear season. We run our adventures starting in July with Birds, Bears & Belugas and end off with the Great Ice Bear in November.
July's average temperature is about 12° C while November averages about -12° C.
So often news stories involving polar bears consist of experts predicting the end of our beloved polar bear. Doom & gloom is effective in an awareness campaign but never fun to hear about.
So how about some positive news from waaaay up north? Well… positive for polar bears and possibly ice caps (not to be confused with the popular Canadian "Iced Capp").
It seems Alaska is getting a lot of the white stuff this year. According to meteorologist Shaun Baines, Sarah Palin's home state is on track for snowiest winter on record:
About 150 miles to the southeast (of Anchorage), the Prince William Sound community of Cordova, which has already been buried under 172 inches of snow since November, could get another 7 inches today
… It has been difficult to keep up with the shovelling – and 8ft walls of snow line either side of her driveway. After snow fell off her roof she cannot see out either the front or back of her house.
… If it keeps up, Anchorage is on track to have the snowiest winter ever, surpassing the previous record of 132.8 inches in 1954-55, meteorologist Shaun Baines said.
Snowboarding anyone? All we can say is "Wow"…
Hopefully the Hudson Bay polar bears that hang out at Seal River Heritage Lodge don't decide to relocate to Alaska. We'll have to make sure we don't mention this to them.
:::
Elsewhere there have been numerous news stories and YouTube videos of polar bear cubs popping up. We've posted a few to our Facebook page but this one was an absolute cuddly little doll! The latest comes out of the Scandinavian Wildlife Park and appeared in the Washington Post's "Kids Post" section.
Meet Siku! Internet sensation!
This baby polar bear was born November 22 at the Scandinavian Wildlife Park in Kolind, Denmark. But because his mother couldn't produce milk to feed the cub…
Keepers named the cub Siku, which means "sea ice."
Well, I guess there is little extra "sea ice" this year after all. Always good news.
:::
The valiant Prince William came to Canada recently to show off his new bride Kate. There was a huge media blitz and Canadians were genuinely excited and gracious hosts.
Churchill Wild sent out the invitation but we did not make the itinerary. Maybe next time. We're sure there are many Seal River alumni (see our Trip Advisor reviews) that would vouch for the suitability of our lodge.
During their whirlwind tour of our homeland the Premier of Northwest Territories gifted the royal couple some fabulous polar bear bling.
Some people are making a fuss about it. We think it was a nice gesture:
We wonder if the Churchill Wild logo would look good encrusted with diamonds. The polar bear brooch is worth around $30,000 dollars (19,000 British pounds). A Churchill Wild limited edition logo brooch? We may never know…
:::
Finally, no scan of the news for "polar bears" is ever complete without one of these:
Yes – every year around this time people strip down and brave the frigid waters for their local "polar bear club". It is hilarious to watch from the warm comfort of your recliner in front of the television.
While we have to commend those brave souls who peel and dive into the cold water we find ourselves contemplating the addition of our own "polar bear challenge" during the Great Ice Bear Adventure at Dymond Lake EcoLodge.
Nahhh… wouldn't be a big seller. That's what Dymond Lake looks like when it starts freezing up in October/November (sans swimmer and umbrella). Floating balls of ice. Wanna jump in?
Actually, when Churchill Wild's guests get into the water in the summer for a beluga swim the Hudson Bay waters are just as cold (or colder) than what most "polar bear clubs" would experience. Wanna try it? That's our extremely popular Birds, Bears & Belugas Adventure which takes place during July and August at the Seal River Heritage Lodge.
Our guests wear heavily insulated dry suits to keep them from freezing up. This photo is courtesy of Mark Seth Lender who was up last summer for our Birds, Bears & Belugas Adventure. Mark has a series of blog posts on his site about his time at the lodge. They are accompanied by some incredible pictures. Check them out.
Mark has a syndicated column and is a frequent contributor to Living on Earth (PRI) a nationally syndicated radio program on NPR. He's putting the final touches on his Churchill Wild segments and they will be airing in the coming months. Stay in touch with us through our newsletter, blog, Facebook and Twitter for air dates.
::::
That's all for this time. Thanks for reading.
Special to Churchill Wild
by +George Williams
Nicole Leaper surprised her husband Bob on his 60th birthday last year by giving him a Churchill Wild Polar Bear Photo Safari in a blog post.
Nicole had won the trip in a Reach for the Rainbow live charity auction at that organization's annual Crystal Ball, proceeds of which go to benefit the integration of children and youth with disabilities into the mainstream of society through summer camp programs in Ontario.
The couple had a fabulous experience on their polar bear adventure and will be back again for the 25th Annual Crystal Ball on Saturday, November 19, 2011 at the Metro Toronto Convention Centre.
Churchill Wild will also be back, both in attendance and with a donation of a Birds, Bears and Belugas summer polar bear and whale watching holiday at their Seal River Heritage Lodge.
"We're proud to be associated with Reach for the Rainbow and the work they do for the kids," said Rick Kemp, Director of Marketing and Communications at Churchill Wild. "It's a wonderful cause and we're happy to be able to contribute to making the lives of the kids and their families better."
Indeed, contributors to the live auction and the silent auction at this Charity Gala read like a virtual Who's Who of Canada's corporate and business sectors – for two good reasons.
"It's for both the kids and their families," said Nicole. "The kids go to camp for a week and the parents are afforded a respite while knowing their kids are having fun, learning and growing in an enriched, supportive environment."
Bob wholeheartedly agreed. The Director of Information Technology at Southern Graphic Systems Canada also had rave reviews for Churchill Wild. He was thrilled to learn he was going on a trip to photograph polar bears last year after being cajoled by Nicole into reading How to Gift Wrap a Polar Bear.
"Is that me?" he asked with surprise in his eyes. "Yes," smiled Nicole. "Yeah!" he exclaimed.
A self-described serious amateur photographer, Bob was ecstatic about having a chance to photograph polar bears. He'd traveled the world over the past few years to take photographs, which he displays at RobertLeaper.com, and thought that this would be an incredible opportunity to photograph the world's largest land carnivore.
The couple flew from Churchill, Manitoba to the remote coast of Hudson Bay last fall by helicopter, instead of via the usual aircraft used to take visitors to the Lodge. That was the beginning of a trip that Bob said was, "Very well organized from the start. We were well looked after." But when the couple landed at the Lodge they realized something was up.
"You're immediately greeted by people with shotguns," said Nicole. "That's when you start to realize you're the ones who are captive in this environment. The polar bears are at the top of the food chain here."
The couple spent their time on the daily hikes with four other photographers who were, "very into nature photography" according to Bob. The days – and the polar bears – just flew by.
"Bears?" said Bob. "Oh my gosh!  All the time. There were plenty of polar bears. It wasn't easy to eat dinner. There was always something outside. We saw so many bears we got used to them. We started to look at landscapes, plant formations and other wildlife. We snapped the arctic fox during a lunch time and that was exciting!"
Because of the time of year and the chill in the air, camera lenses were often wrapped when inside so that they wouldn't succumb to condensation when the group ventured outside. On one day there was so much polar bear action the group decided to leave their cameras outside.
"That was when we photographed the arctic fox," said Bob. "We got some stunning photos that day. And we were able to get great shots even without big lenses. I have a 300 mm, but that was more than enough."
"You don't need a huge lens to get great shots. On the daily hikes we were able to get very close to the bears depending on their demeanor, and the guides were excellent, always chatting with us about the wildlife, the area and its history."
Bob and Nicole were also impressed by the quality of the food at the Lodge.
"Gourmet meals," said Bob. "Unbelievable. I wasn't expecting that in such a remote area. Caribou, arctic char, pickerel, goose, local berries and other ingredients from the area. You couldn't have asked for anything better."
Bob and Nicole's polar bear trip with Churchill Wild will no doubt hold a special place in their hearts for many years to come. "I've traveled the world, and anyone seriously into photography would love this place," continued Bob, who put his polar bear photos online at: http://www.robertleaper.com/polar/.
"It was an absolutely fantastic adventure that everyone should experience at least once in their lives. And it was for a great cause. It just doesn't get any better than that."
"My heart was beating out of my chest when I bid on that trip," said Nicole. "I'd never done that before."
Was it was worth it?
"In so many ways…"
CSI: Churchill?
Hey, why not? The popular television franchise is shown in about 35 countries, worldwide, and has been based in Vegas, Miami & NY. We think they should make a Churchill version and we could offer up Churchill Wild's Seal River Heritage Lodge for production. It has already been used for big budget videoshoots so we're sure cast & crew would feel right at home and enjoy a big helping of Jeanne's awesome cooking!
Here's the perfect context: Jane Waterman's Whiskerprint project based out of the University of Manitoba. Waterman has come up with a way to identify polar bears without tracking devices:
Thanks to a crew of citizen "research assistants" from around the world, tracking individual polar bears around Churchill is literally a snap.
"We can't handle and mark polar bears in the tourist region because the marks would interfere with their photography," Jane Waterman said as she transferred photos of four polar bears from one computer screen on her desk to another.
"But, in order to study the behaviour of bears, we need to identify individuals."
The solution was the University of Manitoba's Whiskerprint Project, a database of polar bear photos — most of which have been taken by tourists around the rocky shores of Hudson Bay near Churchill, 1,465 kilometres northeast of Winnipeg.
"The library uses photographs of the polar bear's facial profile (left or right side) to distinguish among individuals based on whisker-spot patterns and scars," Waterman said.
You can go have a look at the Polar Bear Photo-Identification Library at http://polarbearlibrary.org/
Have you ever wondered exactly how polar bears get intimate? They appear so ferocious when they wrestle, as many Churchill Wild guests would verify. Wrestling polar bears are a regular feature in the fall season and are often the subject of the most prized photos guests take.
But how do those cute, cuddly polar bear cubs come into this world and make their way to Churchill Wild's Seal River Heritage Lodge or Nanuk Polar Bear Lodge? We know the birds and the bees but what are the down and dirty details?
What ritual brings the cubs into this world so guests on walking tours through polar bear country can see them – an experience that only Churchill Wild offers? The mating rituals and incredible photos and footage are part of a highly anticipated documentary for the BBC's Frozen Planet series.
Few humans have ever witnessed the intimacies and drama involved. But now, for the first time, it has been filmed in its entirety for the BBC's new Frozen Planet series, presented by Sir David Attenborough.
An article written by Executive Producer Alastair Fothergill appeared on the UK Daily Mail Online website. The article introduces the episode with some incredible pictures and information about the soon-to-be-aired special.
In 2007 Fothergill worked on another project called Earth which also featured the cinematic mastery of Adam Ravetch. Ravetch's incredible imagery can be seen in other productions such as Arctic Tale, which featured the talents of Hollywood heavy-hitters Queen Latifah and Preston Bailey. Bailey played Michael C. Hall's lovable stepson Cody on the Showtime Network's number one show Dexter.
Adam Ravetch is a good friend of Churchill Wild. He has spent the last two years at Seal River and Nanuk. More details of the film will follow but we can tell you it is slated to air on CBC's Nature of Things (which stars environment guru David Suzuki) in Canada, and on National Geographic in the United States and internationally. There will be a regular version but the really exciting part is that there will be a 3D version! We've seen the preliminary footage and it is going to be AWESOME!
Below is a small sample of what's to come, which we posted on the Churchill Wild YouTube Channel last spring. Andy MacPherson, polar bear guide extraordinaire, wrote a blog post about his experiences guiding Ravetch and his film crew.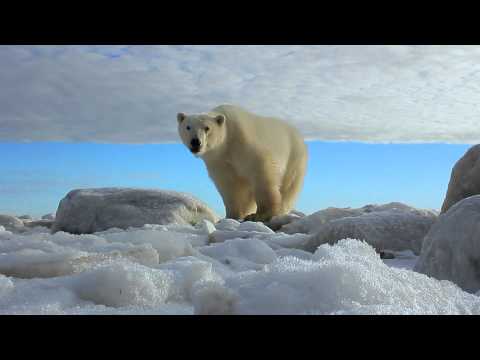 Ravetch also gave us another preview video that we will be posting soon. Keep tabs on the Churchill Wild YouTube Channel, our Arctic Adventure Travel Blog and the Churchill Wild Newsletter. When Ravetch gives us the green light to release all the information about this production, you will be the first to hear about it.
You can sign up for the Churchill Wild Newsletter here.
Joining numerous other illustrious and generous sponsors, Churchill Wild has donated a Great Ice Bear polar bear trip for two to the Richard Harris "Pay It Forward" Social & Teddy Bear Drive to be held on Saturday, October 29 at 7 p.m. at Assiniboia Downs in Winnipeg. Air travel to Churchill will be provided by Calm Air.
The social event is being held in honor of the late Richard Harris, the popular assistant head coach of the Winnipeg Blue Bombers who died suddenly on July 26, 2011, at the age of 63.  Proceeds from the event will be used to benefit the Heart and Stroke Foundation, KidSport and Football Manitoba.
The Teddy Bear Drive will honour "Richard's Bear Hugs" and anyone who brings in a new teddy bear will have a chance at a special prize draw. The teddy bears will be donated to local charities.
"We're very proud to be associated with this event," said Rick Kemp, Director of Marketing and Communications for Churchill Wild. "Richard Harris was a very special person in our community and we're honored to be able contribute to the causes that were so dear to him."
Sanctioned by the Winnipeg Blue Bombers, the social will be in true fall football fashion, held indoors and out on the main floor of the Assiniboia Downs grandstand and outside tarmac. Winnipeg Blue Bombers players and personnel will be in attendance early in the evening and there will be a Silent Auction with some very cool items, 50/50 draws, social fare, music and dancing.
Some incredible prizes have already been donated for the event including two tickets to the Grey Cup, signed CFL memorabilia, big screen TVs, a trip for two to Las Vegas, a fishing weekend in Kenora with a guide, autographed footballs from CFL teams and more.
Silent auction prizes donated so far for the event are valued at between $300 and $500, with a grand prize worth over $1,000 from sponsors that include the Winnipeg Blue Bombers, Winnipeg Sun, Churchill Wild, Assiniboia Downs, ticketmaster, Citytv, Energy 106 and many more.
The value of a Churchill Wild "Great Ice Bear" adventure is $15,990.
Tickets are $20 and are available through ticketmaster.com here or by calling toll free 1 (855) 985-5000. You can also buy tickets at Assiniboia Downs or by calling 885-3330. Only 2,500 tickets will be sold for what promises to be a fabulous event!
---
Richard Harris was in his sixth season as a defensive line coach with the Winnipeg Blue Bombers and his first year as assistant head coach when he died suddenly of a heart attack inside the team complex at Polo Park after a team practice on July 26, 2011.
Born on January 21, 1948 in Shreveport, Louisiana, Richard Drew Harris was an All-American in 1970 with Grambling State University under famed coach Eddie Robinson and was a first round pick (5th overall) in the 1971 NFL draft by the Philadelphia Eagles. Named All-Rookie as a defensive end in 1971, the 6' 5" Harris spent three years with the Eagles before joining the Chicago Bears for two years, where he was part of running back Walter Payton's rookie season. Harris ended his playing career with the Seattle Seahawks, playing three years for the Seahawks including their inaugural 1976 season in the NFL.
Harris won three-semi pro championships as a Head Coach in the Northwest Football League, one with the Eastside Express (1989) and two with Puget Sound Jets (1994-95). In 2000, he led the Portland Prowlers of the Indoor Professional Football League to a 13-4 record and a berth in the league championship.  He was named the IPFL's Coach of the Year 2000 before venturing north to the CFL as a defensive line coach with the BC Lions from 2001-2004. After spending the 2005 CFL season with the Ottawa Renegades, Harris began his career with the Winnipeg Blue Bombers and over the past six years developed the Blue Bomber defense into one of the most feared units in the CFL.
Perhaps Adam Wazny described Harris best in his story Big Bomber loss, CFL mourns 'great coach, better man' which appeared in the Winnipeg Free Press on July 27, 2011.
"Players, both current and former, always point to Harris being the best coach they've ever had, but his loss holds a deeper impact for Winnipeg as a whole. He treated people with an unparalleled respect, never once losing sight of an opportunity for a personal connection with someone he would only meet for the first time."
Also quoted in the story was former Bombers GM Brendan Taman.
"You always hear about players wanting to play for coaches — you always hear that. When that D-line played for Richard in Winnipeg, and they still do it to this day — Doug Brown can verify it more than anybody — they legitimately played for that man.
"Richard was the guy they would walk through a wall for."
Harris is survived by wife Tami, children Kimberly, Chianti, Jennifer and Michael, grandsons Chandler and Keegan-Michael and granddaughter Aurora.