By Mike Reimer
Why? For how long?? Don't we all cringe when your partner floats that question?
In this case it's me (Mike) dodging the query from Jeanne as I packed up in the middle of Polar Bear season to head to PURE in Marrakech, Morocco.
PURE Life Experiences is where "the world's finest creators of travel experiences meet" and this is Churchill Wild's second year. The event is invite only and there is an extensive screening process to be approved.
This prestigious experiential/luxury travel show brings together all the best in adventure travel products on the planet for 4 days of intense marketing discussions, networking, and possibly just a little bit of fun. (But mostly hard work, honest!)
Leaving behind a lodge full of happy guests surrounded by polar bears is really not that big a deal when you have a rock solid, dependable, professional staff staying back to "hold down the fort" managed by Jeanne, the Arctic Queen.
Bear season has been fantastic this year – one of the best, in fact. We have had daily polar bear sightings and spectacular photo ops highlighted by great Northern Lights. Also both red and Arctic foxes, Gyrfalcons, and Snowy Owls are being observed. As much fun as PURE will be, I can't wait to get back to the lodge.
See you soon.
(PURE Life Experiences runs from November 1 – 4, 2011)
World-renowned professional photographer Charles (Chas) Glatzer was among the first group to experience our sold-out Arctic Safari in 2011 and he had glowing praise for Churchill Wild.
Just wanted to say thanks again for a fabulous trip. As in past years, the staff and service was impeccable, the lodge inviting, and meticulous. And, the meals WOW! I just hope CalmAir does not start weighing guests on the return flight.
Your family's warm heart and good nature make all who visit Churchill Wild feel like you have invited us into your home. Your family values obviously carry over to your business, as both are equally beautiful and a pleasure to be around.
Our guides Andy and Tara, both highly skilled professionals, always put our safety first. We often got close, but at no time did anyone ever feel the least bit threatened, surely a testament to their years of experience and incredible knowledge. Rest assured I will be back again with more groups for years to come.
— Charles (Chas) Glatzer

Thank you Charles!
Glatzer has won over 40 prestigious photography awards during his 28 years in the field and his images appear worldwide in publications that include National Geographic, Outdoor Photographer, Popular Photography, Discover Diving, Smithsonian, Professional Photographer, Birder's World, Birding, Nature Photographer, EOS, Digital PhotoPro, Travel & Leisure, Computer Life, Boy's Life, The Atlas of Endangered Species, Environmental Science (Third Edition), Speech for Effective Communication and more.
One of the most respected, knowledgeable, and sought after wildlife photographic instructors/speakers in the world, Glatzer also owns Shoot the Light and hosts Instructional Photographic Workshops throughout the United States and abroad. His images are recognized internationally for their lighting, composition and attention to detail and his diverse photo background provides workshop participants and seminar attendees with an unparalleled resource. Read more…
A small sample of the photos Glatzer took on his Arctic Safari follow below. For more photos or to learn more about his photography workshops please visit Shoot the Light and the Shoot the Light Blog.
Have you ever wondered exactly how polar bears get intimate? They appear so ferocious when they wrestle, as many Churchill Wild guests would verify. Wrestling polar bears are a regular feature in the fall season and are often the subject of the most prized photos guests take.
But how do those cute, cuddly polar bear cubs come into this world and make their way to Churchill Wild's Seal River Heritage Lodge or Nanuk Polar Bear Lodge? We know the birds and the bees but what are the down and dirty details?
What ritual brings the cubs into this world so guests on walking tours through polar bear country can see them – an experience that only Churchill Wild offers? The mating rituals and incredible photos and footage are part of a highly anticipated documentary for the BBC's Frozen Planet series.
Few humans have ever witnessed the intimacies and drama involved. But now, for the first time, it has been filmed in its entirety for the BBC's new Frozen Planet series, presented by Sir David Attenborough.
An article written by Executive Producer Alastair Fothergill appeared on the UK Daily Mail Online website. The article introduces the episode with some incredible pictures and information about the soon-to-be-aired special.
In 2007 Fothergill worked on another project called Earth which also featured the cinematic mastery of Adam Ravetch. Ravetch's incredible imagery can be seen in other productions such as Arctic Tale, which featured the talents of Hollywood heavy-hitters Queen Latifah and Preston Bailey. Bailey played Michael C. Hall's lovable stepson Cody on the Showtime Network's number one show Dexter.
Adam Ravetch is a good friend of Churchill Wild. He has spent the last two years at Seal River and Nanuk. More details of the film will follow but we can tell you it is slated to air on CBC's Nature of Things (which stars environment guru David Suzuki) in Canada, and on National Geographic in the United States and internationally. There will be a regular version but the really exciting part is that there will be a 3D version! We've seen the preliminary footage and it is going to be AWESOME!
Below is a small sample of what's to come, which we posted on the Churchill Wild YouTube Channel last spring. Andy MacPherson, polar bear guide extraordinaire, wrote a blog post about his experiences guiding Ravetch and his film crew.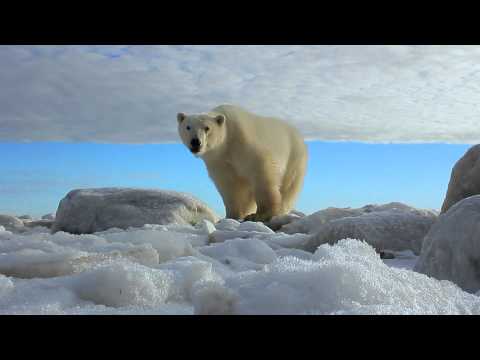 Ravetch also gave us another preview video that we will be posting soon. Keep tabs on the Churchill Wild YouTube Channel, our Arctic Adventure Travel Blog and the Churchill Wild Newsletter. When Ravetch gives us the green light to release all the information about this production, you will be the first to hear about it.
You can sign up for the Churchill Wild Newsletter here.
Yesterday Albert (Butch) Saunders and Mike Reimer completed their first overland expedition by ATV from Nanuk Polar Bear Lodge to the legendary Cape Tatnam.
Mike was complaining of a sore backside after the 135 km "jaunt" but the many sightings of polar bears and a black wolf within 20 meters helped ease the pain. Butch pointed out that his grandfather and his uncles had walked this coastline on many a hunting trip in days gone by, so we certainly were not the first people there. And we did find evidence of old camp sites, which was very interesting.
The spectacular beaches and sand dunes at Cape Tatnam rival some the finest beaches in Mexico. But these beaches also provide a beautiful if slightly surreal setting for polar bears. Many bear dens – day beds actually – were investigated on the dunes, further proof that this is obviously a major resting area for the polar bears when they first come off the sea ice. All the polar bears sighted appeared to be healthy and in excellent condition.
Thank you Mother Nature, for another wild and wonderful Churchill Wild adventure!
by Nolan Booth
There were three big polar bears hanging around Nanuk Polar Bear Lodge on the first day, one you could see from the Lodge. A mix of honkers and snow geese were buzzing the coast on and off all day. The numbers were low but it was still early. A mother black bear with three cubs showed up just outside the compound this afternoon while the guests were out "playing" with the white bears.
We have a small group of people for this trip and all are really getting along well with each other. Now all settled in and excited about the early bear sightings. Guest expectations were met right off the bat.
Had some good polar sighting bear sightings over the next two days and the guests got within 30 feet of a wicked black wolf. It was slower trying to travel east against a high tide and lots of water. Dinner was a little less formal than at Seal River Heritage Lodge as per guest recommendations and also the Aussies kept trying to clear the table etc. Everyone enjoyed the York Factory DVD.
The final day of the trip started off with a bang, literally! Lying in bed after the alarm went off I was woken up by a Kapow! That made me jump, and the screamer that followed it had me out the door in seconds to see one of our guides, Andy, backing off a big polar bear that had charged the fence. The bear backed off and we started getting the guests moving, but they certainly didn't need much encouragement after that!
The big bear stayed with us, circling, hissing, and showing us how thrilled he was with Andy. He walked the entire way around from the kitchen to the runway. He then laid around for awhile before heading towards Hudson Bay to wake up another old timer for an argument followed by a morning mud bath. There was a wolf running east on the coast. All the guests spotted him, then another and another, five arctic wolves in total. Then the horseshoe jokes started.
It was a great way to end the trip!
White bears, white whales and white… caribou?
Churchill Wild Staff got an unexpected treat – aside from the great caribou numbers along the Northern Manitoba/Nunavut border, in the Schmok Lake area they spotted a rare white caribou!
According to our Inuit staff & friends, the white caribou is an "enchanted caribou", NOT something to be hunted, and they are apparently quite rare.
The legend goes something like this:
It seems that a long time ago, people had the power to turn into animals, and animals could turn into people. It was a time of magic – people had only to say what they wanted for it to come true.
There was young woman named Tyya who wandered far from home in search of driftwood, bones and caribou antlers. A thick fog rolled in and she became lost.  She was rescued by Etasack, a young caribou hunter, who brought her to his home.
The next day before he left to go hunting, he warned Tyya not to let anyone enter the tent. But she was tricked by an evil shaman who turned her into a white caribou.
Etasack was very sad when he found her gone, but the sprit of his grandmother, another powerful shaman, gave him the magic means to break the spell.
The next day, the young man headed out to the tundra. He sought out the white caribou in the herd, recited the magic spell and returned Tyya to her human form.
Since then Inuit hunters have been kind to the white caribou, as it might be an enchanted person.
Another legend of the people of the north says the white caribou are shape-shifters, and can change between human and animal form. Many native hunters would leave them alone for this reason.
There is also a children's book written in the 1980's by Canadian author Elizabeth Cleaver called "The Enchanted Caribou", which is often acted out with shadow puppets.
World renowned professional photographer Charles Glatzer is at Seal River Heritage Lodge right now sampling Churchill Wild's first ever Arctic Safari. Charles circulated this picture to some friends, as well as Churchill Wild staff & guests:
You can see more of Charles' incredible work on his website and blog.
The Arctic Safari is Churchill Wild's most ambitious adventure. When it was announced last May it immediately sold out!
Fashioned after a traditional African safari, Churchill Wild owner Mike Reimer saw an opportunity to offer Churchill Wild's own version of "The Big Five" in the arctic. Set against the visually stunning fall colors of early September, the Arctic Safari promises to be an all encompassing encounter with endless photo opportunities and arctic wildlife experiences.
A small window in early September provides the perfect apex to see the widest variety of wildlife and brilliant displays of Aurora Borealis. The Arctic Safari takes you over 20,000 square kilometers of the wildest regions in the Arctic; providing the potential of seeing wolves, caribou, moose, three species of bears (polar, black and grizzly), beluga whales, arctic and colored fox, wolverine, beaver, pine marten and arctic birds.
To find out more about the Arctic Safari or other polar bear watching tours offered by Churchill Wild check out the website. Every adventure offered by Churchill Wild includes the one-of-a-kind access of walking with polar bears, on the ground, up close & personal (and safe).
Churchill Wild has been the premier eco-outfitter in Northern Manitoba for over 40 years, but we're always excited when polar bear watching season begins at our Nanuk Polar Bear Lodge, the only tourist camp along a 100-mile stretch of Hudson Bay coastline in Northern Manitoba, Canada.
One of the most pristine wilderness areas left in the world, it hasn't changed in thousands of years. And we promise that you won't find a better place, anywhere in the world, for close encounters with polar bears.
Read Reviews of Nanuk Polar Bear Lodge at TripAdvisor.com
When the ice breaks up in June, the polar bears move ashore. During the summer months they socialize and prowl the shoreline, restlessly waiting for the ice to return. Many of these bears spend their summers within a few miles of our Nanuk Polar Bear Lodge. During an average season up to 400 bears pass by the Lodge.
What makes this population of polar bears so unique is the high concentration of mother bears and cubs. At Nanuk, our guests will encounter polar bears, and often these will be mothers with their offspring. Many of these bears have never seen a person before, and they have the calm demeanor of bears that have not learned to fear people.
Guests who visit Nanuk count themselves among a small group of lucky individuals who have seen these majestic animals up close, undisturbed. These are not habituated "Park bears" or hunted bears that run at the sight of humans.
"We have already been in many nature places in this world. We have seen the lions in Africa; the tigers in India; the grizzlies in Alaska; orangutans in Borneo; the penguins in the Antarctic; but one of the most beautiful places is Nanuk Polar Bear Lodge with their many polar bears. We were overwhelmed to experience so many, so close. We thank the entire staff who made these special days a wonderful experience." — Marlies & Hartmut Thierfelder and Marlies & Siegfried Neubüser, Hamburg, Germany
These are pure, wild polar bears living the way they have lived since time began.
Stay tuned for more blog posts about this year's trip to Nanuk. If you would like more information about Nanuk Polar Bear Lodge please call us at: 1.204.377.5090 or Toll Free at:1.866.846.9453. You can also e-mail us at: info@churchillwild.com.
We would love to hear from you and…
Wish you were here!
Here is a picture of the Aurora Borealis (Northern Lights) taken on August 28, 2011 at Nanuk Polar Bear Lodge. Our staff are at the lodge preparing for today's arrival of the first 2011 guests.
by Allison Reimer
It's been a slower week at the Seal River Heritage Lodge because of the cool and cloudy weather but who can control that?
Thankfully the outdoor conditions haven't deterred our adventurous polar bears, who have been plentiful for the opening week of Birds, Bears & Belugas.
We had a beautiful, big white bear wander by two days ago and last night we had a visit from a smaller bear. He sniffed around the lodge for quite some time and stood up to peer into the windows every once and a while.
Everyone was very excited – rushing from window to window as quietly as possible so as not to scare him off. Eventually he meandered off to get some rest and once the excitement died down we all followed suit.