Special to Churchill Wild
by +George Williams
It's unlikely physician Daniel D'Auria thought his photography hobby would turn him into an author, but that's exactly what happened after his Polar Bear Photo Safari with Churchill Wild.
The 54-year-old from Tabernacle, New Jersey, has now created three children's books about polar bears, each featuring a selection of photographs from the 17,000 he captured at Churchill Wild's Seal River Heritage Lodge. Images from his trip can also be seen at his LifeScapes Imaging Web site.
"I never knew where wildlife photography would take me," said Daniel. "But I had an idea for a book for preschoolers – a whimsical, rhyming book about polar bears.
"We have four children ages 8-23, and some of my fondest memories are of reading to them to when they were growing up. I wanted to create something that would get parents reading to their children and get children interested in wildlife. Parents are interested in the beautiful photos. Children are curious about the bears. And because parents are spending quality time with their children reading the books to them, it gets the children more interested in reading."
A noble cause to be sure, and it's been a long journey to get to the stage of published author, but Daniel has enjoyed every bit of it. He took up photography in high school and spent the last year or so photographing weekly in New Jersey before being able to participate in some of the more elite photography adventures.
Daniel's wife probably had something to do with ramping up the photography hobby in the family. A former dental hygienist with an interest in sports, she participated in the Sports Photography Workshop at the Summit Series of Photography Workshops. Daniel tagged along and this led to him attending the Summit Landscape and Wildlife photography workshop a few years later. Unfortunately, his medical career still didn't leave him the time he would have liked to have spent on photography — until recently.
About two years ago, Daniel hired an associate, which allowed him to free up some time for longer trips to elite photography havens that included the Richard Clarkson Photography at the Summit Workshop in the Grand Tetons of Wyoming; the J. N. "Ding" Darling National Wildlife Refuge located on the subtropical barrier island of Sanibel in the Gulf of Mexico; the Bosque del Apache National Wildlife Refuge in New Mexico; and finally the Polar Bear Photo Safari at Churchill Wild's Seal River Heritage Lodge on the West Coast of Hudson Bay in Manitoba, Canada.
"The Churchill Wild experience was the trip of a lifetime," said Daniel. "We first heard about it from Scott Fryer and his wife Paula, who he met while at the Photography at the Summit Workshop in Jackson Hole, Wyoming. We went on the trip as part of a group with Bob Smith of Elk Meadow Images, who organized a photography workshop for 14 people at Churchill Wild.
"The trip from Winnipeg to Churchill with CalmAir was wonderful. And we had a lovely flight on a small plane from Churchill to the Lodge. It was my first trip on a small plane and we had an excellent pilot. Seal River Heritage Lodge is beautifully hand constructed and extremely comfortable. The staff was unbelievably accommodating and the food was outstanding. It was just like home.
"Our guides, Andy and Terra, really made us feel like we belonged, not like we were goofy outsiders. They would scout the polar bears first to see where they were at, and then we would go on two hikes a day. The furthest we had to go was about a mile and we were able to set up for polar bears, arctic fox, ptarmigan and briefly an arctic hare."
Being able to take on-the-ground photos of wildlife has been Daniel's modus operandi in photography, so the daily hikes worked out perfectly for the group. This despite the fact that Daniel brought his 28 lbs. 2½ foot 600 mm lens, which it was suggested he consider leaving at home.
"I'm used to carrying my lenses in the wilderness," said Daniel. "Whenever I'm photographing I have one smaller lens on my right shoulder, the heavier one on my left, and my backpack. So that wasn't a problem.
"And we weren't interested in going out in tundra buggies. I wanted to be on the ground with the polar bears. I like the freedom of the out of doors, the solitude of hiking the trails, and the beauty of observing nature. I don't want to do it from inside a vehicle unless it is an absolute necessity. Whenever you're out in the wild there will be certain element of danger involved. In Jackson Hole, Wyoming, I carry bear spray. In New Jersey it's not an issue.
"Sure there is some fear of bears. But we learned there is a mutual respect between the polar bears and the people up there in Churchill. If done carefully and properly there is an acceptable risk. We never felt unsafe at any time. I think our group would uniformly say we would like to repeat our experience at Churchill Wild."
Daniel went on to describe how much he enjoyed the spectacular landscapes, sunrises and sunsets over Hudson Bay. Flat, rugged and desolate, "it was like looking out over the surface of mars when the tide was out. You'd think you just went to another planet.
"But that's the best thing about wildlife photography. You can never predict what you'll see. Every day is a little bit of joy. And when I get back from a trip like this – my family notices the difference in me."
Besides being a new author, Daniel also donates framed polar bear and wildlife prints to his local hospital. "I sell a few prints," he said, "But the people at the hospital love them. They have them up on the walls and they always get nice comments from the patients and visitors.
"Wildlife photography has made me a much happier and more content person. It's like being rich… but in different way."
---
Daniel D'Auria's polar bear books for children can be found on Amazon.com at the links below. He's also working on two more children's books about birds and is always interested in pursuing joint ventures that will also benefit a good cause in some way. Thank you Daniel!
by Doreen Booth, Adventure Travel Specialist, Churchill Wild
This year I finally had the opportunity to join a group of our winter guests at Seal River Heritage Lodge. I was able to squeeze in on our last trip of the season – the Polar Bear Photo Safari!
I had a couple of guests, Julie and Jeff, looking to add something extra to their trip, and they had decided to charter a helicopter to the Lodge. When they found out I would be joining them on their departure, they very generously offered me the extra seat they had on their helicopter flight.
I have to admit, I'm a nervous flier, so I wasn't sure what to say at first, but I didn't know when an opportunity like this would come again. I accepted their offer with butterflies in my stomach and off I went!
November had come and gone quickly and before I knew it I was done organizing our winter season. My dinner presentations were complete and our final guests were on their way to the Lodge, so I headed up to Churchill for my "partial" holiday. When you're part of the family, your work is never done.
I met up with Julie and Jeff in Churchill and we headed out to collect their winter gear before making our way to Hudson Bay Helicopters. I was feeling pretty good – a little nervous maybe – but totally excited! I didn't want anyone to know how I was really feeling. Our pilot took our bags and gave us a rundown on the safety guidelines for the chopper, we buckled in, put on our headsets, and it was time to take flight!
The take off was surprisingly smooth. The winds were calm that day so we were in for a good 30-minute ride. We flew over the town of Churchill and headed up the coastline of Hudson Bay. It was amazing to see the sprawling tundra with a fresh coat of snow. I had forgotten how flat the land is up there.
Half way through the trip we flew over our Dymond Lake Lodge and noticed that some of the staff had ventured outside to wave to us. How nice! A short time later our pilot came on the headset and asked me where we should land at the polar bear lodge.
I wasn't sure, so I told him to pick the best place he could find. He thought that would be right outside the front door of the Lodge! Needless to say, the staff didn't have to bring out the luggage buggy to meet us. And the polar bears kept their distance!
A few months have gone by now and I've had time to think about that wonderful trip and the emotions I experienced while flying in a helicopter for the first time. I have to say it was an amazing experience and I would love to do it again.
Thanks again to my friends Julie and Jeff, for helping me check another item off my life's to do list!
You just can't take spectacular photos of polar bears without having excellent guides to watch your back.
That's according to professional photographer Bob Smith of Elk Meadow Images, who organized a photography workshop for 14 people this fall at Seal River Heritage Lodge. Smith's group were taking part in Churchill Wild's annual Polar Bear Photo Safari and were there to snap ground-level shots of polar bears in their natural environment on the coast of Hudson Bay in Manitoba, Canada.
"The guides are so important," said Smith. "They're the real key to getting great ground-level shots of polar bears while at the same time making as little impact as possible. We respect the bears and don't want them to feel threatened. We don't want to disturb them when they're feeding and if they're resting we want them to rest."
"The guides know the bears and they can get us set up in the best position possible to use our equipment," continued Smith. "If we have to move to get a better angle, we depend on the guides to help us do it in a safe and efficient manner. And they also make sure there are no bears approaching from behind."
Smith has been organizing photography workshops for over 20 years and says he likes to search out locations that are "off the beaten path."  The 55-year-old from Denver, Colorado has held photography workshops in Antarctica, Alaska, the high Arctic and Africa.
"We do two or three workshops a year," said Smith. "Our locations attract an elite clientele and we make it easy for them – we do the advance planning, make the arrangements, set up the itinerary and plan the on-location daily schedules."
Smith's photography workshops include instruction on both photography and computer skills.
"Wildlife photography is combination of art and a science, "said Smith. "Effectively capturing wildlife in its natural environment requires knowledge of animal behavior as well as an understanding of how and where to take a photo that will best portray different elements such as strength, size, motion, behavior, interactions within the species etc. There are also different methods of using natural light to enhance photos."
Computer skills featured in Smith's workshops include those needed for processing and sharing images, creating photo albums and more.
Smith has three workshops planned for 2012 that include photographing grizzly bears in Alaska; large mammals in Botswana, South Africa and endangered whooping cranes in southern Texas with Popular Photography Magazine.  For more information on Smith's upcoming photography workshops please visit his Web site at: www.ElkMeadowImages.com or e-mail him directly at: bsmith@elkmeadowimages.com
Smith is currently working on a new book of his photography that will include grizzly bears, eagles and narwhals in Alaska; walrus, bearded seals, ice and polar bears in Svalbard, Norway; and the polar bears at Seal River Heritage Lodge.
The Polar Bear Photo Safari at Seal River Heritage Lodge takes place in the heart of polar bear country on the rugged and wild coast of Hudson Bay. It caters to dedicated wildlife photographers who are willing to spend the hours required to get up close and personal with polar bears and other arctic wildlife. Polar bears can be photographed on the ground in their natural environment of ice and snow along the Hudson Bay shoreline amidst a background of dramatic seascapes and landscapes. More examples of the type of polar bear photos that can be taken at Seal River can be seen in Churchill Wild's 2010 Photo Contest Gallery.
"Photographing polar bears in Churchill doesn't give you the same experiences as the ground-level photo opportunities available at Seal River Heritage Lodge," said Smith. "The workshop participants were enamored with the polar bears and the unique access to them. Many of them told me it was the best trip they've ever been on."
I don't think there is a better place in the world to observe and photograph polar bears. — Joel D. Davidson, Photographer
Joel Davidson was at Seal River Heritage Lodge in early November for Churchill Wild's Polar Bear Photo Safari, which takes place when the polar bears congregate in large numbers on the coast of Hudson Bay in anticipation of freeze-up.
Rugged and remote, but with all the comforts of home, Seal River Heritage Lodge is ideally located in the heart of polar bear country on this coast. For the serious wildlife photographer willing to spend long hours in the field getting up close and personal with the arctic wildlife, the ground level photo opportunities at the Lodge are exceptional.
"I chose Churchill Wild and Seal River Heritage Lodge to observe and photograph polar bears at ground level," said Davidson. "I did not want to photograph the bears 15′ high from a Tundra Buggy. Our guides were very professional. Their primary concern was our safety, but they still allowed us to get close enough to the bears for good photo opportunities. My experience far exceeded my expectations!"
Photos taken on the Polar Bear Photo Safari feature stunning backdrops of sea ice and the rocky landscapes that surround the Lodge. The snowy Hudson Bay shoreline is ideal for photographing polar bears in their naturally icy environment at this time of year and is praised by the many photographers that visit the Lodge.
"I took over 4,000 photos," continued Davidson. "I have been fortunate to photograph wildlife all over the world and have never taken so many fine images in just four days!  The hardest problem was selecting the best images from hundreds of excellent photos."
Davidson immensely enjoyed watching (and videotaping) the interaction and the wrestling of the polar bears. See video below.
Although he missed the Northern Lights, which often romance and dance on clear nights for photographers and guests at the Lodge, Davidson felt that observing so many arctic fox on the trip was a bonus. And we have to agree – he did get some fabulous arctic fox photos! See gallery below.
"The accommodations were excellent, the food was superb, and the staff was outstanding," said Davidson. "Staying at Seal River Heritage Lodge is a photographer's dream."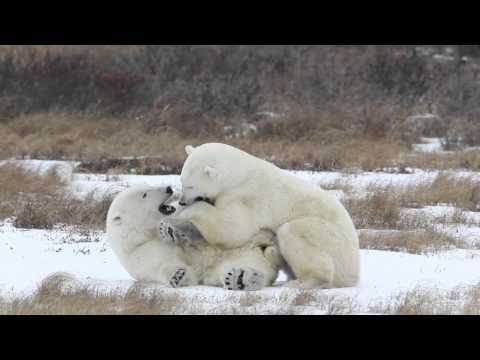 To view more of Joel Davidson's polar bear photos please visit his Web site at: http://joeldavidsonimages.com/
Special to Churchill Wild
by +George Williams
Nicole Leaper surprised her husband Bob on his 60th birthday last year by giving him a Churchill Wild Polar Bear Photo Safari in a blog post.
Nicole had won the trip in a Reach for the Rainbow live charity auction at that organization's annual Crystal Ball, proceeds of which go to benefit the integration of children and youth with disabilities into the mainstream of society through summer camp programs in Ontario.
The couple had a fabulous experience on their polar bear adventure and will be back again for the 25th Annual Crystal Ball on Saturday, November 19, 2011 at the Metro Toronto Convention Centre.
Churchill Wild will also be back, both in attendance and with a donation of a Birds, Bears and Belugas summer polar bear and whale watching holiday at their Seal River Heritage Lodge.
"We're proud to be associated with Reach for the Rainbow and the work they do for the kids," said Rick Kemp, Director of Marketing and Communications at Churchill Wild. "It's a wonderful cause and we're happy to be able to contribute to making the lives of the kids and their families better."
Indeed, contributors to the live auction and the silent auction at this Charity Gala read like a virtual Who's Who of Canada's corporate and business sectors – for two good reasons.
"It's for both the kids and their families," said Nicole. "The kids go to camp for a week and the parents are afforded a respite while knowing their kids are having fun, learning and growing in an enriched, supportive environment."
Bob wholeheartedly agreed. The Director of Information Technology at Southern Graphic Systems Canada also had rave reviews for Churchill Wild. He was thrilled to learn he was going on a trip to photograph polar bears last year after being cajoled by Nicole into reading How to Gift Wrap a Polar Bear.
"Is that me?" he asked with surprise in his eyes. "Yes," smiled Nicole. "Yeah!" he exclaimed.
A self-described serious amateur photographer, Bob was ecstatic about having a chance to photograph polar bears. He'd traveled the world over the past few years to take photographs, which he displays at RobertLeaper.com, and thought that this would be an incredible opportunity to photograph the world's largest land carnivore.
The couple flew from Churchill, Manitoba to the remote coast of Hudson Bay last fall by helicopter, instead of via the usual aircraft used to take visitors to the Lodge. That was the beginning of a trip that Bob said was, "Very well organized from the start. We were well looked after." But when the couple landed at the Lodge they realized something was up.
"You're immediately greeted by people with shotguns," said Nicole. "That's when you start to realize you're the ones who are captive in this environment. The polar bears are at the top of the food chain here."
The couple spent their time on the daily hikes with four other photographers who were, "very into nature photography" according to Bob. The days – and the polar bears – just flew by.
"Bears?" said Bob. "Oh my gosh!  All the time. There were plenty of polar bears. It wasn't easy to eat dinner. There was always something outside. We saw so many bears we got used to them. We started to look at landscapes, plant formations and other wildlife. We snapped the arctic fox during a lunch time and that was exciting!"
Because of the time of year and the chill in the air, camera lenses were often wrapped when inside so that they wouldn't succumb to condensation when the group ventured outside. On one day there was so much polar bear action the group decided to leave their cameras outside.
"That was when we photographed the arctic fox," said Bob. "We got some stunning photos that day. And we were able to get great shots even without big lenses. I have a 300 mm, but that was more than enough."
"You don't need a huge lens to get great shots. On the daily hikes we were able to get very close to the bears depending on their demeanor, and the guides were excellent, always chatting with us about the wildlife, the area and its history."
Bob and Nicole were also impressed by the quality of the food at the Lodge.
"Gourmet meals," said Bob. "Unbelievable. I wasn't expecting that in such a remote area. Caribou, arctic char, pickerel, goose, local berries and other ingredients from the area. You couldn't have asked for anything better."
Bob and Nicole's polar bear trip with Churchill Wild will no doubt hold a special place in their hearts for many years to come. "I've traveled the world, and anyone seriously into photography would love this place," continued Bob, who put his polar bear photos online at: http://www.robertleaper.com/polar/.
"It was an absolutely fantastic adventure that everyone should experience at least once in their lives. And it was for a great cause. It just doesn't get any better than that."
"My heart was beating out of my chest when I bid on that trip," said Nicole. "I'd never done that before."
Was it was worth it?
"In so many ways…"
by Andy MacPherson
The start of a new fall polar bear season!
The Turbo Beaver being busy down south, our first group of guests arrived in style in a helicopter, landing right at our front door. After settling into their rooms and taking in a brief safety orientation, we had them out viewing polar bears Churchill Wild style before lunch.
There were three bears in the immediate vicinity and all were accommodating. We were able to get close and view all three without disturbing them from their day beds. At this time of year the polar bears are focused on conserving as much energy as possible in anticipation of freeze up and the availability of their favourite meal, ringed seals, which will help them replenish their waning fat reserves.
On our way back to the lodge for lunch we discovered that the first bear we'd stopped to view earlier had ambled into the bay north of us. He was now comfortably bedded down in a bed of kelp lying on his back; stretching and playing with a piece of kelp, pulling it gently threw his teeth as if he were flossing.
After lunch we hiked out towards the west, to Swan Lake and back. We were met by a subadult bear on our way back, walking towards us up the path. He stopped when we asked him to, looking a little confused as to why we were blocking 'His' way.  We moved off to one side, giving him the right of way – a smart thing to do when questioned by a polar bear. He passed by at a safe distance as our hearts pounded, pausing to get a good scent of us and posing for a few great photos along the way.
We are often approached by polar bears while we are out on hikes and away from the safety and comfort of the lodge. These are always exciting moments, and important times to be very observant of bear behaviour. Every bear that approaches us acts differently based on life experiences past and present. Negative or positive, these experiences will influence the way a bear reacts to us. This initial communication will determine our response to each approaching bear. While polar bears aren't usually vocal, they do communicate very well through subtle (and sometimes not so subtle) body language and behaviour.
We watched the bear as he moved away from us and continued down the path towards Swan Lake, our excitement at his approach subsiding slightly as we moved back on to the path. Some of the guests asked where the bear was going and what he was thinking; how old he was and how much he weighed. Others marveled at what had just happened.
The largest land carnivore on the planet, a Churchill polar bear, had just walked by us and gone about his business, whatever that might be. It just wasn't us…
at the moment.
by Tara Ryan
A few good things to know:
Polar bears have about 20 vocalizations – one of which is a hiss.
In Churchill, Manitoba the trick or treating set are accompanied by gun-toting bear patrol enforcers.
Wearing any white costumes (ghosts, brides… polar bears) is generally frowned upon (see gun toting bear patrol enforcers for rationale).
Did I mention polar bears hiss when they are angry?
"Halloweening" in Churchill takes on a paramilitary edge as kids out trick or treating are shadowed by gun-wielding bear patrol officers. This is not unexpected.
Kids are used to the bear patrol presence year around but these patrols are especially heightened during the months of October and November, when the bears are starting to gather around the edges of the Bay in greater numbers awaiting the freeze up. There are other restrictions local kids must endure at this sugar-laden time of year – most importantly: "Thou shalt not dress in white; ghosts, brides and especially no polar bear costumes."  This is polar bear central after all.
Being a polar bear guide working away from the bright lights of the 'big city' of Churchill (about 60 miles north)  in the remote Churchill Wild Polar Bear Lodge at Seal River, my fellow guide (Andrew MacPherson) decided to try his luck at bucking this long-standing no-white for Halloween northern tradition.
For October 31 we came as "problem bears" – me as a garbage addicted grizzly bear and Andy as a bear from the old 'polar bear jail' days (when they  used to dart the bears and then spray paint numbers on them to keep track of repeat offenders).  While putting the finishing touches on our costumes, we began to hear a shushing/hissing noise from outside – not unlike the air being forced out of a tire with a puncture.
Andy was silhouetted in one of the many bedroom windows looking out over the tundra. He was stunning in his white long johns appropriately padded with pillows for a fat bottom, a white fuzzy hat with ears, and matching gloves and claws.
The fall light had dimmed the immediate surroundings outside to near black. A ghostly movement accompanied by continued agitated hissing – and a nose print on the window – finally clued us in. There was a very annoyed polar bear outside our window that was letting the 'polar bear' on the inside know in no uncertain terms – that his presence was not welcome.
Andy hissed back.
Only at Churchill Wild!
World-renowned professional photographer Charles (Chas) Glatzer was among the first group to experience our sold-out Arctic Safari in 2011 and he had glowing praise for Churchill Wild.
Just wanted to say thanks again for a fabulous trip. As in past years, the staff and service was impeccable, the lodge inviting, and meticulous. And, the meals WOW! I just hope CalmAir does not start weighing guests on the return flight.
Your family's warm heart and good nature make all who visit Churchill Wild feel like you have invited us into your home. Your family values obviously carry over to your business, as both are equally beautiful and a pleasure to be around.
Our guides Andy and Tara, both highly skilled professionals, always put our safety first. We often got close, but at no time did anyone ever feel the least bit threatened, surely a testament to their years of experience and incredible knowledge. Rest assured I will be back again with more groups for years to come.
— Charles (Chas) Glatzer

Thank you Charles!
Glatzer has won over 40 prestigious photography awards during his 28 years in the field and his images appear worldwide in publications that include National Geographic, Outdoor Photographer, Popular Photography, Discover Diving, Smithsonian, Professional Photographer, Birder's World, Birding, Nature Photographer, EOS, Digital PhotoPro, Travel & Leisure, Computer Life, Boy's Life, The Atlas of Endangered Species, Environmental Science (Third Edition), Speech for Effective Communication and more.
One of the most respected, knowledgeable, and sought after wildlife photographic instructors/speakers in the world, Glatzer also owns Shoot the Light and hosts Instructional Photographic Workshops throughout the United States and abroad. His images are recognized internationally for their lighting, composition and attention to detail and his diverse photo background provides workshop participants and seminar attendees with an unparalleled resource. Read more…
A small sample of the photos Glatzer took on his Arctic Safari follow below. For more photos or to learn more about his photography workshops please visit Shoot the Light and the Shoot the Light Blog.
Have you ever wondered exactly how polar bears get intimate? They appear so ferocious when they wrestle, as many Churchill Wild guests would verify. Wrestling polar bears are a regular feature in the fall season and are often the subject of the most prized photos guests take.
But how do those cute, cuddly polar bear cubs come into this world and make their way to Churchill Wild's Seal River Heritage Lodge or Nanuk Polar Bear Lodge? We know the birds and the bees but what are the down and dirty details?
What ritual brings the cubs into this world so guests on walking tours through polar bear country can see them – an experience that only Churchill Wild offers? The mating rituals and incredible photos and footage are part of a highly anticipated documentary for the BBC's Frozen Planet series.
Few humans have ever witnessed the intimacies and drama involved. But now, for the first time, it has been filmed in its entirety for the BBC's new Frozen Planet series, presented by Sir David Attenborough.
An article written by Executive Producer Alastair Fothergill appeared on the UK Daily Mail Online website. The article introduces the episode with some incredible pictures and information about the soon-to-be-aired special.
In 2007 Fothergill worked on another project called Earth which also featured the cinematic mastery of Adam Ravetch. Ravetch's incredible imagery can be seen in other productions such as Arctic Tale, which featured the talents of Hollywood heavy-hitters Queen Latifah and Preston Bailey. Bailey played Michael C. Hall's lovable stepson Cody on the Showtime Network's number one show Dexter.
Adam Ravetch is a good friend of Churchill Wild. He has spent the last two years at Seal River and Nanuk. More details of the film will follow but we can tell you it is slated to air on CBC's Nature of Things (which stars environment guru David Suzuki) in Canada, and on National Geographic in the United States and internationally. There will be a regular version but the really exciting part is that there will be a 3D version! We've seen the preliminary footage and it is going to be AWESOME!
Below is a small sample of what's to come, which we posted on the Churchill Wild YouTube Channel last spring. Andy MacPherson, polar bear guide extraordinaire, wrote a blog post about his experiences guiding Ravetch and his film crew.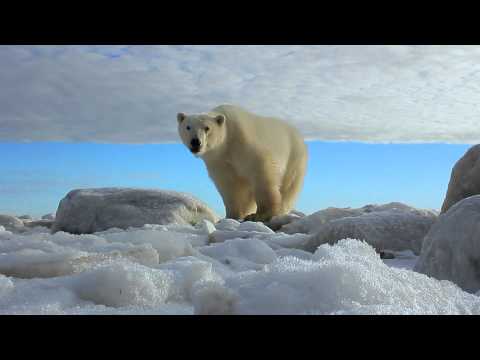 Ravetch also gave us another preview video that we will be posting soon. Keep tabs on the Churchill Wild YouTube Channel, our Arctic Adventure Travel Blog and the Churchill Wild Newsletter. When Ravetch gives us the green light to release all the information about this production, you will be the first to hear about it.
You can sign up for the Churchill Wild Newsletter here.
Joining numerous other illustrious and generous sponsors, Churchill Wild has donated a Great Ice Bear polar bear trip for two to the Richard Harris "Pay It Forward" Social & Teddy Bear Drive to be held on Saturday, October 29 at 7 p.m. at Assiniboia Downs in Winnipeg. Air travel to Churchill will be provided by Calm Air.
The social event is being held in honor of the late Richard Harris, the popular assistant head coach of the Winnipeg Blue Bombers who died suddenly on July 26, 2011, at the age of 63.  Proceeds from the event will be used to benefit the Heart and Stroke Foundation, KidSport and Football Manitoba.
The Teddy Bear Drive will honour "Richard's Bear Hugs" and anyone who brings in a new teddy bear will have a chance at a special prize draw. The teddy bears will be donated to local charities.
"We're very proud to be associated with this event," said Rick Kemp, Director of Marketing and Communications for Churchill Wild. "Richard Harris was a very special person in our community and we're honored to be able contribute to the causes that were so dear to him."
Sanctioned by the Winnipeg Blue Bombers, the social will be in true fall football fashion, held indoors and out on the main floor of the Assiniboia Downs grandstand and outside tarmac. Winnipeg Blue Bombers players and personnel will be in attendance early in the evening and there will be a Silent Auction with some very cool items, 50/50 draws, social fare, music and dancing.
Some incredible prizes have already been donated for the event including two tickets to the Grey Cup, signed CFL memorabilia, big screen TVs, a trip for two to Las Vegas, a fishing weekend in Kenora with a guide, autographed footballs from CFL teams and more.
Silent auction prizes donated so far for the event are valued at between $300 and $500, with a grand prize worth over $1,000 from sponsors that include the Winnipeg Blue Bombers, Winnipeg Sun, Churchill Wild, Assiniboia Downs, ticketmaster, Citytv, Energy 106 and many more.
The value of a Churchill Wild "Great Ice Bear" adventure is $15,990.
Tickets are $20 and are available through ticketmaster.com here or by calling toll free 1 (855) 985-5000. You can also buy tickets at Assiniboia Downs or by calling 885-3330. Only 2,500 tickets will be sold for what promises to be a fabulous event!
---
Richard Harris was in his sixth season as a defensive line coach with the Winnipeg Blue Bombers and his first year as assistant head coach when he died suddenly of a heart attack inside the team complex at Polo Park after a team practice on July 26, 2011.
Born on January 21, 1948 in Shreveport, Louisiana, Richard Drew Harris was an All-American in 1970 with Grambling State University under famed coach Eddie Robinson and was a first round pick (5th overall) in the 1971 NFL draft by the Philadelphia Eagles. Named All-Rookie as a defensive end in 1971, the 6' 5" Harris spent three years with the Eagles before joining the Chicago Bears for two years, where he was part of running back Walter Payton's rookie season. Harris ended his playing career with the Seattle Seahawks, playing three years for the Seahawks including their inaugural 1976 season in the NFL.
Harris won three-semi pro championships as a Head Coach in the Northwest Football League, one with the Eastside Express (1989) and two with Puget Sound Jets (1994-95). In 2000, he led the Portland Prowlers of the Indoor Professional Football League to a 13-4 record and a berth in the league championship.  He was named the IPFL's Coach of the Year 2000 before venturing north to the CFL as a defensive line coach with the BC Lions from 2001-2004. After spending the 2005 CFL season with the Ottawa Renegades, Harris began his career with the Winnipeg Blue Bombers and over the past six years developed the Blue Bomber defense into one of the most feared units in the CFL.
Perhaps Adam Wazny described Harris best in his story Big Bomber loss, CFL mourns 'great coach, better man' which appeared in the Winnipeg Free Press on July 27, 2011.
"Players, both current and former, always point to Harris being the best coach they've ever had, but his loss holds a deeper impact for Winnipeg as a whole. He treated people with an unparalleled respect, never once losing sight of an opportunity for a personal connection with someone he would only meet for the first time."
Also quoted in the story was former Bombers GM Brendan Taman.
"You always hear about players wanting to play for coaches — you always hear that. When that D-line played for Richard in Winnipeg, and they still do it to this day — Doug Brown can verify it more than anybody — they legitimately played for that man.
"Richard was the guy they would walk through a wall for."
Harris is survived by wife Tami, children Kimberly, Chianti, Jennifer and Michael, grandsons Chandler and Keegan-Michael and granddaughter Aurora.