I don't think there is a better place in the world to observe and photograph polar bears. — Joel D. Davidson, Photographer
Joel Davidson was at Seal River Heritage Lodge in early November for Churchill Wild's Polar Bear Photo Safari, which takes place when the polar bears congregate in large numbers on the coast of Hudson Bay in anticipation of freeze-up.
Rugged and remote, but with all the comforts of home, Seal River Heritage Lodge is ideally located in the heart of polar bear country on this coast. For the serious wildlife photographer willing to spend long hours in the field getting up close and personal with the arctic wildlife, the ground level photo opportunities at the Lodge are exceptional.
"I chose Churchill Wild and Seal River Heritage Lodge to observe and photograph polar bears at ground level," said Davidson. "I did not want to photograph the bears 15′ high from a Tundra Buggy. Our guides were very professional. Their primary concern was our safety, but they still allowed us to get close enough to the bears for good photo opportunities. My experience far exceeded my expectations!"
Photos taken on the Polar Bear Photo Safari feature stunning backdrops of sea ice and the rocky landscapes that surround the Lodge. The snowy Hudson Bay shoreline is ideal for photographing polar bears in their naturally icy environment at this time of year and is praised by the many photographers that visit the Lodge.
"I took over 4,000 photos," continued Davidson. "I have been fortunate to photograph wildlife all over the world and have never taken so many fine images in just four days!  The hardest problem was selecting the best images from hundreds of excellent photos."
Davidson immensely enjoyed watching (and videotaping) the interaction and the wrestling of the polar bears. See video below.
Although he missed the Northern Lights, which often romance and dance on clear nights for photographers and guests at the Lodge, Davidson felt that observing so many arctic fox on the trip was a bonus. And we have to agree – he did get some fabulous arctic fox photos! See gallery below.
"The accommodations were excellent, the food was superb, and the staff was outstanding," said Davidson. "Staying at Seal River Heritage Lodge is a photographer's dream."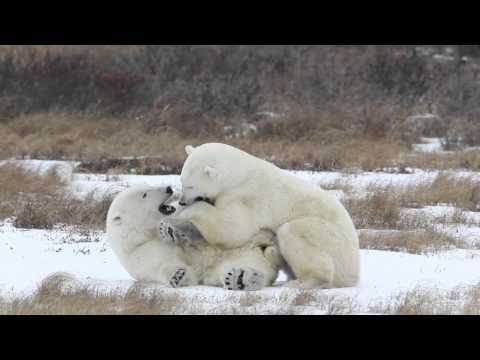 To view more of Joel Davidson's polar bear photos please visit his Web site at: http://joeldavidsonimages.com/
Special to Churchill Wild
by +George Williams
Nicole Leaper surprised her husband Bob on his 60th birthday last year by giving him a Churchill Wild Polar Bear Photo Safari in a blog post.
Nicole had won the trip in a Reach for the Rainbow live charity auction at that organization's annual Crystal Ball, proceeds of which go to benefit the integration of children and youth with disabilities into the mainstream of society through summer camp programs in Ontario.
The couple had a fabulous experience on their polar bear adventure and will be back again for the 25th Annual Crystal Ball on Saturday, November 19, 2011 at the Metro Toronto Convention Centre.
Churchill Wild will also be back, both in attendance and with a donation of a Birds, Bears and Belugas summer polar bear and whale watching holiday at their Seal River Heritage Lodge.
"We're proud to be associated with Reach for the Rainbow and the work they do for the kids," said Rick Kemp, Director of Marketing and Communications at Churchill Wild. "It's a wonderful cause and we're happy to be able to contribute to making the lives of the kids and their families better."
Indeed, contributors to the live auction and the silent auction at this Charity Gala read like a virtual Who's Who of Canada's corporate and business sectors – for two good reasons.
"It's for both the kids and their families," said Nicole. "The kids go to camp for a week and the parents are afforded a respite while knowing their kids are having fun, learning and growing in an enriched, supportive environment."
Bob wholeheartedly agreed. The Director of Information Technology at Southern Graphic Systems Canada also had rave reviews for Churchill Wild. He was thrilled to learn he was going on a trip to photograph polar bears last year after being cajoled by Nicole into reading How to Gift Wrap a Polar Bear.
"Is that me?" he asked with surprise in his eyes. "Yes," smiled Nicole. "Yeah!" he exclaimed.
A self-described serious amateur photographer, Bob was ecstatic about having a chance to photograph polar bears. He'd traveled the world over the past few years to take photographs, which he displays at RobertLeaper.com, and thought that this would be an incredible opportunity to photograph the world's largest land carnivore.
The couple flew from Churchill, Manitoba to the remote coast of Hudson Bay last fall by helicopter, instead of via the usual aircraft used to take visitors to the Lodge. That was the beginning of a trip that Bob said was, "Very well organized from the start. We were well looked after." But when the couple landed at the Lodge they realized something was up.
"You're immediately greeted by people with shotguns," said Nicole. "That's when you start to realize you're the ones who are captive in this environment. The polar bears are at the top of the food chain here."
The couple spent their time on the daily hikes with four other photographers who were, "very into nature photography" according to Bob. The days – and the polar bears – just flew by.
"Bears?" said Bob. "Oh my gosh!  All the time. There were plenty of polar bears. It wasn't easy to eat dinner. There was always something outside. We saw so many bears we got used to them. We started to look at landscapes, plant formations and other wildlife. We snapped the arctic fox during a lunch time and that was exciting!"
Because of the time of year and the chill in the air, camera lenses were often wrapped when inside so that they wouldn't succumb to condensation when the group ventured outside. On one day there was so much polar bear action the group decided to leave their cameras outside.
"That was when we photographed the arctic fox," said Bob. "We got some stunning photos that day. And we were able to get great shots even without big lenses. I have a 300 mm, but that was more than enough."
"You don't need a huge lens to get great shots. On the daily hikes we were able to get very close to the bears depending on their demeanor, and the guides were excellent, always chatting with us about the wildlife, the area and its history."
Bob and Nicole were also impressed by the quality of the food at the Lodge.
"Gourmet meals," said Bob. "Unbelievable. I wasn't expecting that in such a remote area. Caribou, arctic char, pickerel, goose, local berries and other ingredients from the area. You couldn't have asked for anything better."
Bob and Nicole's polar bear trip with Churchill Wild will no doubt hold a special place in their hearts for many years to come. "I've traveled the world, and anyone seriously into photography would love this place," continued Bob, who put his polar bear photos online at: http://www.robertleaper.com/polar/.
"It was an absolutely fantastic adventure that everyone should experience at least once in their lives. And it was for a great cause. It just doesn't get any better than that."
"My heart was beating out of my chest when I bid on that trip," said Nicole. "I'd never done that before."
Was it was worth it?
"In so many ways…"
by Andy MacPherson
The start of a new fall polar bear season!
The Turbo Beaver being busy down south, our first group of guests arrived in style in a helicopter, landing right at our front door. After settling into their rooms and taking in a brief safety orientation, we had them out viewing polar bears Churchill Wild style before lunch.
There were three bears in the immediate vicinity and all were accommodating. We were able to get close and view all three without disturbing them from their day beds. At this time of year the polar bears are focused on conserving as much energy as possible in anticipation of freeze up and the availability of their favourite meal, ringed seals, which will help them replenish their waning fat reserves.
On our way back to the lodge for lunch we discovered that the first bear we'd stopped to view earlier had ambled into the bay north of us. He was now comfortably bedded down in a bed of kelp lying on his back; stretching and playing with a piece of kelp, pulling it gently threw his teeth as if he were flossing.
After lunch we hiked out towards the west, to Swan Lake and back. We were met by a subadult bear on our way back, walking towards us up the path. He stopped when we asked him to, looking a little confused as to why we were blocking 'His' way.  We moved off to one side, giving him the right of way – a smart thing to do when questioned by a polar bear. He passed by at a safe distance as our hearts pounded, pausing to get a good scent of us and posing for a few great photos along the way.
We are often approached by polar bears while we are out on hikes and away from the safety and comfort of the lodge. These are always exciting moments, and important times to be very observant of bear behaviour. Every bear that approaches us acts differently based on life experiences past and present. Negative or positive, these experiences will influence the way a bear reacts to us. This initial communication will determine our response to each approaching bear. While polar bears aren't usually vocal, they do communicate very well through subtle (and sometimes not so subtle) body language and behaviour.
We watched the bear as he moved away from us and continued down the path towards Swan Lake, our excitement at his approach subsiding slightly as we moved back on to the path. Some of the guests asked where the bear was going and what he was thinking; how old he was and how much he weighed. Others marveled at what had just happened.
The largest land carnivore on the planet, a Churchill polar bear, had just walked by us and gone about his business, whatever that might be. It just wasn't us…
at the moment.
by Elaine Friesen (Head Chef, Dymond Lake Lodge)
Everyone has different expectations when they come up for the Great Ice Bear Adventure. The guests of course, come primarily to see polar bears.
The first week we had a resident mother and cub hanging around the lodge, visible right out our window. This was very exciting for staff and guests alike, but on another day we polar bears from a distance. Every day is different.
My assistant Conny was excited when we got to see a wolverine eating a dead seal on the coast. The guests were impressed, but not at the same level – something Conny was confused by.
I reminded her that while we have seen our share of bears over the years, the guests come here to SEE THE BEARS.
Then Mary, our Inuit storyteller from Repulse Bay said, "Well, I came to see the trees."
My bedroom is also the office/radio room, so a there is a fair bit of traffic going through. Nolan, the lodge manager, spends a fair bit of time in here on the computer or radio. But it's a small price to pay to have my own room each night.
Today, for my break time, I am sharing my bed with a fully loaded gun belt, and someone's – not mine – laundry – fortunately clean and folded. When I walked in, I thought – yup, I am definitely at a northern wildlife lodge!
by Tara Ryan
A few good things to know:
Polar bears have about 20 vocalizations – one of which is a hiss.
In Churchill, Manitoba the trick or treating set are accompanied by gun-toting bear patrol enforcers.
Wearing any white costumes (ghosts, brides… polar bears) is generally frowned upon (see gun toting bear patrol enforcers for rationale).
Did I mention polar bears hiss when they are angry?
"Halloweening" in Churchill takes on a paramilitary edge as kids out trick or treating are shadowed by gun-wielding bear patrol officers. This is not unexpected.
Kids are used to the bear patrol presence year around but these patrols are especially heightened during the months of October and November, when the bears are starting to gather around the edges of the Bay in greater numbers awaiting the freeze up. There are other restrictions local kids must endure at this sugar-laden time of year – most importantly: "Thou shalt not dress in white; ghosts, brides and especially no polar bear costumes."  This is polar bear central after all.
Being a polar bear guide working away from the bright lights of the 'big city' of Churchill (about 60 miles north)  in the remote Churchill Wild Polar Bear Lodge at Seal River, my fellow guide (Andrew MacPherson) decided to try his luck at bucking this long-standing no-white for Halloween northern tradition.
For October 31 we came as "problem bears" – me as a garbage addicted grizzly bear and Andy as a bear from the old 'polar bear jail' days (when they  used to dart the bears and then spray paint numbers on them to keep track of repeat offenders).  While putting the finishing touches on our costumes, we began to hear a shushing/hissing noise from outside – not unlike the air being forced out of a tire with a puncture.
Andy was silhouetted in one of the many bedroom windows looking out over the tundra. He was stunning in his white long johns appropriately padded with pillows for a fat bottom, a white fuzzy hat with ears, and matching gloves and claws.
The fall light had dimmed the immediate surroundings outside to near black. A ghostly movement accompanied by continued agitated hissing – and a nose print on the window – finally clued us in. There was a very annoyed polar bear outside our window that was letting the 'polar bear' on the inside know in no uncertain terms – that his presence was not welcome.
Andy hissed back.
Only at Churchill Wild!
By Mike Reimer
Why? For how long?? Don't we all cringe when your partner floats that question?
In this case it's me (Mike) dodging the query from Jeanne as I packed up in the middle of Polar Bear season to head to PURE in Marrakech, Morocco.
PURE Life Experiences is where "the world's finest creators of travel experiences meet" and this is Churchill Wild's second year. The event is invite only and there is an extensive screening process to be approved.
This prestigious experiential/luxury travel show brings together all the best in adventure travel products on the planet for 4 days of intense marketing discussions, networking, and possibly just a little bit of fun. (But mostly hard work, honest!)
Leaving behind a lodge full of happy guests surrounded by polar bears is really not that big a deal when you have a rock solid, dependable, professional staff staying back to "hold down the fort" managed by Jeanne, the Arctic Queen.
Bear season has been fantastic this year – one of the best, in fact. We have had daily polar bear sightings and spectacular photo ops highlighted by great Northern Lights. Also both red and Arctic foxes, Gyrfalcons, and Snowy Owls are being observed. As much fun as PURE will be, I can't wait to get back to the lodge.
See you soon.
(PURE Life Experiences runs from November 1 – 4, 2011)