CSI: Churchill?
Hey, why not? The popular television franchise is shown in about 35 countries, worldwide, and has been based in Vegas, Miami & NY. We think they should make a Churchill version and we could offer up Churchill Wild's Seal River Heritage Lodge for production. It has already been used for big budget videoshoots so we're sure cast & crew would feel right at home and enjoy a big helping of Jeanne's awesome cooking!
Here's the perfect context: Jane Waterman's Whiskerprint project based out of the University of Manitoba. Waterman has come up with a way to identify polar bears without tracking devices:
Thanks to a crew of citizen "research assistants" from around the world, tracking individual polar bears around Churchill is literally a snap.
"We can't handle and mark polar bears in the tourist region because the marks would interfere with their photography," Jane Waterman said as she transferred photos of four polar bears from one computer screen on her desk to another.
"But, in order to study the behaviour of bears, we need to identify individuals."
The solution was the University of Manitoba's Whiskerprint Project, a database of polar bear photos — most of which have been taken by tourists around the rocky shores of Hudson Bay near Churchill, 1,465 kilometres northeast of Winnipeg.
"The library uses photographs of the polar bear's facial profile (left or right side) to distinguish among individuals based on whisker-spot patterns and scars," Waterman said.
You can go have a look at the Polar Bear Photo-Identification Library at http://polarbearlibrary.org/
World-renowned professional photographer Charles (Chas) Glatzer was among the first group to experience our sold-out Arctic Safari in 2011 and he had glowing praise for Churchill Wild.
Just wanted to say thanks again for a fabulous trip. As in past years, the staff and service was impeccable, the lodge inviting, and meticulous. And, the meals WOW! I just hope CalmAir does not start weighing guests on the return flight.
Your family's warm heart and good nature make all who visit Churchill Wild feel like you have invited us into your home. Your family values obviously carry over to your business, as both are equally beautiful and a pleasure to be around.
Our guides Andy and Tara, both highly skilled professionals, always put our safety first. We often got close, but at no time did anyone ever feel the least bit threatened, surely a testament to their years of experience and incredible knowledge. Rest assured I will be back again with more groups for years to come.
— Charles (Chas) Glatzer

Thank you Charles!
Glatzer has won over 40 prestigious photography awards during his 28 years in the field and his images appear worldwide in publications that include National Geographic, Outdoor Photographer, Popular Photography, Discover Diving, Smithsonian, Professional Photographer, Birder's World, Birding, Nature Photographer, EOS, Digital PhotoPro, Travel & Leisure, Computer Life, Boy's Life, The Atlas of Endangered Species, Environmental Science (Third Edition), Speech for Effective Communication and more.
One of the most respected, knowledgeable, and sought after wildlife photographic instructors/speakers in the world, Glatzer also owns Shoot the Light and hosts Instructional Photographic Workshops throughout the United States and abroad. His images are recognized internationally for their lighting, composition and attention to detail and his diverse photo background provides workshop participants and seminar attendees with an unparalleled resource. Read more…
A small sample of the photos Glatzer took on his Arctic Safari follow below. For more photos or to learn more about his photography workshops please visit Shoot the Light and the Shoot the Light Blog.
Have you ever wondered exactly how polar bears get intimate? They appear so ferocious when they wrestle, as many Churchill Wild guests would verify. Wrestling polar bears are a regular feature in the fall season and are often the subject of the most prized photos guests take.
But how do those cute, cuddly polar bear cubs come into this world and make their way to Churchill Wild's Seal River Heritage Lodge or Nanuk Polar Bear Lodge? We know the birds and the bees but what are the down and dirty details?
What ritual brings the cubs into this world so guests on walking tours through polar bear country can see them – an experience that only Churchill Wild offers? The mating rituals and incredible photos and footage are part of a highly anticipated documentary for the BBC's Frozen Planet series.
Few humans have ever witnessed the intimacies and drama involved. But now, for the first time, it has been filmed in its entirety for the BBC's new Frozen Planet series, presented by Sir David Attenborough.
An article written by Executive Producer Alastair Fothergill appeared on the UK Daily Mail Online website. The article introduces the episode with some incredible pictures and information about the soon-to-be-aired special.
In 2007 Fothergill worked on another project called Earth which also featured the cinematic mastery of Adam Ravetch. Ravetch's incredible imagery can be seen in other productions such as Arctic Tale, which featured the talents of Hollywood heavy-hitters Queen Latifah and Preston Bailey. Bailey played Michael C. Hall's lovable stepson Cody on the Showtime Network's number one show Dexter.
Adam Ravetch is a good friend of Churchill Wild. He has spent the last two years at Seal River and Nanuk. More details of the film will follow but we can tell you it is slated to air on CBC's Nature of Things (which stars environment guru David Suzuki) in Canada, and on National Geographic in the United States and internationally. There will be a regular version but the really exciting part is that there will be a 3D version! We've seen the preliminary footage and it is going to be AWESOME!
Below is a small sample of what's to come, which we posted on the Churchill Wild YouTube Channel last spring. Andy MacPherson, polar bear guide extraordinaire, wrote a blog post about his experiences guiding Ravetch and his film crew.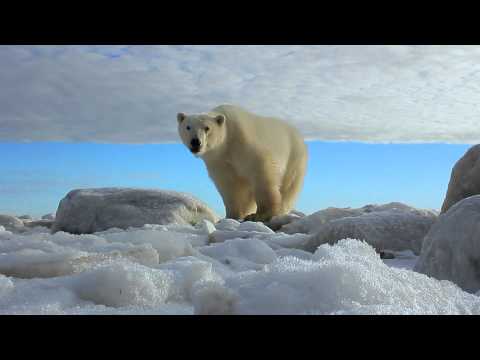 Ravetch also gave us another preview video that we will be posting soon. Keep tabs on the Churchill Wild YouTube Channel, our Arctic Adventure Travel Blog and the Churchill Wild Newsletter. When Ravetch gives us the green light to release all the information about this production, you will be the first to hear about it.
You can sign up for the Churchill Wild Newsletter here.
Joining numerous other illustrious and generous sponsors, Churchill Wild has donated a Great Ice Bear polar bear trip for two to the Richard Harris "Pay It Forward" Social & Teddy Bear Drive to be held on Saturday, October 29 at 7 p.m. at Assiniboia Downs in Winnipeg. Air travel to Churchill will be provided by Calm Air.
The social event is being held in honor of the late Richard Harris, the popular assistant head coach of the Winnipeg Blue Bombers who died suddenly on July 26, 2011, at the age of 63.  Proceeds from the event will be used to benefit the Heart and Stroke Foundation, KidSport and Football Manitoba.
The Teddy Bear Drive will honour "Richard's Bear Hugs" and anyone who brings in a new teddy bear will have a chance at a special prize draw. The teddy bears will be donated to local charities.
"We're very proud to be associated with this event," said Rick Kemp, Director of Marketing and Communications for Churchill Wild. "Richard Harris was a very special person in our community and we're honored to be able contribute to the causes that were so dear to him."
Sanctioned by the Winnipeg Blue Bombers, the social will be in true fall football fashion, held indoors and out on the main floor of the Assiniboia Downs grandstand and outside tarmac. Winnipeg Blue Bombers players and personnel will be in attendance early in the evening and there will be a Silent Auction with some very cool items, 50/50 draws, social fare, music and dancing.
Some incredible prizes have already been donated for the event including two tickets to the Grey Cup, signed CFL memorabilia, big screen TVs, a trip for two to Las Vegas, a fishing weekend in Kenora with a guide, autographed footballs from CFL teams and more.
Silent auction prizes donated so far for the event are valued at between $300 and $500, with a grand prize worth over $1,000 from sponsors that include the Winnipeg Blue Bombers, Winnipeg Sun, Churchill Wild, Assiniboia Downs, ticketmaster, Citytv, Energy 106 and many more.
The value of a Churchill Wild "Great Ice Bear" adventure is $15,990.
Tickets are $20 and are available through ticketmaster.com here or by calling toll free 1 (855) 985-5000. You can also buy tickets at Assiniboia Downs or by calling 885-3330. Only 2,500 tickets will be sold for what promises to be a fabulous event!
---
Richard Harris was in his sixth season as a defensive line coach with the Winnipeg Blue Bombers and his first year as assistant head coach when he died suddenly of a heart attack inside the team complex at Polo Park after a team practice on July 26, 2011.
Born on January 21, 1948 in Shreveport, Louisiana, Richard Drew Harris was an All-American in 1970 with Grambling State University under famed coach Eddie Robinson and was a first round pick (5th overall) in the 1971 NFL draft by the Philadelphia Eagles. Named All-Rookie as a defensive end in 1971, the 6' 5" Harris spent three years with the Eagles before joining the Chicago Bears for two years, where he was part of running back Walter Payton's rookie season. Harris ended his playing career with the Seattle Seahawks, playing three years for the Seahawks including their inaugural 1976 season in the NFL.
Harris won three-semi pro championships as a Head Coach in the Northwest Football League, one with the Eastside Express (1989) and two with Puget Sound Jets (1994-95). In 2000, he led the Portland Prowlers of the Indoor Professional Football League to a 13-4 record and a berth in the league championship.  He was named the IPFL's Coach of the Year 2000 before venturing north to the CFL as a defensive line coach with the BC Lions from 2001-2004. After spending the 2005 CFL season with the Ottawa Renegades, Harris began his career with the Winnipeg Blue Bombers and over the past six years developed the Blue Bomber defense into one of the most feared units in the CFL.
Perhaps Adam Wazny described Harris best in his story Big Bomber loss, CFL mourns 'great coach, better man' which appeared in the Winnipeg Free Press on July 27, 2011.
"Players, both current and former, always point to Harris being the best coach they've ever had, but his loss holds a deeper impact for Winnipeg as a whole. He treated people with an unparalleled respect, never once losing sight of an opportunity for a personal connection with someone he would only meet for the first time."
Also quoted in the story was former Bombers GM Brendan Taman.
"You always hear about players wanting to play for coaches — you always hear that. When that D-line played for Richard in Winnipeg, and they still do it to this day — Doug Brown can verify it more than anybody — they legitimately played for that man.
"Richard was the guy they would walk through a wall for."
Harris is survived by wife Tami, children Kimberly, Chianti, Jennifer and Michael, grandsons Chandler and Keegan-Michael and granddaughter Aurora.
Amy Rosen, writing for the Canadian Geographic Travel Club, wrote about the culinary experience at Churchill Wild's Seal River Heritage Lodge.
Here's what she had to say:
I'm wearing two jackets, three pairs of pants, a woolen toque, a fleece dickey and sunglasses. Only my nose remains visible. We're going for lunch — subarctic style. We strap on snowshoes and forage for wood along the river. We build a fire and procure a jar of bannock dough from our pack, which we wrap around fat farmstead sausages on roasting sticks, cooking them over the fire until they're puffed and perfect.
Amy was at Seal River Heritage Lodge a couple years ago and included us as one of "the country's most iconic eating experiences". We hope to have her up to experience the Arctic Cuisine/Canadian Wine Pairing we are adding to the Seal River experience for 2012.
Some of Manitoba's wildlife comes with claws attached – but there are gentler creatures here too, as Mike Unwin discovers on an encounter with beluga whales. — The Independent on Sunday
Mike Unwin, a UK-based, award-winning freelance writer and editor specializing in travel and wildlife, was a guest of Churchill Wild and Travel Manitoba this past summer on our Birds, Bears and Belugas Adventure.
Unwin experienced the thrill of plunging into Hudson Bay with beluga whales, walked the ancient tundra with polar bears and ate like a king. Below are a few excerpts from the recent story he wrote for the The Independent on Sunday.
On snorkeling with beluga whales in Hudson Bay:
The idea is to get closer to belugas, the small white whales that gather here in their thousands every summer. I have already seen them from the air: scattered like rice over the wrinkled tablecloth of the bay, you could hardly miss them. But now, face down in the dark, choppy waters, meeting one is a more daunting prospect.
On hiking the tundra with polar bears:
The retreating tide has exposed a moonscape of glacial boulders across the mudflats, and it is behind one of these that we meet our first bear – having a kip. The long neck swings up, roman nose testing the breeze, before the head settles on massive forepaws, black eyes fixed on our approach.
On hanging out at Seal River Heritage Lodge:
…the lodge makes a delightful zoo. Inside, safe from inquisitive bears, wild weather and ravenous mosquitoes, we enjoy fabulous food – caribou wellington, blueberry muffins, snow goose casserole with wild rice – all prepared from treasured family recipes using tundra ingredients. And after stuffing our faces…
Read Mike Unwin's full story: Canada: Manitoba's bear necessities, which appeared in The Independent on Sunday Travel Americas section.
On the ground Churchill polar bear viewing, far from the madding crowd, in the bear's natural environment? Beluga whale watching while face down swimming in Hudson Bay? What's on your bucket list?
World explorers visiting our remote polar bear ecolodge on the coast of Hudson Bay this year saw beluga whales in record-breaking numbers while enjoying one of the best summers in years. The remote location of Seal River Heritage Lodge ensures countless unique wildlife encounters both by land and sea but this season our beluga swim encounters were nothing short of spectacular.
The stunning footage in the video below was shot this summer less than a kilometer from the Lodge by one of our intrepid snorkelers after he was "adopted" by a pod of over 80 beluga whales. We typically have 3,000 to 4,000 beluga whales summering off the shore here at the Lodge, but the numbers this season might have been close to double that. Truly a wildlife extravaganza!