Here is a picture of the Aurora Borealis (Northern Lights) taken on August 28, 2011 at Nanuk Polar Bear Lodge. Our staff are at the lodge preparing for today's arrival of the first 2011 guests.
There has been quite a bit of talk about polar bears starving in the arctic, but we're not seeing that where we are on the coast of Hudson Bay in Manitoba, Canada. The photos in the gallery below were taken near our remote Seal River Heritage Lodge on the Hudson Bay coast during our recent Birds, Bears and Belugas Adventure.
Polar bear watching at its best, on the ground, up close and personal. But not too close. We have great respect for a polar bear's personal space – as should everyone. Still, the photos our guests are able to take with ground level access can be spectacular. You can view more polar bear photos taken by our guests here.
The Birds, Bears and Belugas Adventure is now finished for the season and we're off to Nanuk Polar Bear Lodge, followed by the Great Ice Bear Tour and the Polar Bear Photo Safari.
Wish you were here!
Katie Nanton, an assistant editor with NUVO Magazine, was at Seal River Heritage Lodge for the Birds, Bears and Belugas Adventure last summer.
A seasoned adventure traveler, writer and editor with world-wide safari experience, Katie wrote a story about her Churchill Wild experience for NUVO entitled A Canadian Safari – Churchill, Manitoba: the polar bear capital of the world, which appeared in their Spring 2011 Issue. Below are a few excerpts from Katie's Story with a link to a PDF of the story at the end. Enjoy!
First polar bear
I see the first bear in the distance. A big, beautiful Ursus maritimus. Adrenaline kicks in and the quiet chatter halts, followed soon after by the clicking of camera shutters and zooming of lenses. Our guides remind us to be silent – although this bear is familiar with the presence of people by now, we don't want to disturb or frighten it – and we take a few steps forward until I'm standing about 10 metres away from this larger-than-life beauty. I eye the guns slung over our guides' shoulders: loaded, and a necessary precaution, they are very rarely used, and only to scare off an approaching bear. Nothing stands between us and this wild animal but a short distance and a few rocks; polar bears are capable of running up to 40 kilometres an hour.
A  fight in the morning
One foggy morning, I awaken to an early morning knock on my bedroom door and a commotion outside. A night watchman stands  guard over the lodge each night, eyes peeled for curious bears and Northern Lights. I'm expecting flashes of green and blue aurora borealis, but out of the main-room window is a more unexpected early morning sight: far in the rocky distance, two bears are stretched up on their hind legs, standing at least eight feet tall, their furry arms in the air like boxers, jabbing, dodging, and blocking each other, paws flailing. Their show of strength is spellbinding. I want to get closer. I walk with my guide until we come within about 15 metres…
Full PDF: A Canadian Safari – Churchill, Manitoba: the polar bear capital of the world
————————————————————————————————————————————————–
About NUVO Magazine

Inspired by quality, NUVO is a lifestyle magazine for the Canadian sophisticate. It is our mandate to create an editorial environment that is stimulating, evocative, entertaining and informative, and relevant to both the amateur and the connoisseur.  The NUVO reader is the inquisitive, culturally aware, well-travelled urbanite who appreciates a blend of insight and entertainment. We share the NUVO reader's discerning taste in travel, food and wine, film and TV, fashion, art, architecture, design, business, automobiles and music.  NUVO features the finest in writing, photography, illustration, design and production. Our commitment to quality is essential to being a leader in the magazine industry. It is thus our assiduous intention to craft a magazine that is quite simply unlike any other.
by Allison Reimer
Instead of "bring your kid to work day" we had one of our guides bring his parents in for a week of arctic life experience.
It didn't matter what Andy (the guide) had told his parents (Al and Sherron) about his work experiences at Churchill Wild. It couldn't possibly have readied them for what they were about to encounter. Hearing stories and looking at trip photos is nothing like experiencing the wonders of the arctic in real life.
Conversing with Andy's mom Sherron in the lounge at Seal River Heritage Lodge, just to get her take on the overall Churchill Wild experience, she didn't have too much to say, but when we parted company an hour later I got the feeling that what we are doing here is a truly wondrous thing.
"Paradise in the Wild," Sherron dubbed us, adding that she was thrilled to see "a true family-operated business that shares the wonders of the Hudson Bay."
I think what really made Al and Sherron's stay so terrific though, were the people. Yes, they had an amazing time swimming with beluga whales and viewing polar bears, including one that even tried testing the strength of our fence despite getting yelled at, but there was never a thought towards being unsafe. No, what really made the trip special  was the fact that all the guests became like one big family during their visit.
The way the guests bonded became the cherry on top of their arctic adventure sundae. With such a a wide variety of age and ethnicity, you might have expected something less, but everyone had come for one or two reasons – to see polar bears and swim with beluga whales, or to have a new travel experience unique in its own.
"I immediately felt welcome when I arrived and the time went far too quickly," said Sherron. "The world doesn't intrude here. No cars, no trains, and the only planes we saw were the ones that delivered us and the ones that took us home."
From what Sherron said, and from what I gathered from everyone else in the group, it was a trip full of memories; of hearts speeding up with excitement; and of comfortable relaxation between the day to day adventures.
The group saw hundreds of whales when they went out on to the water, and the curious creatures just kept coming towards them for the full 45 minutes that Sherron and the other guests were swimming with them.
And nobody seemed to mind that almost every dinner time was interrupted by a polar bear showing up to check out the smells, which also resulted in dessert being constantly postponed. And our new open kitchen at Seal River Heritage Lodge was a huge hit!
It was a fun week that the group promised never to forget. We certainly won't forget them… and their warm and wonderful personalities!
Following the tortillas is a long list of ingredients that can be used in your quesadillas. The recipes given are only suggestions, and the only necessary ingredient is the cheese – it holds it all together.
          large, soft tortillas
          grated Cheddar OR mozzarella cheese
          picante sauce
          salsa
          sour cream
          horseradish
          chopped onion
          chopped sweet peppers, green OR red
          chopped jalapeño peppers
          chopped tomatoes
          sliced mushrooms
          capers
          sliced olives, green OR black
          crumbled bacon
          chopped ham
          any cooked OR smoked meat of your choice
          smoked fish
          anchovies
          refried beans
Warm 1 side of 2 tortillas first on a hot skillet, so that they puff a little (15 seconds will do). Remove tortillas to a working surface, and start building the quesadillas on 1 tortilla, by layering your choice of ingredients. Top with the second tortilla. Return to hot skillet and brown for 1 minute. Turn (that's the challenging part!) and brown on the other side for 1 minute. The cheese should be slightly melted. Remove to a cutting surface, cut into 6 pieces, like a pie, and serve for lunch or snacks*.
Suggestion #1 – The Starter

          salsa
          crumbled bacon
          chopped onions
          sliced green olives
          grated Cheddar cheese

Suggestion #2 – The Hot One!

          sour cream
          picante sauce
          chopped pepperoni
          pickled jalapeño peppers, chopped
          sliced black olives
          grated mozzarella cheese

Suggestion #3 – North Knife Lake Special

          sour cream
          horseradish
          chopped tomatoes
          smoked fish
          capers
          sliced black olives
          grated Cheddar and mozzarella cheeses     
This is finger food, like a sandwich. Generally make 1 double quesadilla per person.
*To serve as an hors d'oeuvre, cut each slice into irregular shapes. Decorate with slices of jalapeño or olive, held in place with a toothpick.
– – – – – – – – – – – – – – – – – – – –
Please let us know if you try them. We would love to know what you think.
Thanks!
— Jeanne Reimer
This is the sixth in our series of Arctic Appetizers. We'll post one a week so make sure to check back regularly. Why? Because we serve these at our lodges and they are really, really good!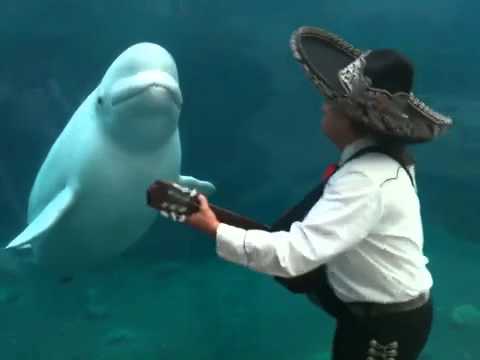 Swim with Beluga whales! An Arctic Safari where you can walk with Polar Bears!
How do you pack for a trip to Seal River Heritage Lodge?  Just floating an idea for any of our Mexican guests…
Angela Saurine was at Nanuk Polar Bear Lodge last summer and wrote for media outlets in Australia about her adventure.
It wasn't until around lunchtime that we spotted our first polar bear wandering along the tidal flats in the distance its muddy brown feet making a stark contrast to its pure white body.
Another is swimming in the bay and a couple of others can be seen on the horizon. We decide to drive closer and stop for lunch.
"If we stay in one place for a while," our native guide, Butch, says, "the bears will get used to us and come to us."
To read the full story, click here.
Angela also posted a video to the News.com.au website. It can be found here.